Join Our Livestream to Celebrate IoTeX's 4-Year Anniversary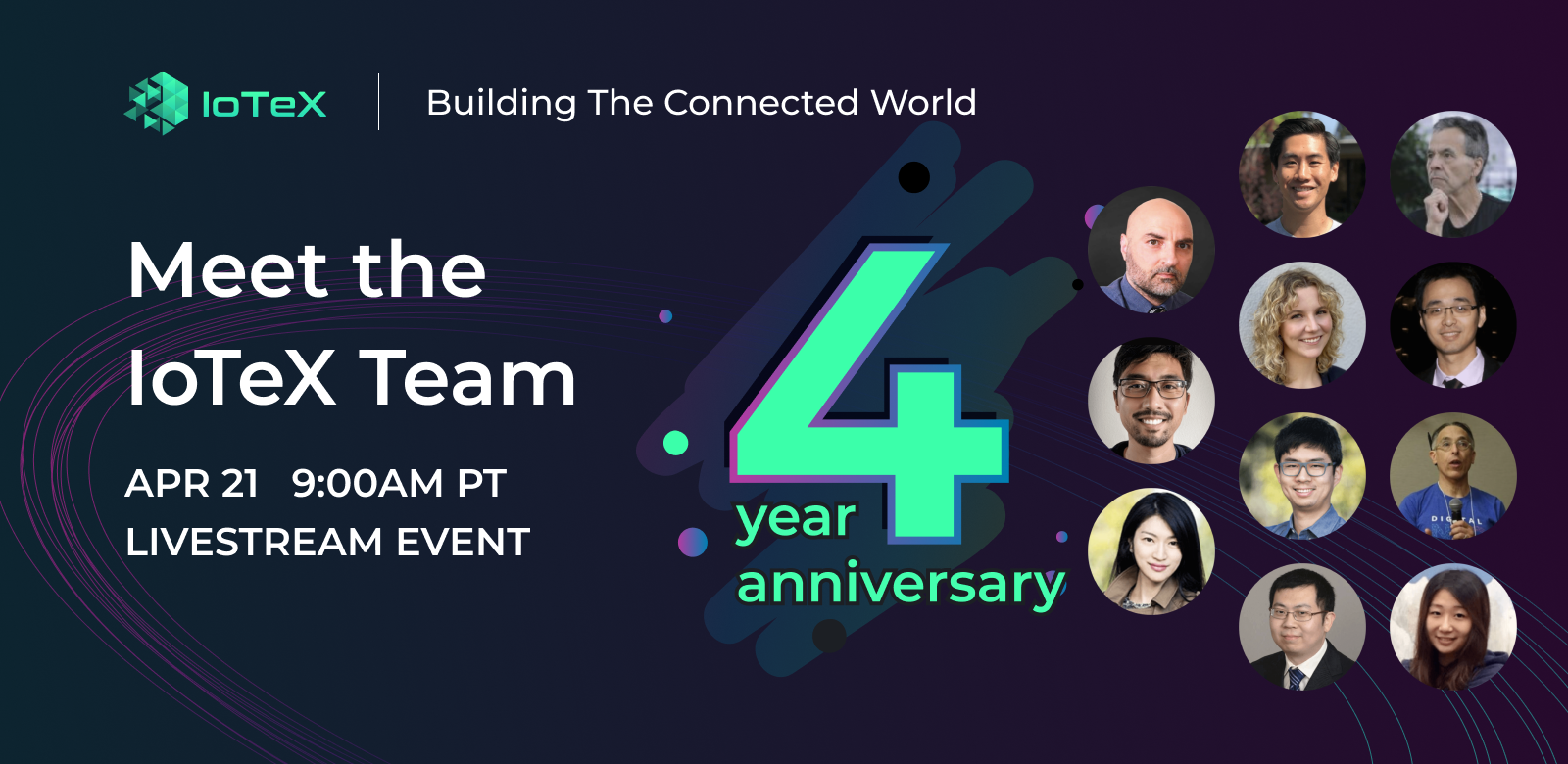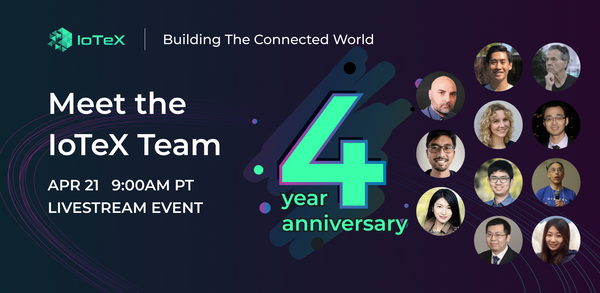 Hi IoTeX Community,
We hope you'll join us for The State of the Network, this Thursday, April 21 at 9:00AM PT, to commemorate the 4-year anniversary of our first-ever code release! You'll hear updates from the founding team, the tech team and some other essential people on the team you might not be so familiar with.
Want a chance to get a sweet Meta-Pebble? Share your favorite memory on the Ecosystem Twitter page to enter.
IoTeX is at ETH Amsterdam
Health, Happiness & MachineFi (Free) Sun. Apr 24, 9am - 11am CEST
After the talks, we will host a running clinic (all levels) in "Het Vondelpark" turning theory into practice and start earning HEALTH Tokens with a healthy lifestyle.
Grab some healthy juices and snacks and you'll be energized and ready for another beautiful day at ETHAmsterdam
Simone Romano will be at ETHAmsterdam 22 - 24 April. If you'd like to meet Simone to talk about #MachineFi #IoT & #Blockchain reach out to him on Telegram at "zimne"
Saturday, April 23: IoTeX will join a panel on "What's Next for Web3 Infrastructure" alongside NEAR, Algorand, Optimism, Axelar, HOPR, and more!
ioPay 2.0 Has Launched
Introducing ioPay 2.0, a new multi-chain wallet for IoTeX, Ethereum, Polygon, BSC and more! 🎉
ioPay 2.0 is the leading multi-chain wallet that delivers a seamless user experience and all the features you want: access multiple chains, stake your assets, view NFTs, and interact with dApps.
ioPay 2.0 is new and improved to power the Web3 revolution. New to crypto? No problem! ioPay 2.0 provides a user-friendly experience for novice and experienced Web3 users alike.
If you'd like to dig into the features of ioPay 2.0 we created this
ioPay Tutorial to quickly get you up and running.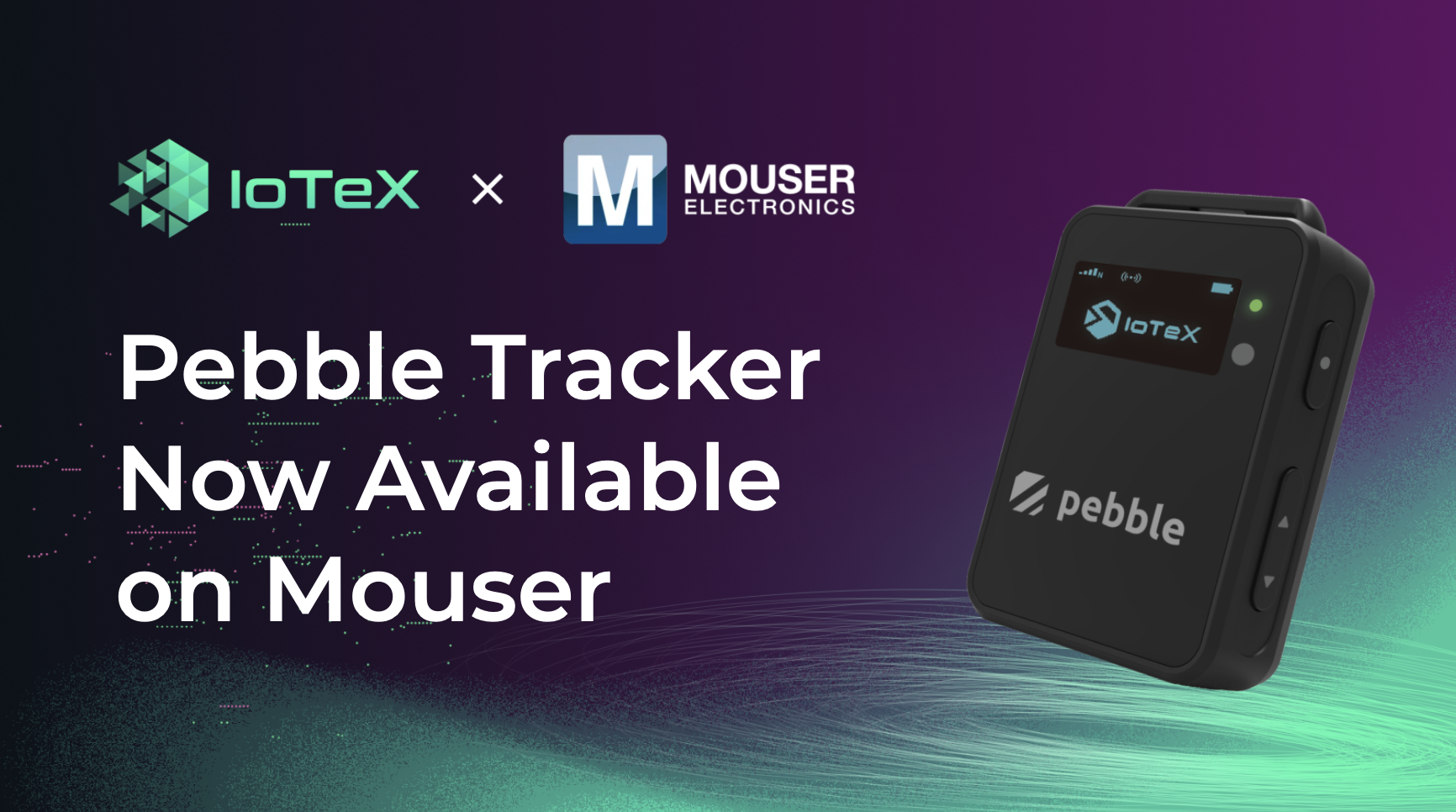 Pebble Tracker now available on Mouser Electronics
Pebble Tracker, powered by IoTeX, is now more widely available. Mouser Electronics, one of the world's largest electronics distributors, is now listing the Pebble Tracker for sales. Read our blog for the big picture.
Global DeFi Conference
Catch Raullen Chai's talk on Proof-of-Presence on April 27 at 10:30am EDT / 1:30pm PDT. Get a ticket here.
Turkish Ambassadors Rocking the Word on IoTeX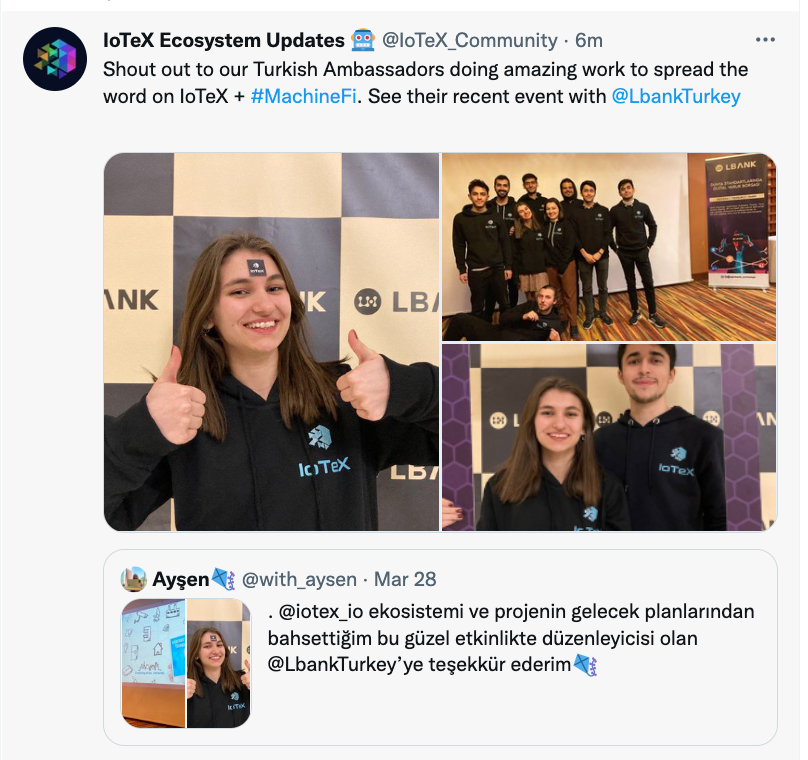 Cartesi and IoTeX in Dubai
Milton, Core Developer at Cartesi, sat down with Larry, Head of Business Development at IoTeX to discuss the Internet of Trusted Things (IoTT) on The Blockchain OS. Watch their conversation here.
IoTeX Partners with ClipsDAO
The two companies will work on the IGO listing, multi-chain support, share games, guilds, co-invest, and more. ClipsDAO is the World's First Gaming & Guild Funding Pad.
BoringDAO x IoTeX Partnership
BoringDAO now supports bridging $USDT & $USDC & $ETH to and from IoTeX "between any chains we connected to!" The BoringDAO is a "Multi-Chain Solutions for Every Crypto Asset."

Binance Loans Adds Collateral Assets ASTR, IOTX & KNC
Exploring Web3's Impact On Everyday Life At Chainlink Plugged-In
IoTeX Goes To Dubai And Finds A Multitude Excited To Learn, Invest, Partner, And Build On Their Platform
MachineFi Through Eyes of IoTeX Co-Founder and CEO Raullen Chai in Exclusive Interview