What's Next for IOTEX: The Future of Smart Devices [Meet The Team] -Watch it now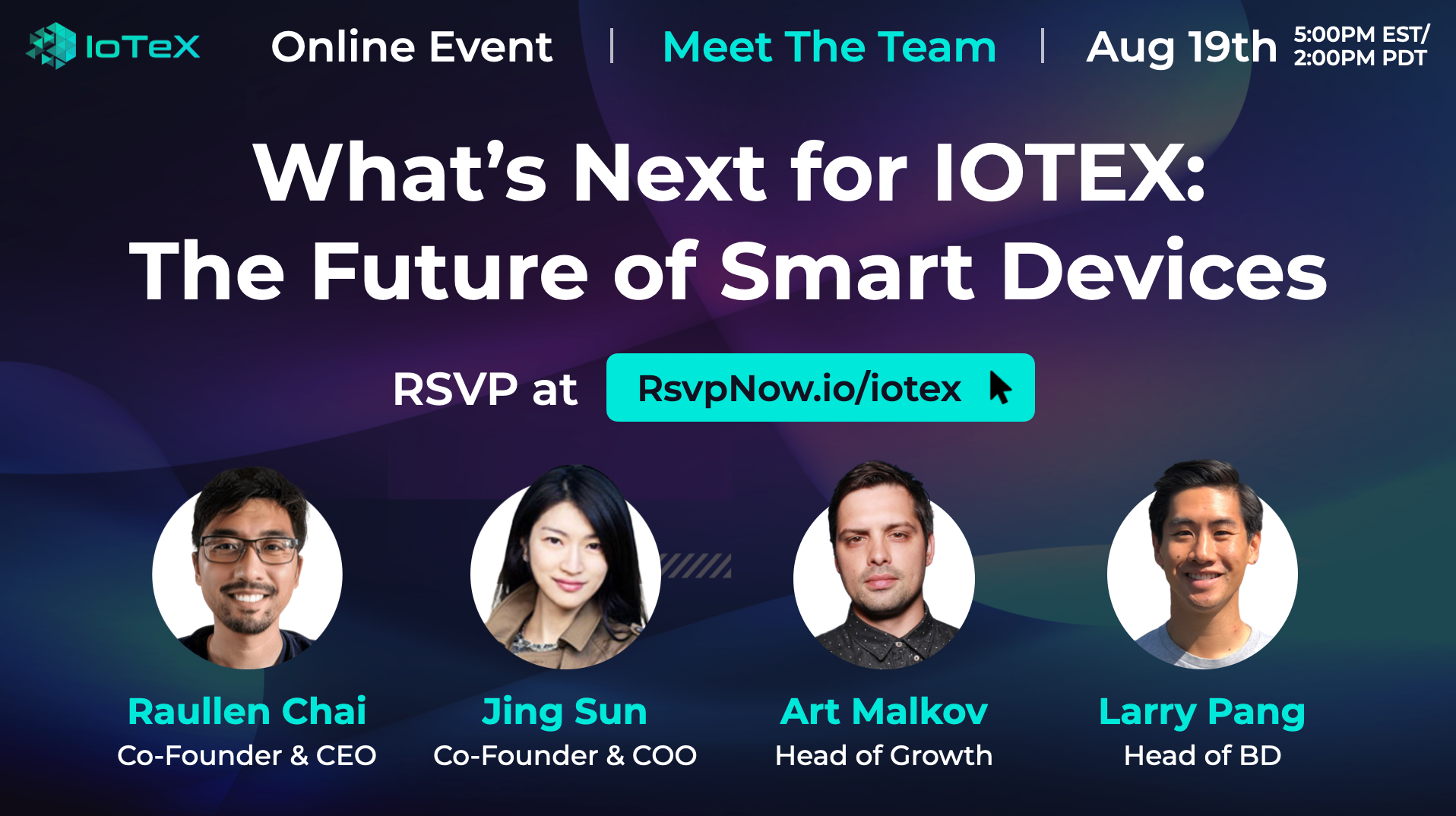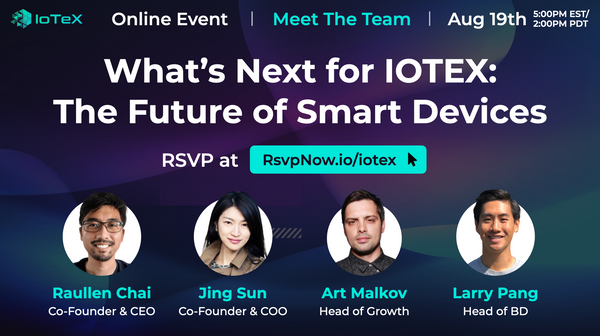 Iotex has been making heads turn over the past week with record-breaking rise into the top 100 of Blockchain and Crypto projects.
Find out directly from the founders and senior leadership what's next for IOTEX, and get your questions answered directly.
See full panel!
Watch the panel bellow:
IOTEX is changing how we experience smart devices. What's next? Find out the answer to this and many more questions on this panel. Get a glimpse at what's next and why what IOTEX is doing can change the world as we know it.
"Collaboration is the key to excellence in today's market. Unsurprisingly, this coincides with the Decentralisation thought process running in the industry. The IoTeX cross-chain will bring real world benefits to the ever-growing digital world, and make NFTs more relevant to this novel philosophy"
Sandeep Nailwal, Polygon COO & Co-founder
This panel answers questions such as:
What makes IOTEX's blockchain,iot and smart device technology cutting edge?
What can people and businesses do on the IOTEX platform?
How is IOTEX disrupting 1 Trillion dollar supply chain and smart devices industry?
Why does security play such a role in smart devices and how is IOTEX  blockchain tech leading the way?
What's next for IOTEX?
And Much More!
"I'm really looking forward to seeing the Iotex team to really build out the kinds of solutions that customers are really asking for. "- Anoop Nannra, Global Blockchain Segment Leader at Amazon, AWS
Speakers:
Raullen Chai, PhD CEO and Co-Founder- Brings extraordinary experience including Cryptography Research Scientist at UWaterloo. He is a former Head of Crypto R&D at Uber and Security Engineering Lead at Google.
Jing Sun, COO  and Co-Founder is the Co-founder Founding partner of Sparkland Capital where she led 40+ investments and innovations in blockchain, security and IoT.
Larry Pang, Head of BD and Ecosystem - Management consultant at Oliver Wyman. He is a visionary of what's possible. One of the leading minds in blockchain and iot space.
Art Malkov, Head of Growth - 10+ years in digital marketing in the emerging tech and blockchain space. Advisor at Columbia Blockchain Accelerator. Writer for Fobes BC. Art has started and runs the largest blockchain community in NYC.
"The IoTeX blockchain platform is designed to connect these types of smart devices to decentralized applications. This would enable users to be in full control of their devices and data... There are currently thousands of devices using its blockchain. - Nasdaq. Com"