What's New on the IoTeX Delegate Portal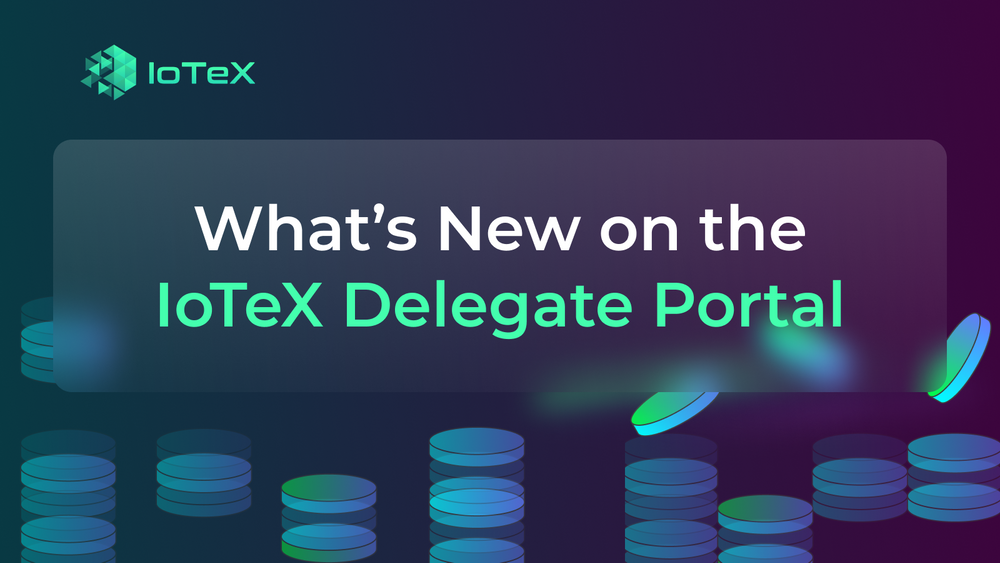 IoTeX uses a Proof-of-Stake consensus mechanism called Roll DPos. That means delegates are the lifeblood of the IoTeX blockchain and are essential for the functioning of the platform.
Fortunately, getting set up as an IoTeX Delegate and running a node are now easier than ever. We've updated the portal to take you, step-by-step, through the process of becoming an IoTeX Delegate and now  it's also much easier to navigate within the portal. And if you use Fastblocks, you'll have the option to buy, set up, and manage your IoTeX node, as a delegate or a data validator.
When you use Fastblocks, all the tasks of running a node can be done from your home computer setup. There's no need to buy specialized equipment. That saves you effort, time, and money.
Are you already a delegate? We didn't forget about you. You and your fellow delegates will now have your own delegate portal page on which to view node performance, reward history, as well as manage settings. All in one place. Not bad, right?
In brief, here's how to start:
Register your Delegate account name and operator address
Stake IOTX - set up bucket, stake duration, set lock period (a minimum staking amount of 1.2 million IOTX is required)
Set Reward Distribution options (simply using https://hermes.to/)
Edit your delegate profile page to allow the community to know you and your vision for IoTeX
And here's how to create a node with Fastblocks in just 3 steps:
Select a Node Type: either Delegate Node or Full Node
Enter details about your node including network type and operator private key
Pay using stripe
Now that you have a basic idea of what's entailed in becoming a Delegate, we hope you'll decide to join our growing cadre of delegates. Delegates play an essential role in powering the IoTeX blockchain, in network governance and in bringing about a MachineFi economy.
We're all united in our belief that MachineFi will bring about a paradigm shift in the economics of real world data. We believe that decentralizing how that data is collected, used and monetized will have profound effects on society. Learn more about Fastblocks and take a tour of the Delegate portal here.
Consider becoming a Delegate so you can play an important part in making this new economy a reality.