Dubai Impressions: A Tale of 4 Conferences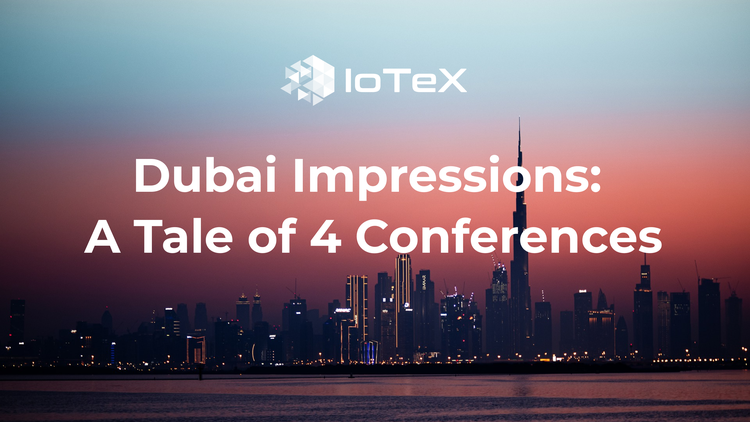 Over the last few weeks, the IoTeX team traveled from both coasts of the U.S., Florida, Spain, and London to come together in Dubai. Over an action-packed two week period, they attended 4 blockchain conferences, made presentations, met with potential partners, investors, and project leaders who are excited to build on IoTeX.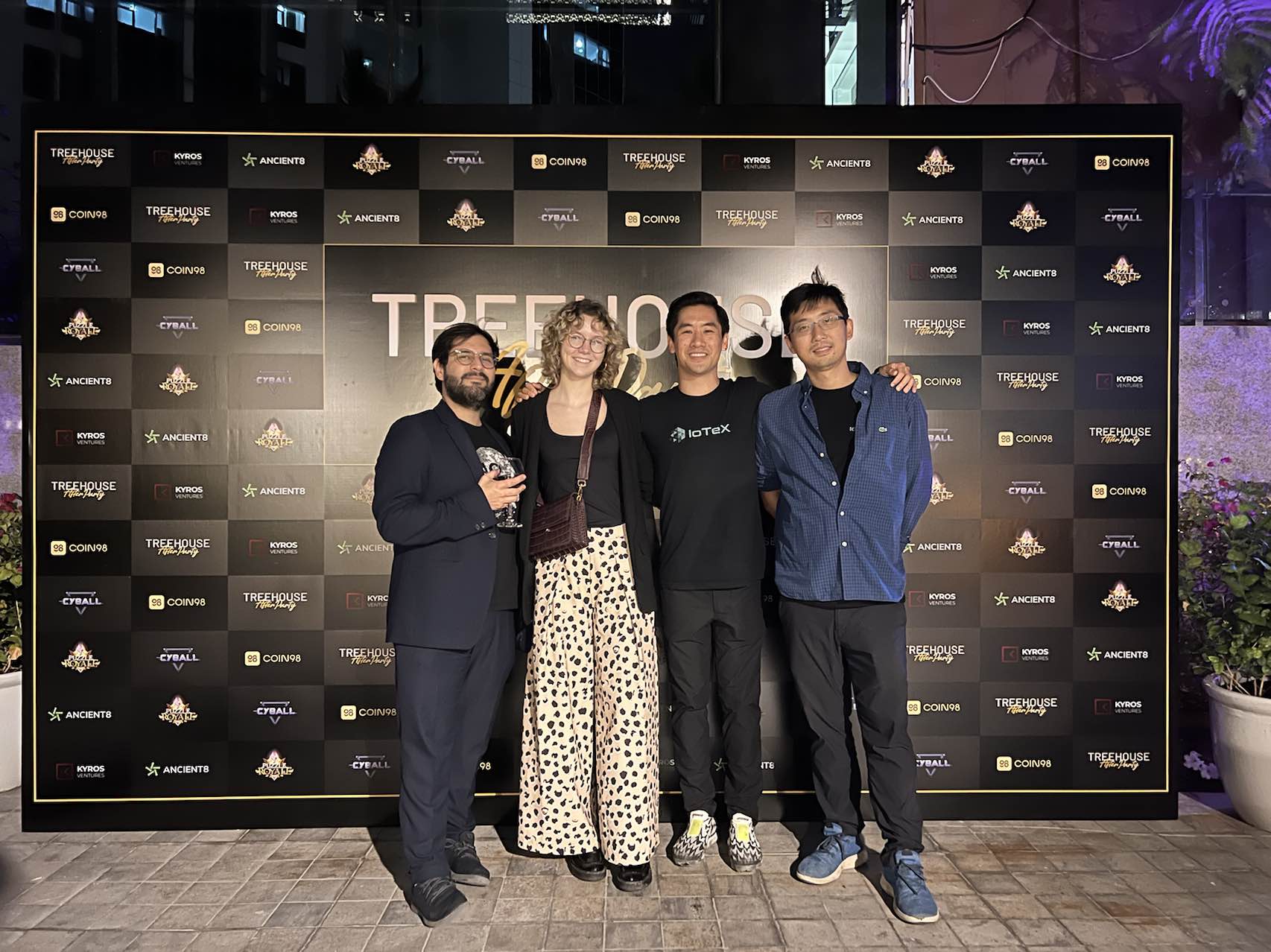 Everyone had a different role, and thus perspective, on their time spent there. We asked the team to reflect on how they spent their time, to recount what they did, their thoughts on the industry and on the specifics that made an impression.
Thanks for contributing your thoughts: Raullen Chai, Co-Founder, CEO of IoTeX |Ollie Acuña, Public Relations | Christian Pusateri, Business Development | Dan Knobelsdorf, Community | Claire Biasco, Marketing
Initial Impressions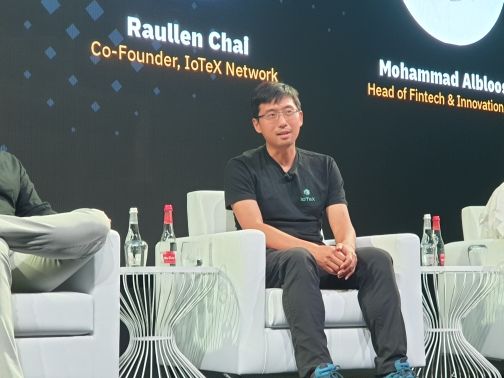 Raullen:
Dubai is such a multicultural city that now gathers many crypto folks/projects/teams. Binance Blockchain Week was commercial and had great people attending. ETHDubai focused on developers and projects. One thing I loved was the founder/VC speed dating sessions that brought together developers and VCs ready to build next-gen projects together.
Dan:
Each conference had an edge. AIBC (AIBC Summit 2022 Dubai) had some "2017 ICO" vibes but it also gave us the amazing opportunity to pitch to Akon and other VIPs. WBS and Binance had more quality networking on the business and even public sector levels, while ETH Dubai had more technical profiles approaching us. Top learning: Taking care of a booth requires a lot of planning!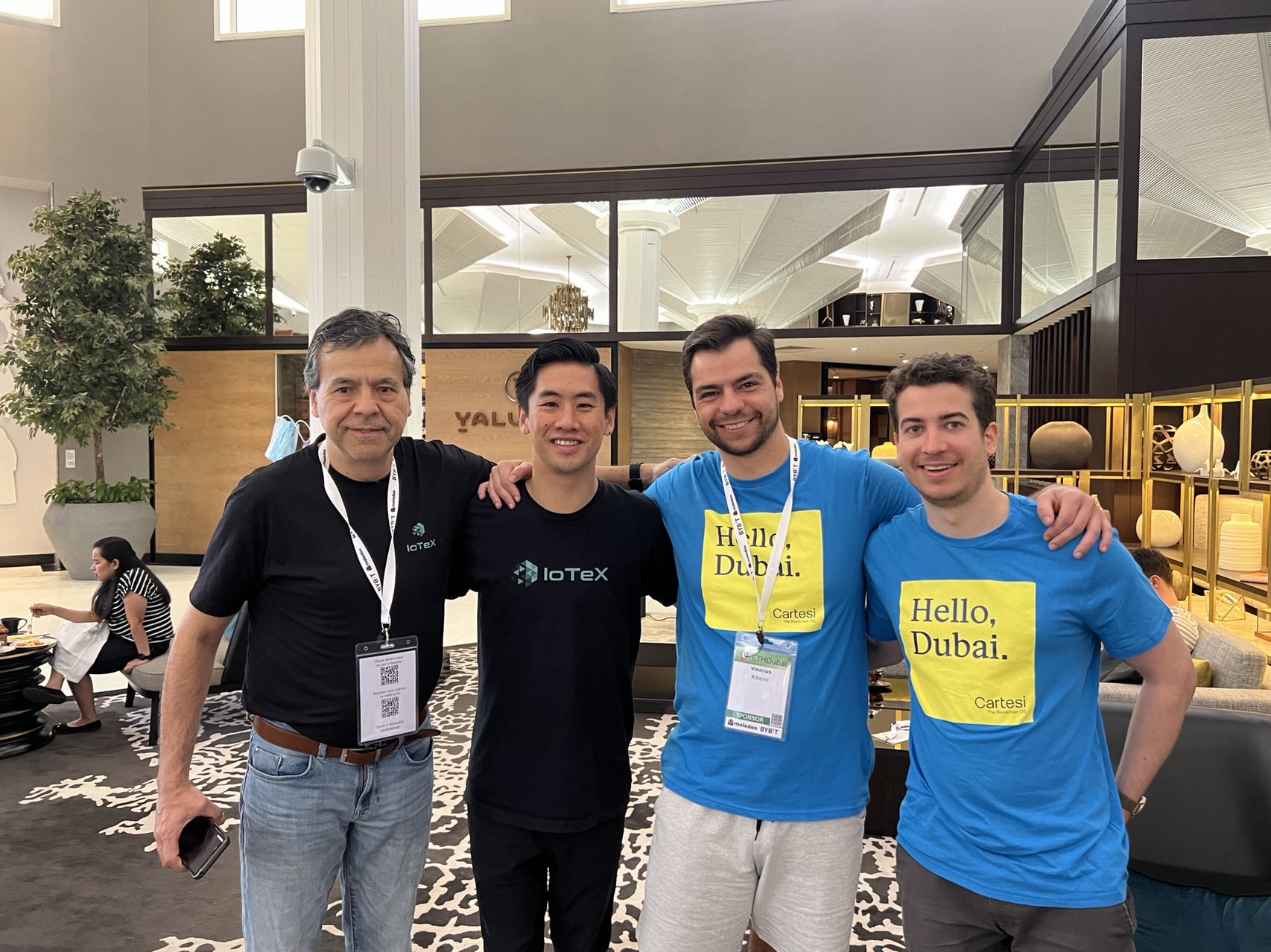 Ollie:
The AIBC Summit brought together some top names and the booths were quite impressive. The World Blockchain Summit was well organized and a great event for networking. Our stage presence had a great impact  and  compelled attendees to visit our booth. Binance was a good event for networking and side events, and, to my surprise, ETHDubai ended up being a good experience as well. I learned a lot and became more fluid in explaining IoTeX but saw we need to keep track of all the people we met, which was far more than I expected.
Claire:
Each conference had an interesting combination of blockchain developers, VCs, retail investors, and even some brand new crypto enthusiasts looking to make the switch from web2 to web3 for the first time ever. One great panel at the Binance conference was called "Beyond the NFT Hype (Successful Use Cases)" which explored the utility of NFTs and how they will play a major role in mass adoption. It made me more excited than ever for the future of IoTeX's Meta-Pebble NFT.
Christian:
Dubai is a hotbed for Web3 activity, mainly in gaming and metaverse. Ethereum conferences still hold the high watermark for the industry. They are organized in a decentralized way, and so can be a bit logistically messy at times, but the overall quality of dev, entrepreneur, and concepts at ETH shows is unparalleled.
There are two reasons why Dubai is so primed to host Web3 innovation: a) 30 years of good governance and business friendly policies. b) China and India are creating harsh regulatory environments that are forcing entrepreneurs to consider greener pastures.
Meet any interesting people?
Raullen:
We met many of our old friends such as Wowswap and QiDao, and we have made many new friends, such as ADA's founder Charles Hoskinson, and Panther Protocol's founder Anish Mohammed.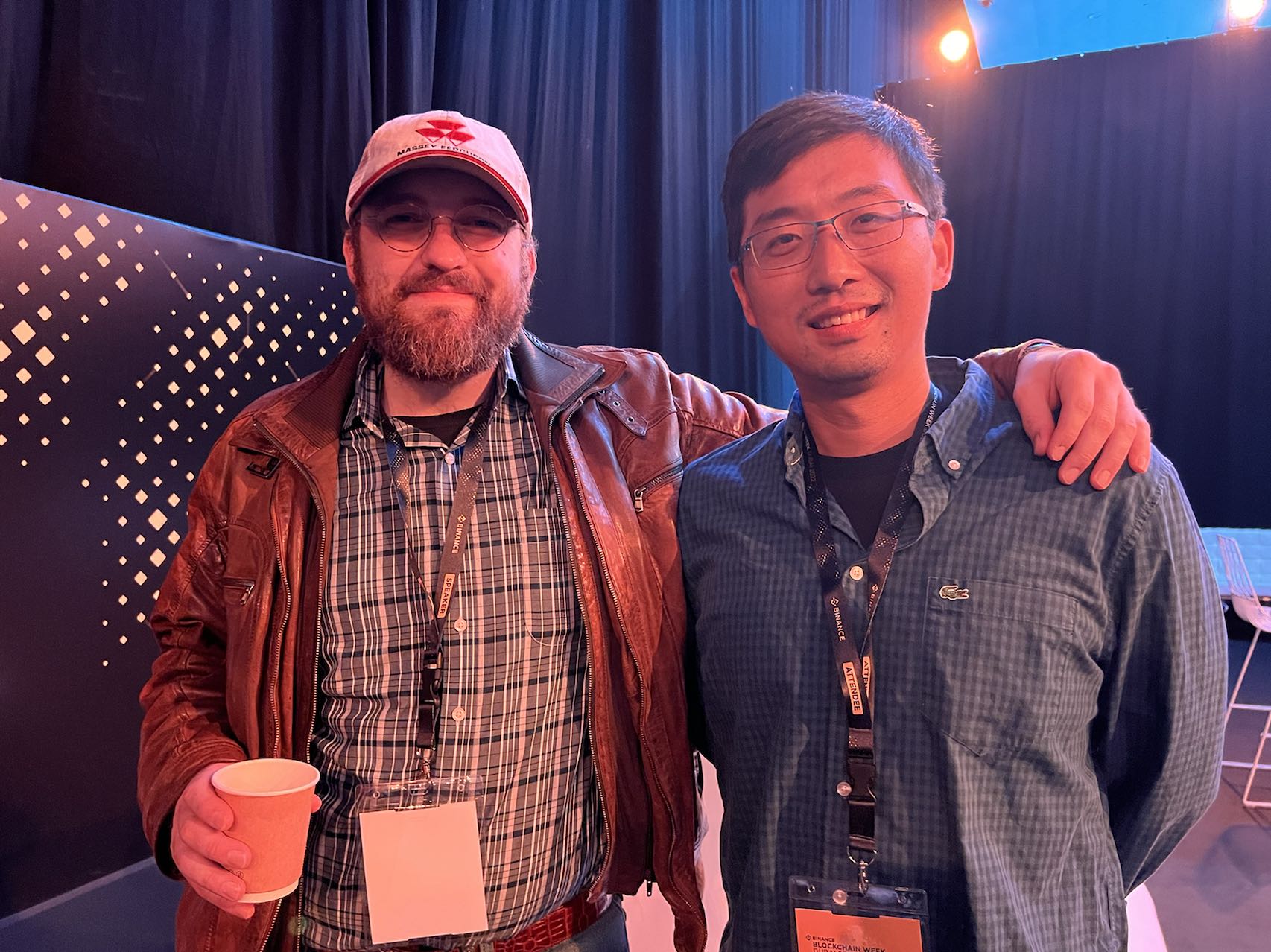 In addition, there are quite a few local folks we met (such as Ramzi D., Marzouq Ventures) who are interested in setting up a local team for IoTex, which I think could be a very real possibility.

Dan:
Met too many people! Top learning: Standardize how we connect and follow up.
Claire:
That was my favorite part of attending the many events throughout the week- meeting individuals from so many different countries. I loved listening to their stories of how they got involved in Web3, whether it was all the way back in 2012 or just a few months ago. It didn't matter if they were interested in GameFi, DeFi, NFTs, or DAOs- everyone shared that same passion for the potential that blockchain technology can unlock for people in every corner of the world. I left Dubai feeling more inspired by the web3 community than ever!
What were their responses to IoTeX?

Raullen:
People are impressed by our Pebble/Meta-Pebble and MachineFi narrative. Everyday users are excited to join the machine economy, and developers are ready to be the first ones building it!
Dan:
Showing Health Blocks, MotoDB, Pebble Tracker, POP (Proof of Presence) Protocol, and other use cases, truly changes everything. You can see people's eyes opening up to the possibilities.
Ollie:
I was not surprised to hear so many people talk so highly of IoTeX. It was very encouraging to listen to people show interest in what we are doing with IoT and blockchain. There was particular interest in POP and the actual Pebble Tracker. Many new projects spoke of exploring IoTeX further to migrate from other blockchain platforms to ours.
Claire:
When explaining IoTeX's mission to new builders, you could see the lightbulb go off in their head! The MachineFi design space is unlike any other in the space, and I think that especially resonates with creative minds ready to build MachineFi from the ground up.
The Unexpected
Raullen:
A person ran into Ollie, Larry, and I while we were waiting for a taxi. Heshouted out, "Oh hey IoTeX guys, I know you!" And later, he pinged me saying he wants to launch a project on IoTeX.
Dan:
Business cards are still a thing!
Christian:
Every third person I met represented a fund. There are hundreds of billions of dollars entering the space. It was staggering to witness. And I was especially struck by CZ.
CZ (​​Changpeng Zhao, Founder, CEO of Binance) is a strong leader and international advocate for the space. He gave a Q & A where he described his average work day which consists almost exclusively of meetings with heads of state to explain Web3. Essentially, he spends his days as a global evangelist for the industry.
Weather? (or not)
Raullen:
The weather was not too hot. Best season for Dubai, said the local people.
Dan:
Colder than I thought with all the air conditioners and perfectly sunny to ride some dunes. Glad we got there before the summer!
Ollie:
I used a blazer almost everyday, even outside, so it was not so hot. Hot is the topic that Dubai is becoming the global hub for cryptocurrency. FTX and Binance are already there. Bybit is moving from Singapore to Dubai and Crypto.com is setting up a regional office. They are moving fast with regulation, so they will definitely be a blockchain hub on which to keep an eye.
Claire:
It was a much welcomed break from the NYC rain we've been having lately!
Christian:
Regardless of the weather, Dubai is incredibly clean and safe. Blend those features with a crypto friendly regulatory environment and its geographic position as a bridge between Asia and Europe, and you've got the makings of one of the top 3 crypto cities in the world.
What the World Should Know about IoTeX
Raullen:
We are tackling a whole new vertical. A few see it.
Dan:
POP (Proof of Presence) is going to change blockchain events forever.
Ollie:
IoTeX is doing what very few other projects are doing in terms of tech development. We are unique in how we are setting up our ecosystem to reward life activities and redistribute the balance of wealth and power.
Claire:
The MachineFi design space is an entirely new playground for developers to build something that's never been done before.
Other Thoughts

Raullen:
Long flight but all worth it!
Dan:
Had a chance to catch a Cirque du Soleil performance. (:
Ollie:
I believe we will be partnering with some interesting people from Barcelona to become one of the only crypto and blockchain projects organizing events globally. This will definitely set precedence and help with brand awareness and further adoption.
Claire:
I am looking forward to seeing how the crypto space grows in Dubai over the next few years. I think answering these same questions even a year from now will be drastically different as adoption takes off!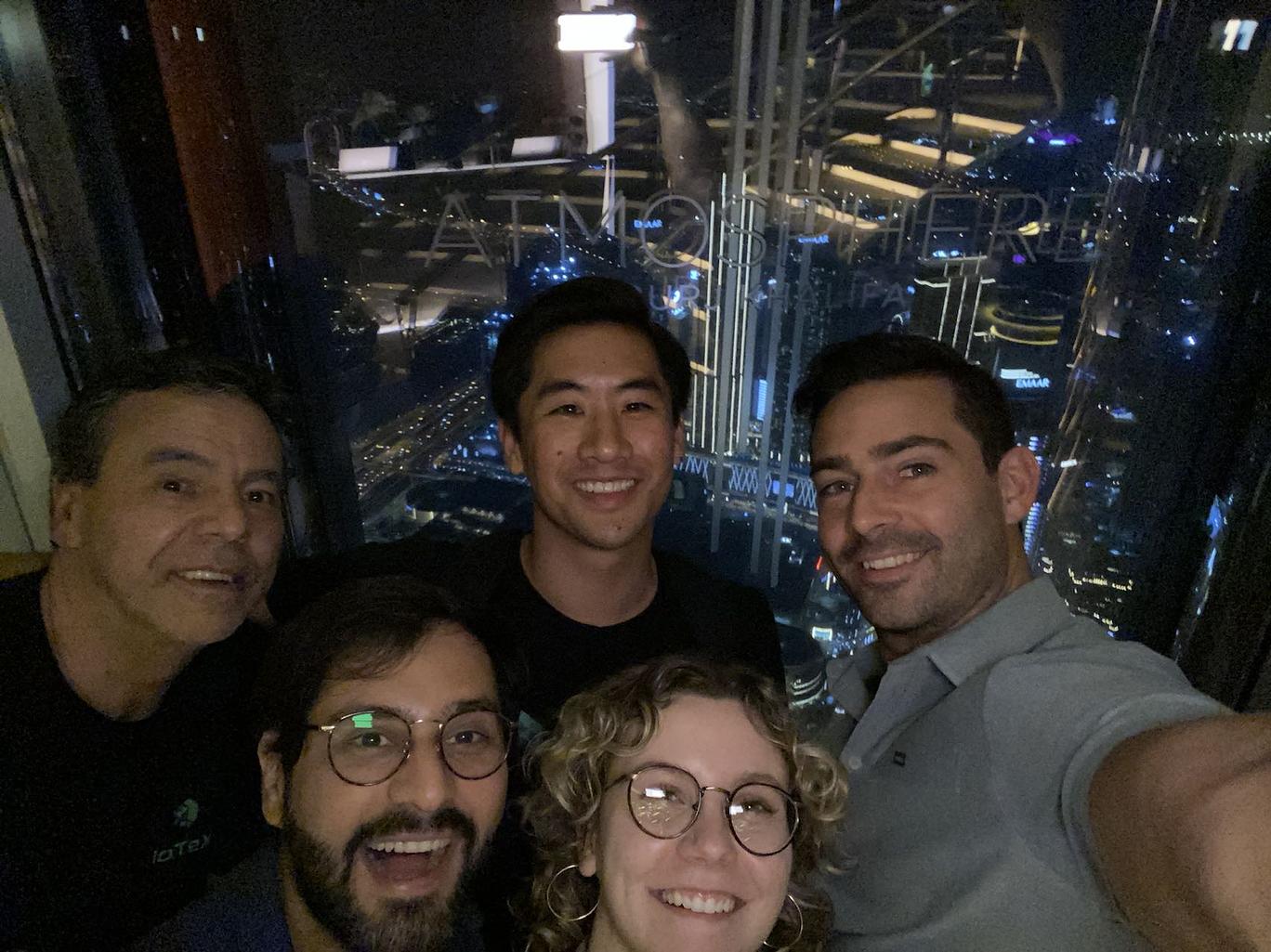 Not yet exhausted, the IoTeX crew is having fun presenting, teaching, learning, meeting and exchanging ideas with people from all over the globe.
Time well spent.