Ecosystem Highlights: mimo DEX launches v2.1 and HealthBlocks goes live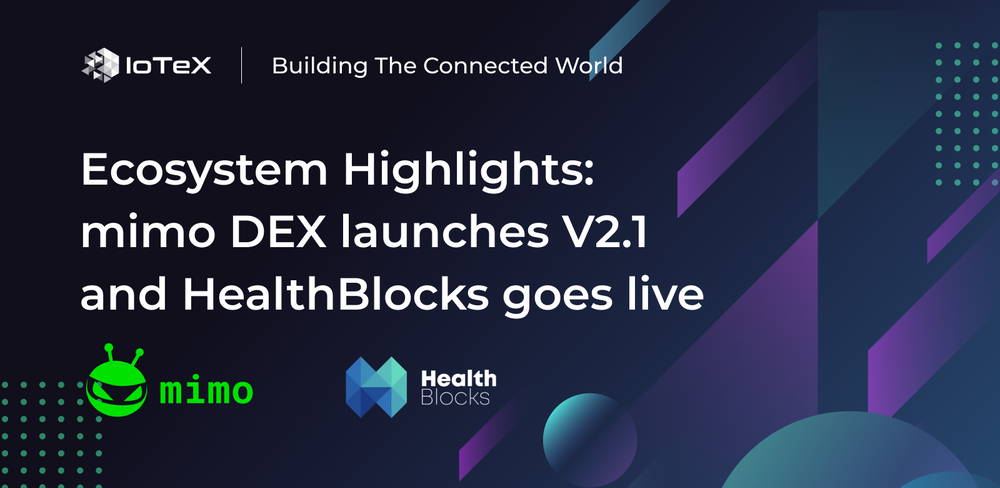 Full speed ahead! IoTeX and many of the projects on our platform keep buidl-ing. One example: mimo DEX has launched their v2.1 into Beta. If you'd like to give mimo your high-quality feedback, you'll be eligible for rewards! Learn more here.
Live-to-earn dApp HealthBlocks has also launched and is ready for download! Kickstart your health journey by connecting your fitness wearable, setting your health goals, and start earning $HEALTH tokens. Read more about how HealthBlocks is shaping Web3 healthcare here:
Real–World Health Data Goes Web3 For Millions Of Users
From its inception, IoTeX has recognized the fact that interoperability is key to widespread adoption and scaling. We're EVM and Web3js compatible. But we're always looking for ways to make building on IoTeX better. With our new partnership with MAP Protocol, we are expanding on this commitment to making our platform the best for dApp development. Expect great things!
MAP Protocol partners with IoTeX to provide Omnichain infrastructure for dApp development
IoTeX Team at NFT NYC
Our very own Raullen Chai, Co-Founder and CEO of IoTeX, participated in an incredible panel for builders: Next Gen NFT Standards and Protocols. They discussed the future of NFT utility and envisioned the future where NFTs enhance our everyday lives.
The team also got to catch up with some of our partners at Samsung Next's offices in New York City. Here are a few photos from NFT NYC and some of the teams we met. Keep an eye out —we have some more great interviews to share with you very soon!
Consensus 2022 Was Hot!
Consensus by CoinDesk in Austin, Texas was hot in every way imaginable. The event was sizzling with excitement, new ideas, ambitious businesses, and presentations looking to change how we see the world. It also happened to break 100 degrees F. on most of the days. Can't take the heat? Stay out of the kitchen! Our recap captures some of that heat:
Halo Grant Highlight: Hotpot DAO
Time to welcome a newly approved project to the IoTeX Foundation Halo Grants Program. Say hi to Hotpot DAO! Hotpot makes it simple for anyone to start their own DAO thanks to its codeless toolkit. The DAO-launching platform makes it simple for crypto newcomers to create their own communities and design all the tokenomics in a few clicks. IoTeX in the News
Draper Dragon: IoTeX's MachineFi Is Clear Solution To The Future Trillion-Dollar Machine Economy (IBTimes)
Many of us may be numb to the pain big tech companies inflict on us by monetizing our data and giving us nothing in return. So it's refreshing to hear our investors give voice to one of our central premises. Your data. Your value. We want you to receive the benefits!
"...There are huge gaps in security, privacy, and interoperability that restrict the potential of the Internet of Things, and criticized that centralized corporations have controlled and  profited from users' data for decades, leaving them vulnerable to hacks." - Draper Dragon
GenX Analytics highlighted some popular IoTeX ecosystem dApps. Check out their great graphic showing the range of projects built on IoTeX!
Defi.watch Now Supports IoTeXIoTeX blockchain is now on the defi.watch platform dashboard. This chain helps make the most important things in the crypto world available: high-speed, secure, and scalable. Check it out!