IoTeX at GR11 Hackathon: Project Highlights + Winner Announcements!
IoTeX partnered with Gitcoin for their highly-anticipated GR11 Hackathon which wrapped up this past week. Over the course of 3 weeks, nearly 3,000 participants entered with over 200 projects submitted for a chance to win Gitcoin's largest round of grants yet! Read about the winners.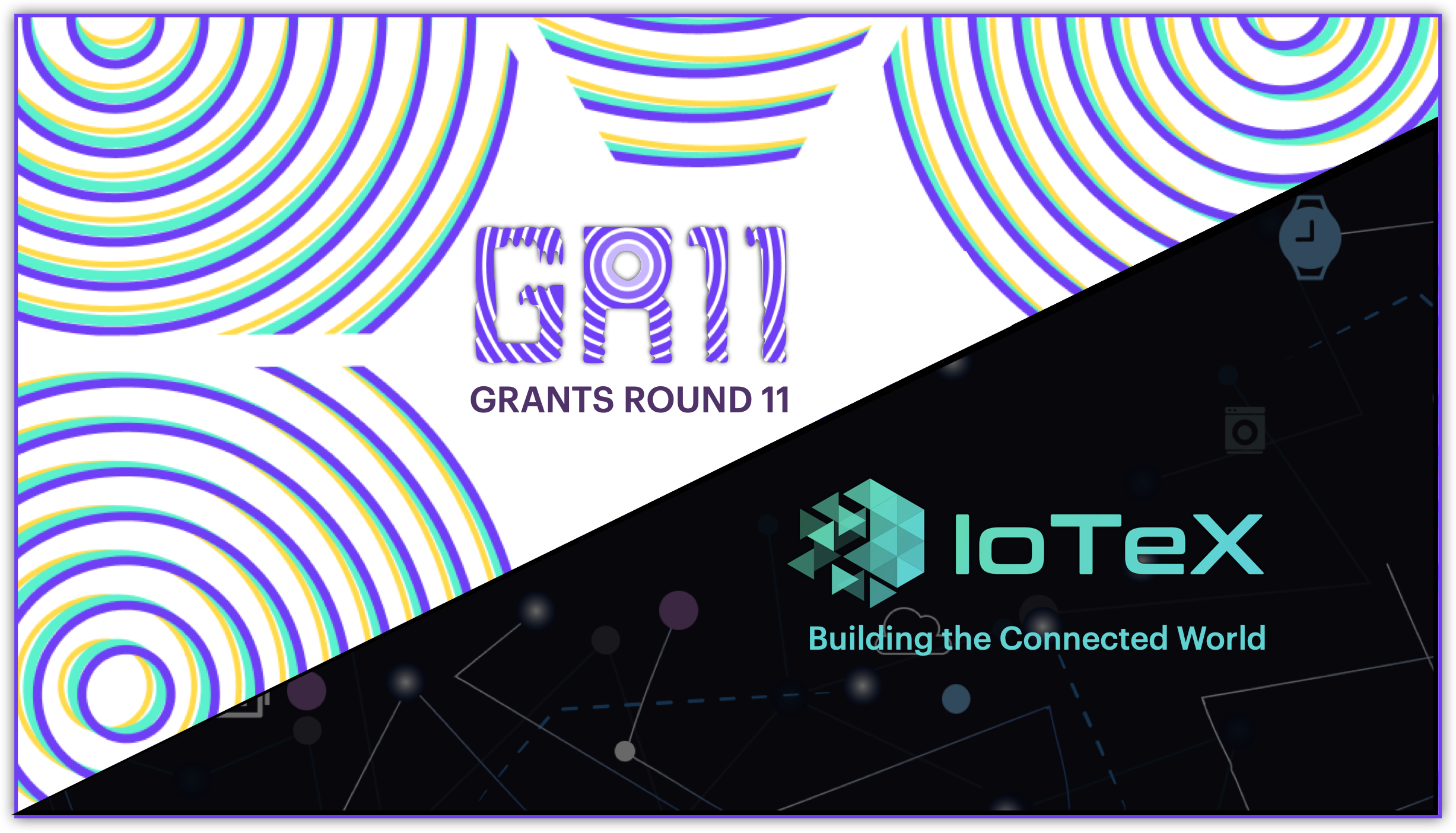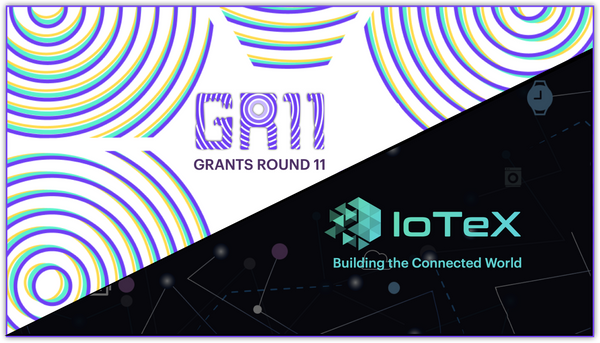 IoTeX partnered with Gitcoin for their highly-anticipated GR11 Hackathon which wrapped up this past week. Over the course of 3 weeks, nearly 3,000 participants entered with over 200 projects submitted for a chance to win Gitcoin's largest round of grants yet!
IoTeX invited developers to participate in three different bounties, each exploring IoTeX's first-of-its-kind protocol called TruStream. Developers were encouraged to build custom DApps that utilize IoTeX's Pebble real-world data. The bounties focused on three different aspects to be integrated: NFTs, data triggers with smart contracts, and display dashboards.
The winners
We are proud to announce that we have two winners for this GR11 Hackathon, who submitted excellent work!
These two projects will be improved by the authors over time, and made available on their own domains for everyone to try them.
We saw more exciting DApp submissions that fully embraced the IoTeX mission of building the connected world. Let's take a look at the best submissions in detail below!
🏆 IoTNFT: NFT DApp
Live website: http://www.iotnft.xyz
Repository: https://github.com/Brianspha/iotnft
Demo Video: https://bit.ly/3afqdFg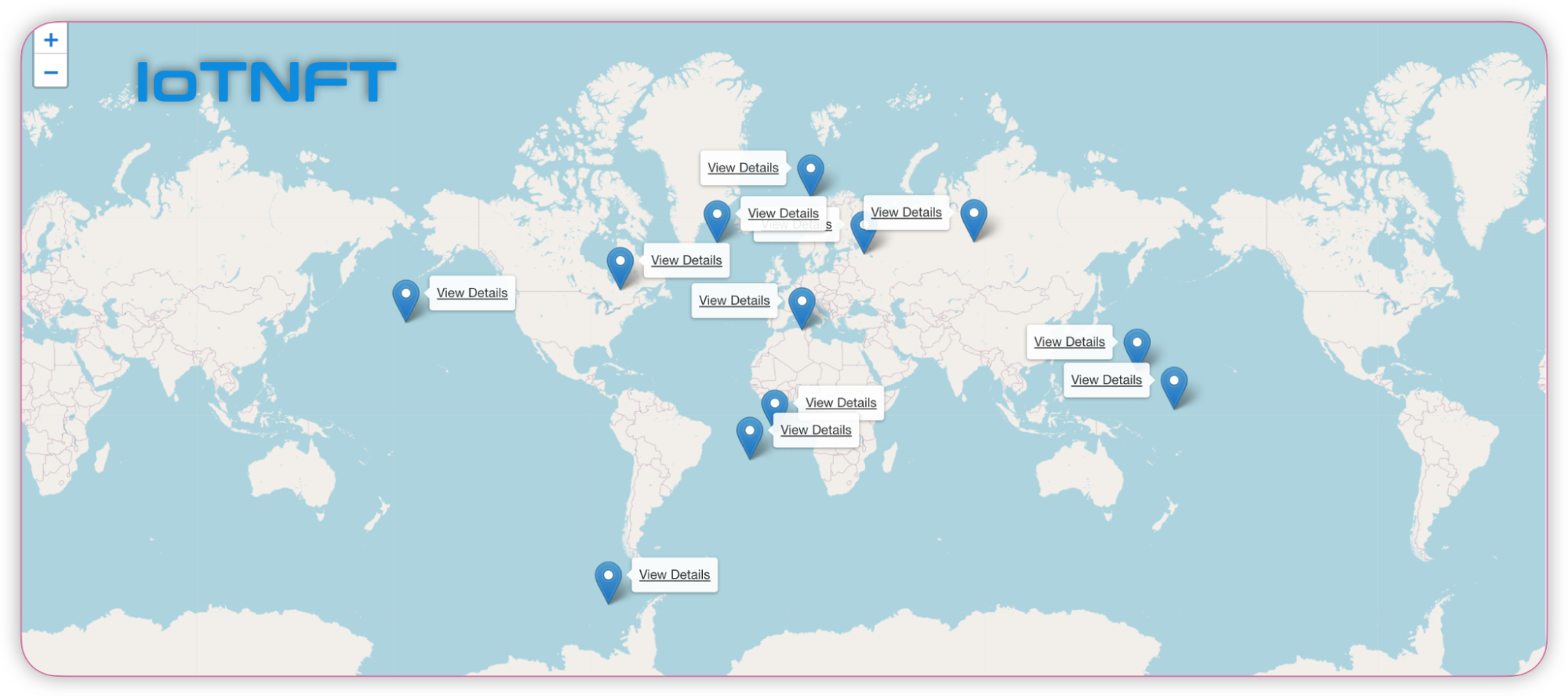 IoTNFT records the real-world IoT data and allows users to mint the data, for a moment in time, into NFTs. Every time your Pebble sends a data capture to the TruStream network, it records the capture on the IoTNFT dashboard including the location, pressure, humidity, and more. These environmental recordings act as the unique 'features' of the NFT, making each one super colorful and a one-of-a-kind piece of artwork. IoTNFT brings joyful elements of data recording- a task that is not always easy to achieve!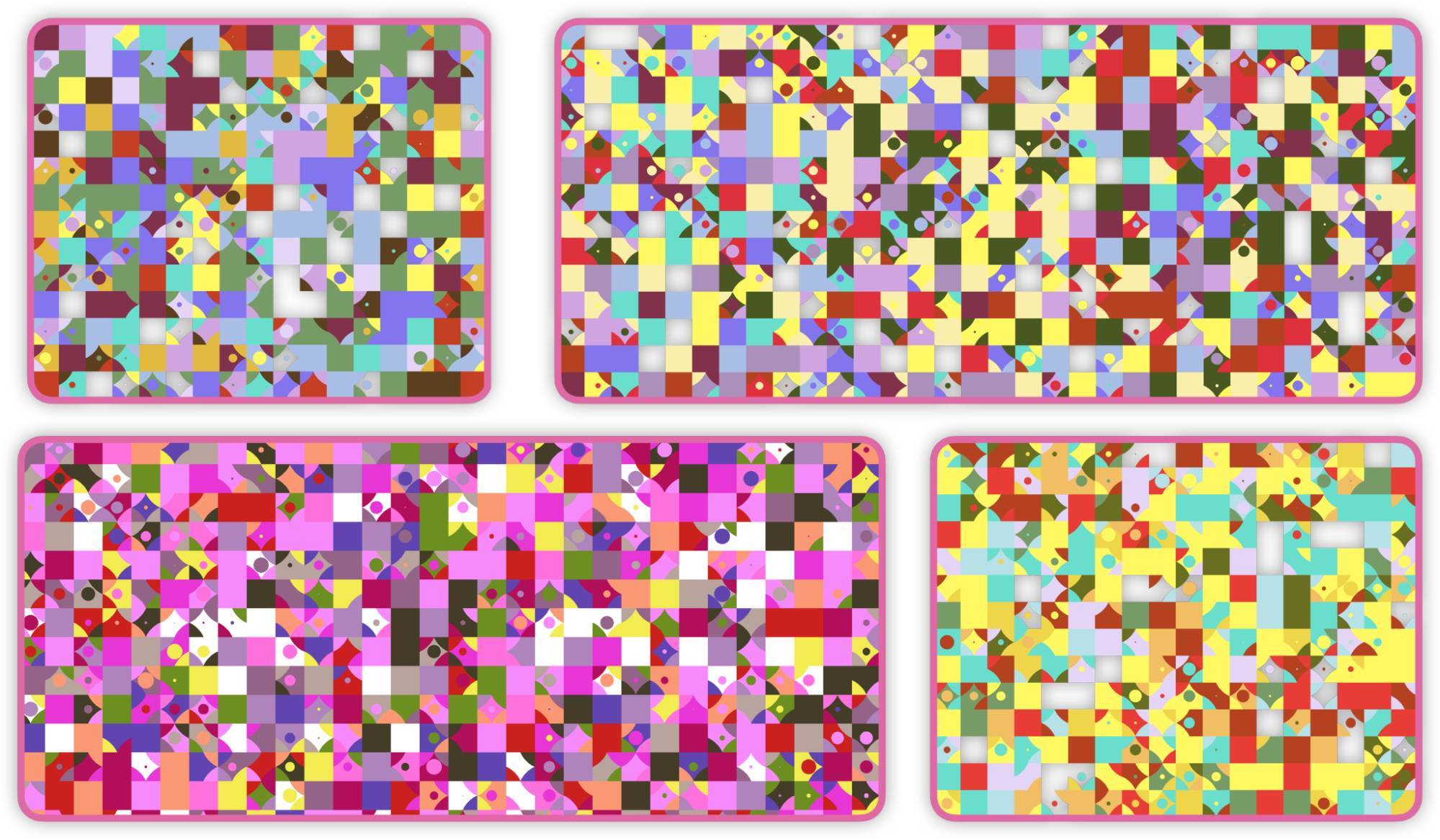 You know the phrase, "taking a mental snapshot" to remember fleeting moments as you experience them in real life? With IoTNFT, all you have to do is click "Mint as an NFT'' for the real-world data from that exact moment, and suddenly you have an artistic masterpiece to represent that personal memory in your life. Avid travelers could use IotNFT to mint an NFT at every landmark they visit- unique only to them- and view their NFT collection on a map, since the geolocation of every data point is captured.
🏆 Pebble Analytics
Live website: https://pebble-dashboard.herokuapp.com/
Repository: https://github.com/skhiearth/Pebble-Dashboard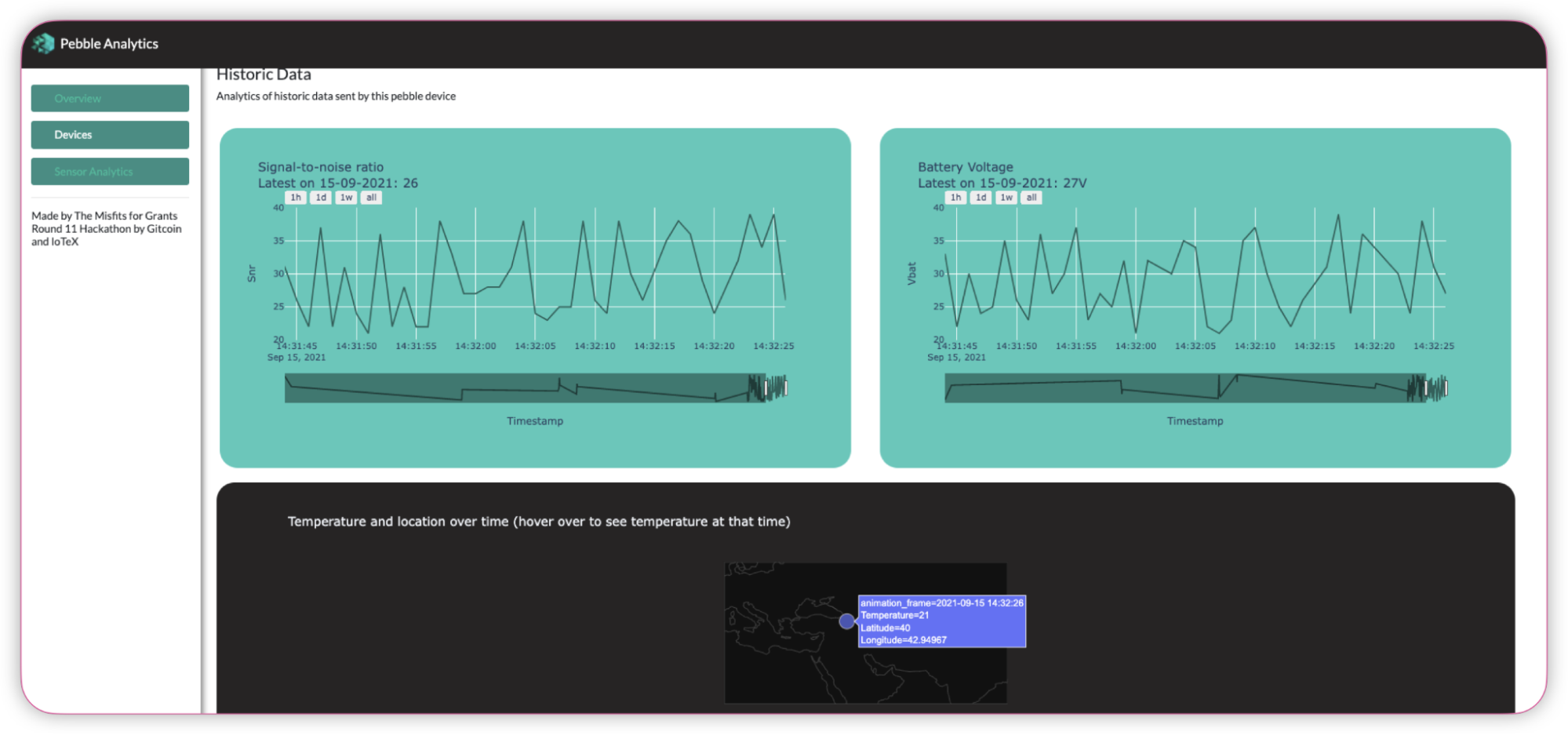 Pebble Analytics provides an interactive experience for users viewing their Pebble data on the network. The dashboard allows users to track the Pebble's location on a map and view the device's sensor analytics. But the most exciting feature is that the dashboard plays an animation clip bringing data features to life, such as temperature and location over time or pressure and location over time.
This interactive map could provide exciting opportunities in the fitness health space. Imagine a hiker making his/her ascent up a mountain. Pebble analytics can track temperature and pressure from beginning to reaching the summit. Similarly, marathon runners can visualize their journey with humidity or temperature during the race. The future of health data could be revolutionized.
Additionally, Pebble Analytics provides network-wide statistics for all TruStream data. From the GPS distribution of all registered devices, to users that own the most devices, to the most active device, this dashboard is exhaustive and provides lots of insights regarding the TruStream network as well as each single device.
Pebble Loots: NFT DApp
Live website: https://www.pebble-loots.app
Repository: https://github.com/nicky-ru/pebble-loots
Demo Video: https://www.youtube.com/watch?v=0l6Tu4Eqo6A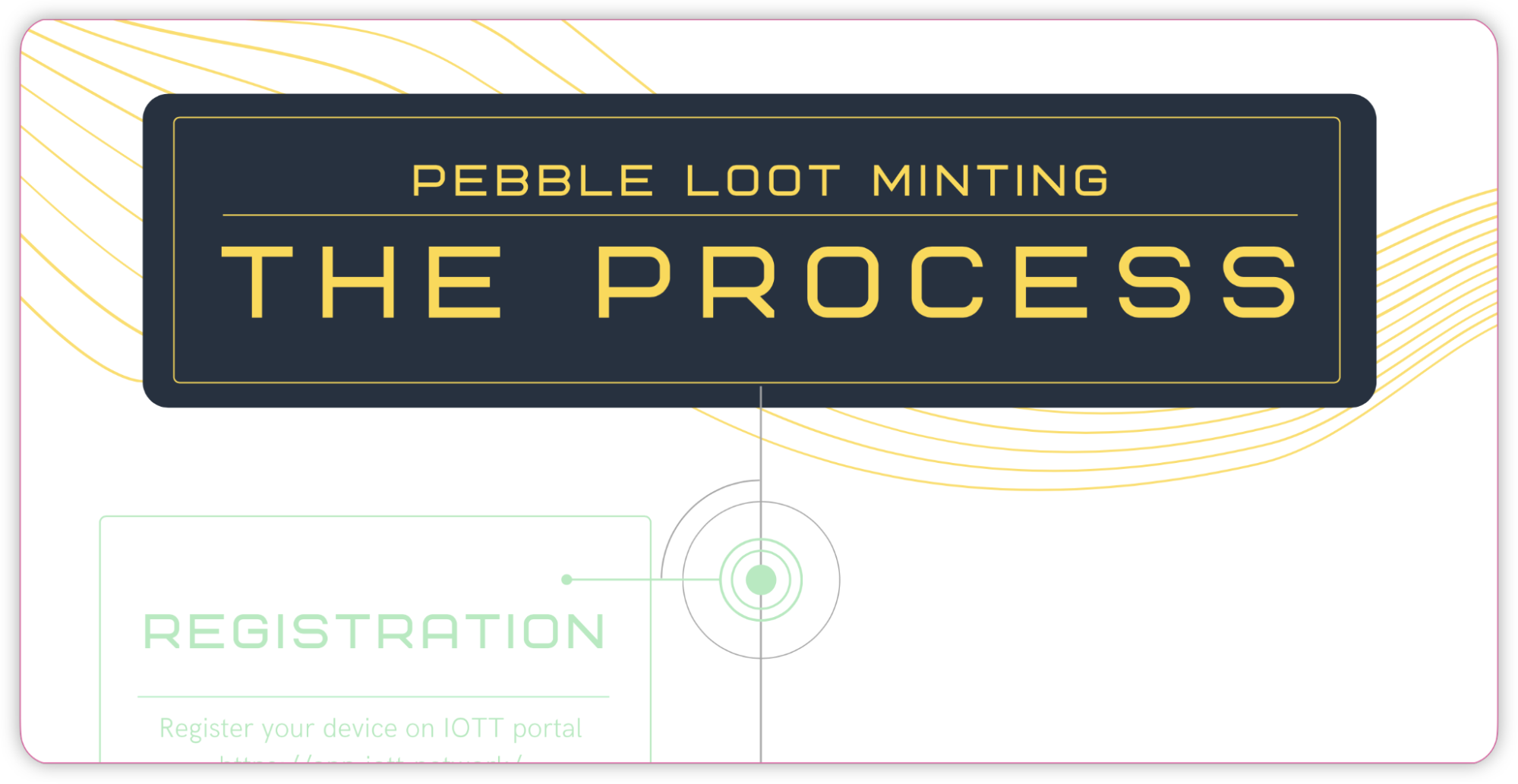 An honorable mention goes to Pebble Loots: Pebble Loots enables users to mint, manage, and transfer loots (collections of NFTs) representing Pebble devices and their data from TruStream. By minting these NFTs representing the owned device, users can visualize the real-time data "streaming" from  their devices with a comprehensive dashboard on the Pebble Loot website.

On Pebble Loot, minted loots serve as the authorization tool to verify the ownership of data before displaying it. The owner decides what to do with their NFT, including sharing or selling that data to another user by just transferring the NFT.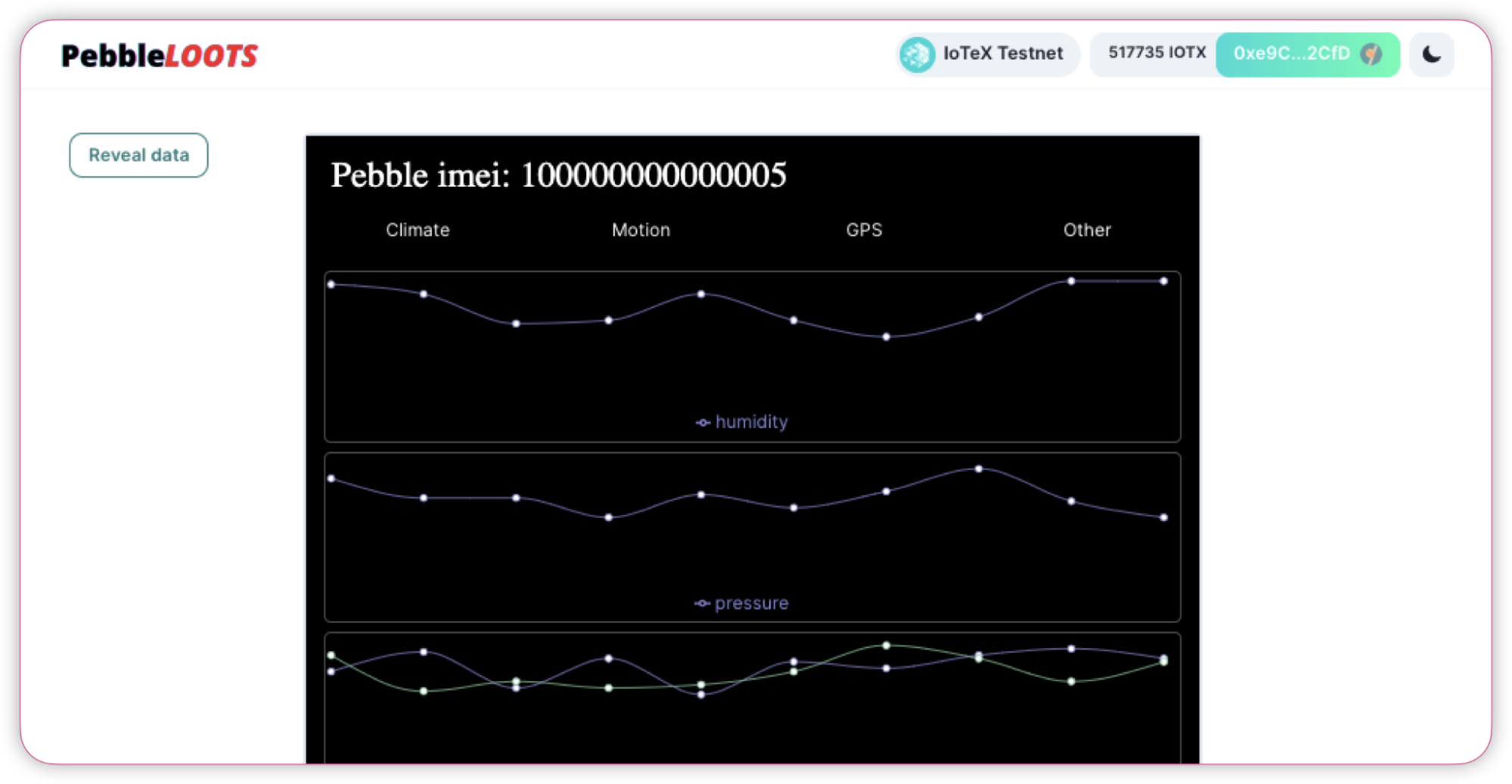 The interactive elements of this app perfectly demonstrate the massive future of Pebble data beyond just tracking. Combining social aspects with opportunities to monetize as well, Pebble Loot is built for everyday people with IoT devices. We can't wait to see this project developed even further, with more features being added soon!
Pebble Dashboard
Live website: http://www.sivapp.in
Repository: https://github.com/sivaganeshan/iotexpebbledashboard
Demo video: https://bit.ly/3A9rnws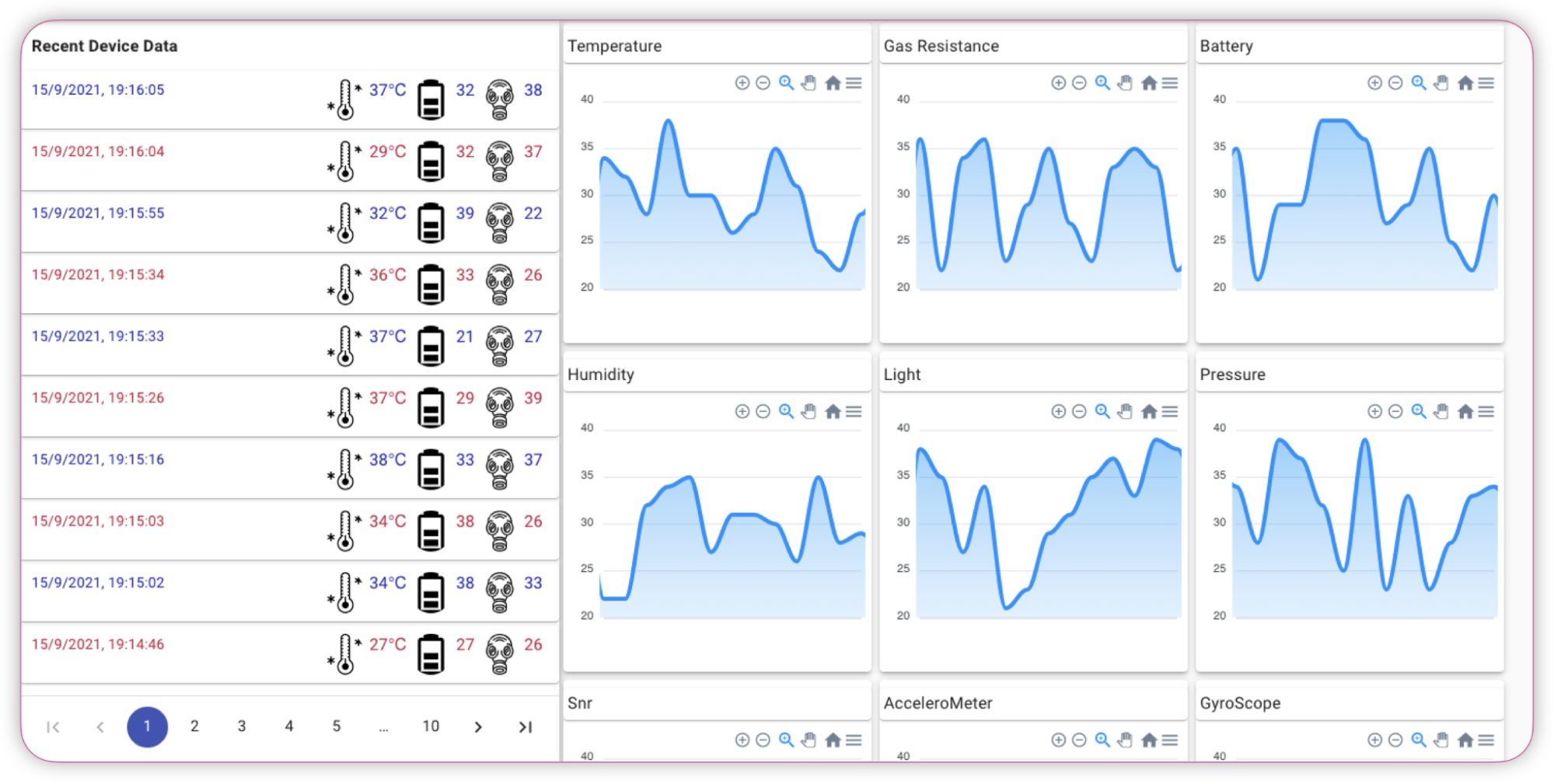 Another honorable mention goes to Pebble Dashboard. This dashboard makes it incredibly easy to view your Pebble's data change over time, thanks to its intuitive graphs. Users can view how each environmental aspect has been tracked as well as view the map location of each data entry.
Viewing tamper-proof data over a period of time is an extremely beneficial asset for wide-scale adoption, specifically in the supply chain industry. Think about vaccine distribution that requires a precise range of temperature and humidity requirements during transportation in order to remain viable. To solve this, companies could place a Pebble tracker in the storage containers, track the conditions using this type of graph dashboard, and set up real-time alerts if the temperature or humidity levels ever go outside of the safe boundaries.
Building intuitive dashboards is the key to connecting trusted devices and data to this trusted software, making IoT data tracking easy and accessible for all users. Get ready for this new global standard of trust and transparency!
About TruStream: Don't Trust, Verify.
TruStream is a decentralized protocol for verifiable, real-world data. Users no longer need to simply trust the integrity or accuracy of their data, but instead can prove without a doubt that their information is factual.
IoTeX is paving the way for this new global standard of trust and transparency. The TruStream network takes real-world data generated by IoT devices like Pebble and creates cryptographically secure data streams to be used by developers. Trusted data is only as reliable as the devices it is captured on, making IoTeX's combination of tamper-proof hardware and software an unbeatable pair.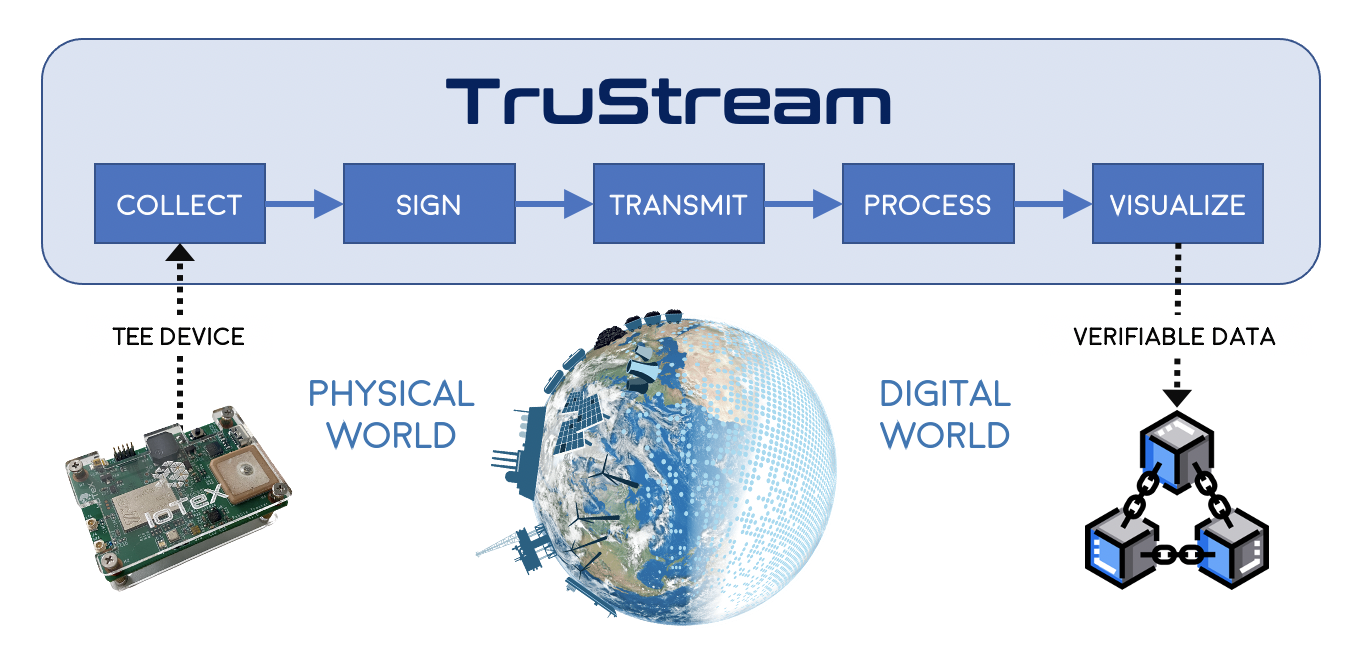 With TruStream, developers now have the power to bring IoT data to life with endless opportunities for creative innovation in the IoTeX network and beyond.