IOTX Exclusive Trading Campaign On Crypto.com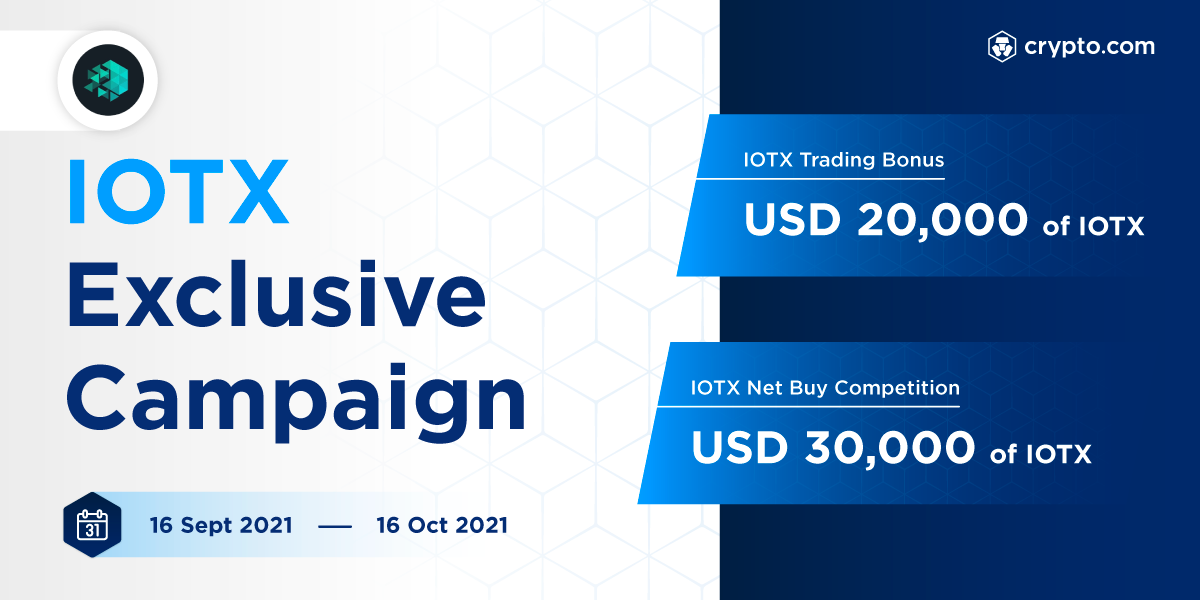 Following the listing of IOTX in the Crypto.com App, we are excited to announce the start of the IOTX Exclusive Trading Campaign. Crypto.com App users have the chance to win a share of the USD 50,000 prize pool by trading as little as USD 10 of IOTX, with the Rank 1 participant taking home USD 1,000 of the token!
Campaign Period: 16 September 2021, 07:00 UTC - 16 October 2021, 00:00 UTC
Part 1: IOTX Trading Bonus (USD 20,000 Prize Pool)
The first 500 users to trade at least USD 10 of IOTX during the Campaign Period will win USD 40 of IOTX each.
How to participate?
Part 2: IOTX Net Buy Competition (USD 30,000 Prize Pool)
The top 400 traders ranked by IOTX Net Buys will win up to 1,000 IOTX each.
How to participate?
*Net Buys (IOTX) =  Deposits From External Wallets and Exchanges (IOTX) + Buys (IOTX) - Sells (IOTX)
IOTX Reward Table
*Increase your chances of winning by buying and depositing more IOTX while selling less.
What is IoTeX?
The IoTeX blockchain platform is a decentralised ecosystem designed for connecting Internet of Things (IoT) devices—such as security cameras, sensors, drones, and wearable fitness trackers—to decentralised applications. The aim is to have an open ecosystem where humans and machines can interact with guaranteed security, trust, and free will. IOTX is the native token for the IoTeX blockchain platform. It can be used to pay for transactions, staking, governance, and to register new devices on the IoTeX network.
Helpful Links
Notes