Lockheed, IoTeX, Ericsson, Lenovo, Huawei, Bosch Partner-up on IEEE Standards
IoTeX will lead an IEEE standards group consisting of Lockheed, IoTeX, Ericsson, Lenovo, Huawei, Bosch to establish Digital Identity standards that will unlock untold value.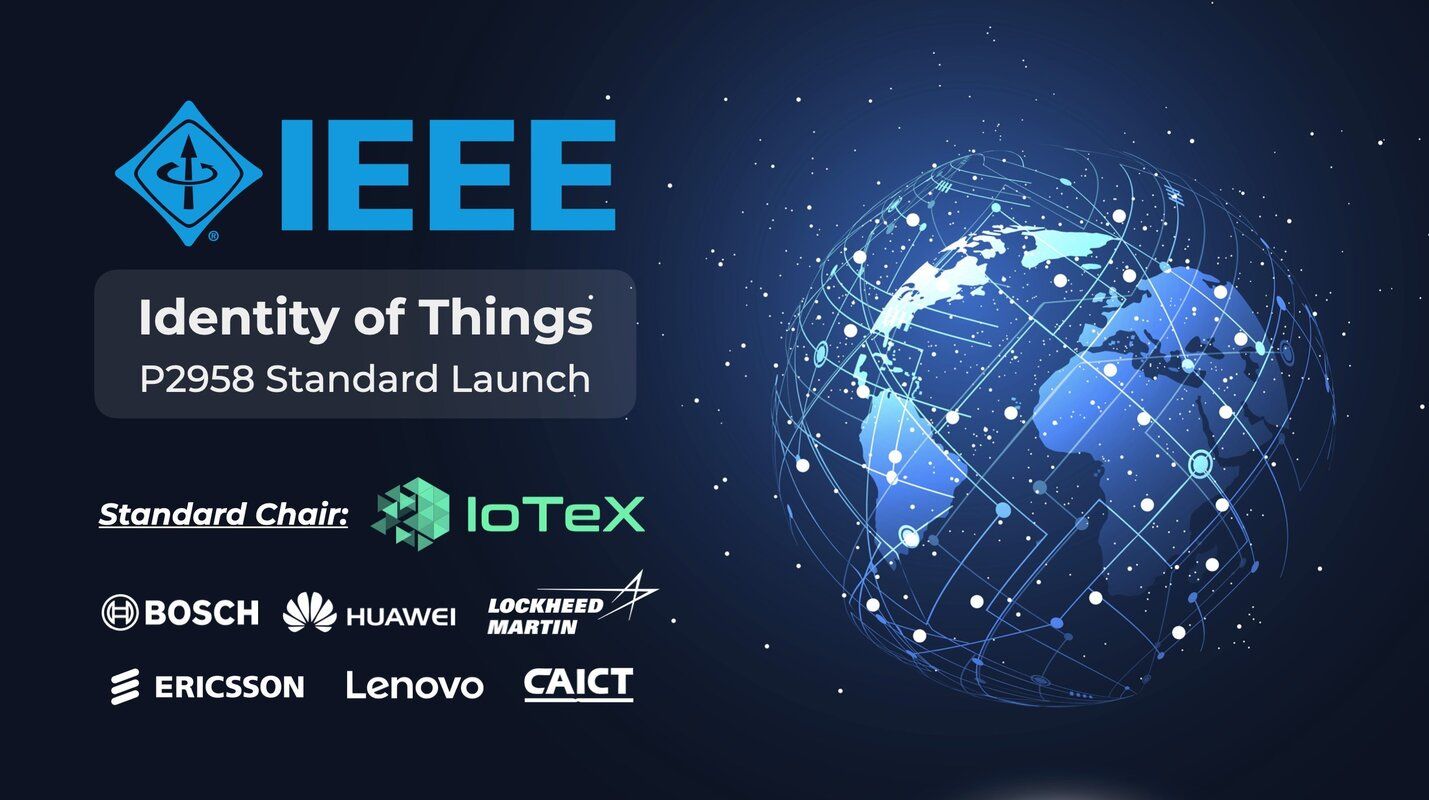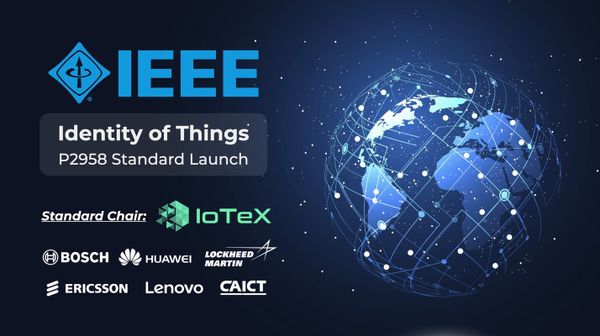 We're happy to report that IoTeX continues to make great progress. We're really moving the needle with:
Leading an IEEE standards group consisting of Lockheed, IoTeX, Ericsson, Lenovo, Huawei, Bosch to establish Digital Identity standards that will unlock untold value.
Partnerships with Chainlink and Cartesi to bring off-chain data for use on IoTeX.
Out top-level panels on the Future of IoT, Blockchain and Web3 with industry leaders from Amazon, AWS, MOBI, Bright AI, Samsung, Industrial IoT Consortium, CTA, producer of the CES event, ARM, and IoTeX.
The IoTeX x Chainlink x Cartesi Trifecta
IoTeX recently announced its partnerships with both Chainlink and Cartesi. All three projects have already made significant strides towards real-world connectivity, and they are even more powerful when used together.
The IoTeX-Chainlink partnership will cross-reference the historical data (from Chainlink) with live, real-world data (IoTeX) to execute smart contract applications using this information. Cartesi is an operating system blockchain that provides the developer environment in which to execute smart contracts and solves the issue of computational scarcity.
"IoTex is an environmentally friendly-oriented blockchain," said Cartesi CEO Erick de Moura. "We combine their blockchain technology, expertise on IoT, and hardware devices with our Layer-2 environmentally friendly blockchain agnostic technology. The integrated framework will promote a more powerful development framework for our communities, developers, and any companies interested in building fully trusted IoT solutions." - Chainlink and IoTeX link up to advance real-world connectivity

P.S. A big congratulations to Chainlink on their new partnership with AccuWeather. Now chainlink can provide weather data to blockchains. Expect to see this on IoTeX very soon!
Lockheed, IoTeX Ericsson, Lenovo, Huawei, Bosch, kick off global IEEE blockchain Identity of Things standardization
This week the IEEE, a global standards setting body, announced the launch of an initiative for the development of international decentralized identities for people worldwide and machines from all manufacturers in every country around the world. These standards will make it possible for machines and people to communicate, monetize and interact with each other.
"Today, I am pleased to say we have formed a fantastic initial class of forward-thinking enterprises to drive this standard forward," Dr. Fan added. "By co-creating standards with industry experts, IoTeX is committed to innovation in the blockchain space via our real-world products, such as Ucam and Pebble Tracker. We want to help people securely own their data, earn by monetizing it and the value their smart devices generate, and make the world a better place."   - Dr. Xinxin Fan, chair of the group and Head of Cryptography at IoTeX
Researchers and scientists from Lockheed, Ericsson, Lenovo, Huawei, Bosch, and IoTeX are members of this IEEE P2958 Identity of Things Working Group.
Ericsson Head of Blockchain Business Development Giovanni Franzese said, "It's a huge privilege to contribute to the IEEE P2958 standards development, bringing the market perspectives, the Ericsson knowledge, and participate in a cooperative cross-industry group to make the standards effective and fostering for adoptions with our clients."
IoTeX is proud to be leading and actively working to create and advance standards that will benefit the coming MachineFi economy.
Watch the recent IoTeX Livestream: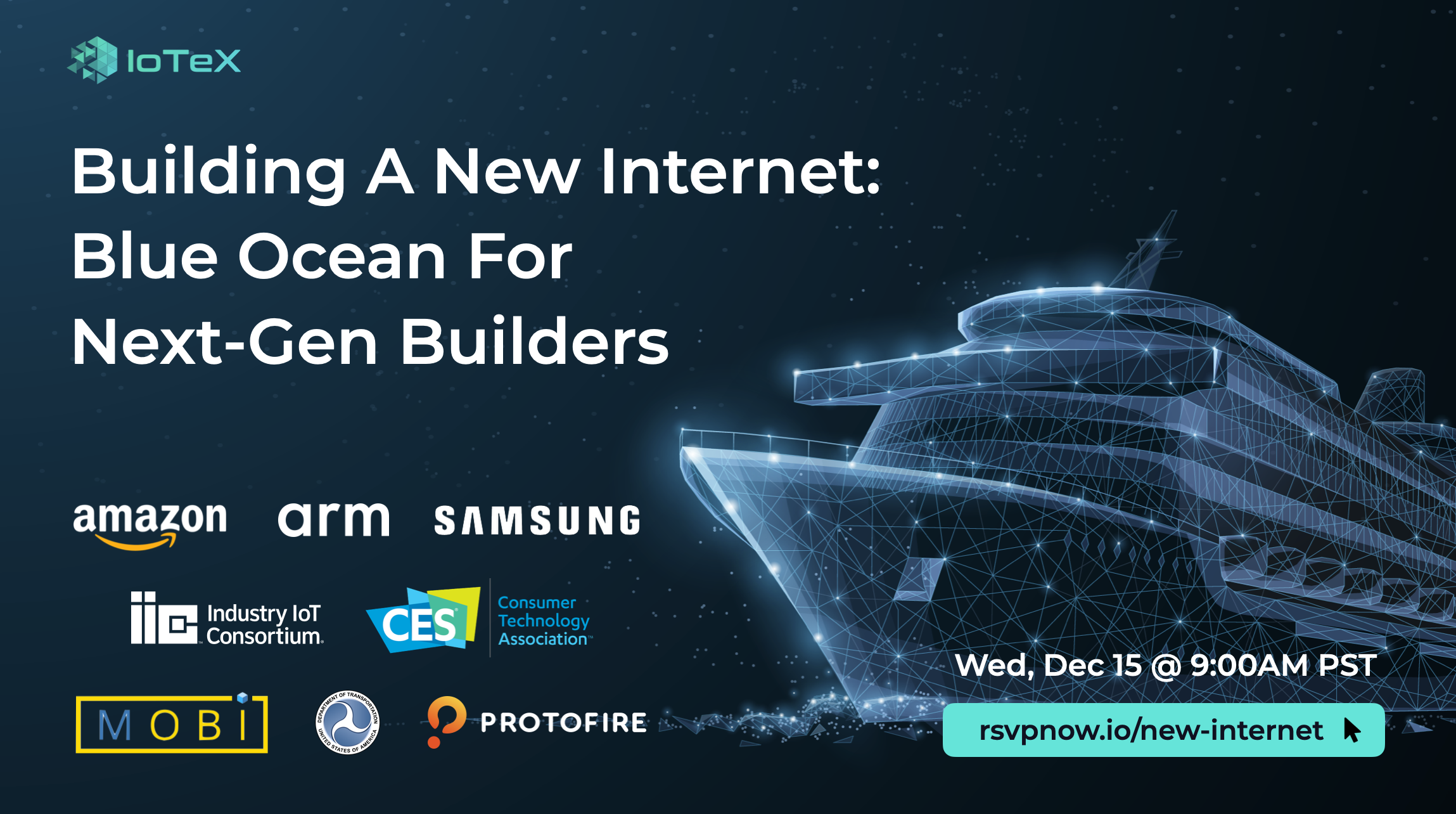 Thousands of people have already watched our event where we explored the future of Web3, MachineFi, IoT, and more with some of the leading minds in the space. Didn't catch it live? You can watch it now here.
AICorespot Event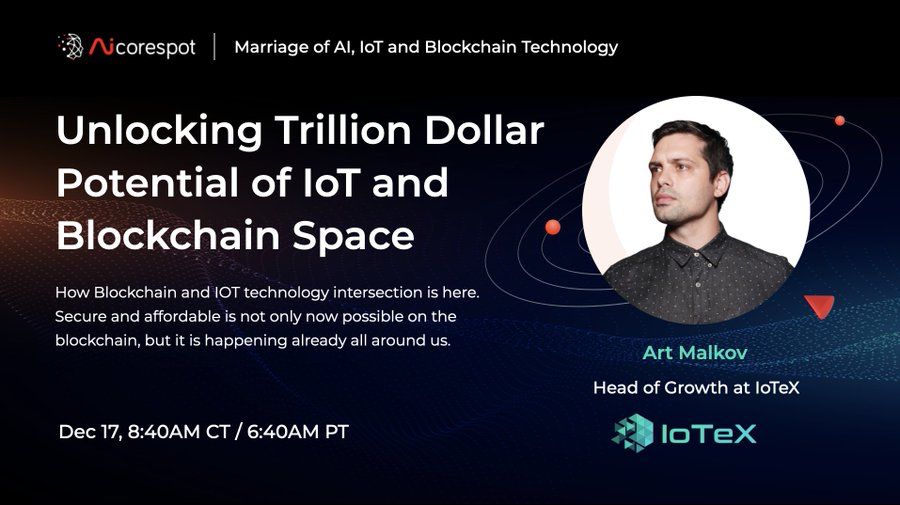 Watch the recent keynote presentation from IoTeX's Head of Growth, Art Malkov, discussing the exciting future of MachineFi! Disruptive technologies like AI, robotics, and machine learning are leading the way for an innovative workforce. MachineFi will intersect with all of these technologies to provide a secure, affordable, and democratized solution for everyone. You can see the presentation here.
2021 Recap Is Coming Before Year's End!
With Some Eye Popping Metrics Across the Board.
Happy holidays from our IoTeX family to yours! Taking a trip down memory lane, this past year has been one of immense growth and expansion for the IoTeX ecosystem. More people than ever are spreading the word of IoTeX and realizing its potential in the blockchain space and beyond.
Thanks for being a part of our journey to powering billions of devices. We can't wait to see what 2022 will hold.