Mainnet v1.2 — Activating the Cambrian Explosion on IoTeX
Just as the Cambrian Explosion birthed the world's first advanced organisms over 500 million years ago, Mainnet v1.2 will spark IoTeX's largest wave of innovation yet and cement our position as an indispensable hub for the decentralized economy.

Today is a big day for the IoTeX Network — Mainnet v1.2 is officially LIVE! This is not just your typical code upgrade. Mainnet v1.2 introduces paradigm-shifting capabilities that will activate a Cambrian Explosion of new DApps, tokens, and protocols on the IoTeX Network. Just as the Cambrian Explosion birthed the world's first advanced organisms over 500 million years ago, Mainnet v1.2 will spark IoTeX's largest wave of innovation yet and cement our position as an indispensable hub for the decentralized economy.
Mainnet v1.2 delivers powerful security, reliability, and dev-tool upgrades, but most importantly it introduces the Babel web3.js API, an in-house turnkey solution that connects IoTeX to Ethereum and other EVM-compatible blockchains like never before. With Babel:
Developers can a) port over any EVM-compatible DApps & Tokens to IoTeX in minutes with no configuration required, b) enjoy the scalability, ultra-low fees, 5-sec block times, and security of the IoTeX blockchain, and c) utilize IoTeX-only features like real world data and decentralized identity (DID) to take their DApps to the next level
Users can enjoy their favorite EVM-compatible tools like MetaMask on IoTeX just by setting an RPC endpoint — no dev experience required!
Token holders can marvel at the influx of new DApps and tokens that will come to life on IoTeX's scalable, fast, and low-cost platform
In the rest of this blog, we explain in detail the vast opportunities that Mainnet v1.2 will enable for the IoTeX Network.

The IoTeX Platform — Ready for the Masses
There has never been a better time to build on IoTeX, which is now one of the most holistic platforms in the entire industry. With Mainnet v1.2 and Babel API, developers can enjoy out-of-the-box compatibility with Ethereum and web3 to seamlessly bring their DApps to IoTeX. Once
EVM-compatible: IoTeX supports all Solidity-based smart contracts and facilitates seamless portability of DApps and tokens to IoTeX
Low Cost: IoTeX gas fees are up to 1000x lower than Ethereum; a transfer that costs $10 on Ethereum is often as low as $0.01 on IoTeX!
Scalable: IoTeX can support thousands of TPS with high decentralization, providing up to 100x more scalability than Ethereum 1.0
Fast: IoTeX utilizes 5-sec block times with instant finality for lightning-fast consensus, compared to minutes for Ethereum
Decentralized: IoTeX is maintained by a global network of decentralized Delegates running carbon-friendly Roll-DPoS consensus
Cross-Chain: IoTeX supports two-way token swaps to Ethereum, BSC, Polygon, and more via ioTube cross-chain bridge
For more details, see our onboarding pack and dev documentation.
Real World Data for EVM-Compatible DApps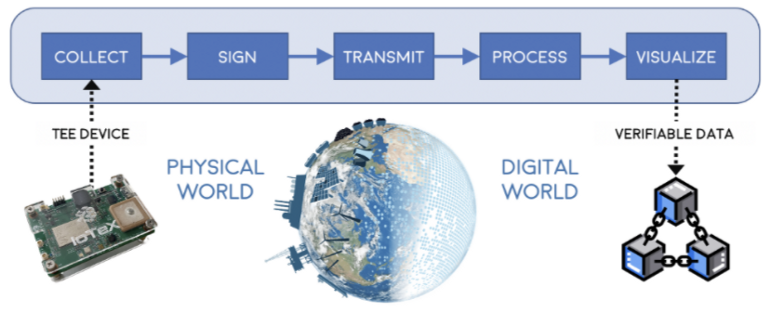 IoTeX competes with the top blockchain platforms in the world in terms of security, scalability, and costs. But IoTeX also has unique and powerful features that no other blockchain has, such as verifiable real world data from tamper-proof smart devices. Just like trusted price feeds from Chainlink sparked a DeFi renaissance in 2020, trusted real world data will spark a Cambrian Explosion on IoTeX and enable never-before-seen use cases that stretch across the physical and digital worlds:
DeFIoT: new financial markets can be created using verifiable data from trusted IoTeX devices as inputs to prove facts to DeFi smart contracts. Example: IoTeX-powered weather stations to inform weather insurance DApps
Prediction Markets: peer-to-peer bets can be settled using verifiable real world data instead of centralized data sources or error-prone validators. Example: Augur can launch health-related prediction markets settled by trusted data from wearables
Supply Chain: tracking & tracing of physical assets can be secured and automated using trusted devices and smart contracts. Example: payments can be auto-settled once inventory reaches its destination based on trusted GPS location data
Gaming: a user's physical actions (e.g., location, movement) can be measured and written to a smart contract to unlock digital rewards. Example: Decentraland can issue real world challenges for users to compete for in-game prizes
NFT Marketplaces: NFTs and other digital assets can be minted after certain conditions (e.g., proof of presence) are proven to a smart contract. Example: Pebble GO rewards users that visit physical artworks/murals with a digital NFT version
IoTeX has already launched blockchain-ready smart devices like Ucam and Pebble Tracker, which will deliver real world data to a growing number of IoTeX DApps, including Pebble GO, HealthNet, Scaleout, HealthBlocks, and more. Stay tuned for more content on how real world data will transform the blockchain landscape in the coming months!

What's Next?
The future is bright for IoTeX — we can't wait to see how the blockchain universe will utilize the best version of the IoTeX platform yet! As we enjoy this monumental code release, we are already looking ahead to Mainnet v1.3 as well as publishing our IoTeX 2.0 vision in Q3 2021.
Starting now, anyone can use MetaMask to interact with the IoTeX blockchain (instructions here). We look forward to adding out-of-the-box support for the most robust and popular Ethereum tools including indexers (e.g., The Graph), IDEs (e.g., Remix), and Solidity dev-tools (e.g., Hardhat, Truffle).
We also plan to deepen our commitment to our community of users and developers with new network tools, such as Iofura (API service), IoTeX-Scout (explorer), and Snapshot (governance/voting). Finally, we will soon launch our Halo Bootstrapping Program to bring new projects from idea to MVP to crowdfunding to production-ready DApp. Get ready!
Let us know what other tools and integrations you want to see on IoTeX! Give us a shout on Discord, Telegram, and Twitter.
Ready to build with Mainnet v1.2?
Make sure to join our Developer Discord and meet our community of futuristic builders. Ready to build now? Check out our Dev Docs & Github which give you everything you need to port over your existing Solidity-based DApps or launch a brand new DApp, token, or protocol on the IoTeX Network.
About IoTeX
Founded as an open-source platform in 2017, IoTeX is building the Internet of Trusted Things, an open ecosystem where all "things" — humans, machines, businesses, and DApps — can interact with trust and privacy. Backed by a global team of 30+ top research scientists and engineers, IoTeX combines blockchain, secure hardware, and confidential computing to enable next-gen IoT devices, networks, and economies. IoTeX will empower the future decentralized economy by "connecting the physical world, block by block".