Part III: A Totally New Design Space Powered by R3al-World Use Cases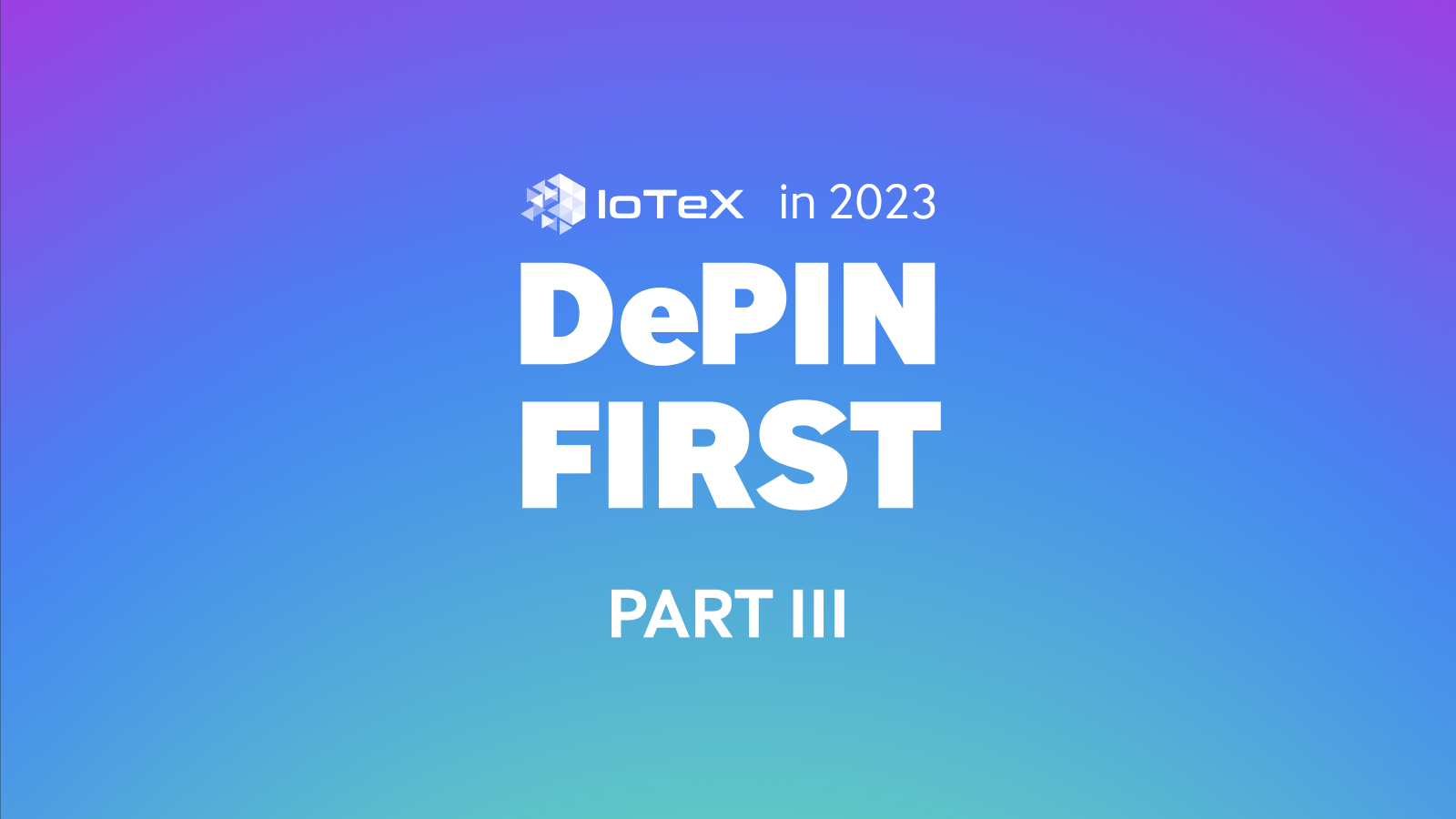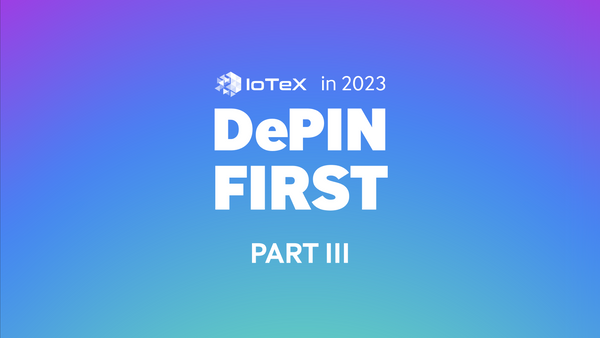 DePIN is the world's most ambitious startup sector, taking on web2 and realigning digital infrastructure to meet modern demand. But building a DePIN app requires a seven-layer tech stack spanning hardware and token economics. Thankfully, W3bstream abstracts multiple middleware layers into a single, uniform interface that cuts development time from years to weeks, opening up the DePIN design space.This series's third and final part explores how DePIN applications are startup ecosystems unto themselves. Device networks connected to W3bstream set off innovation explosions of new companies racing to capitalize on unprecedented data streams. The best of which emerge out of new data resources that unlock transformational use cases.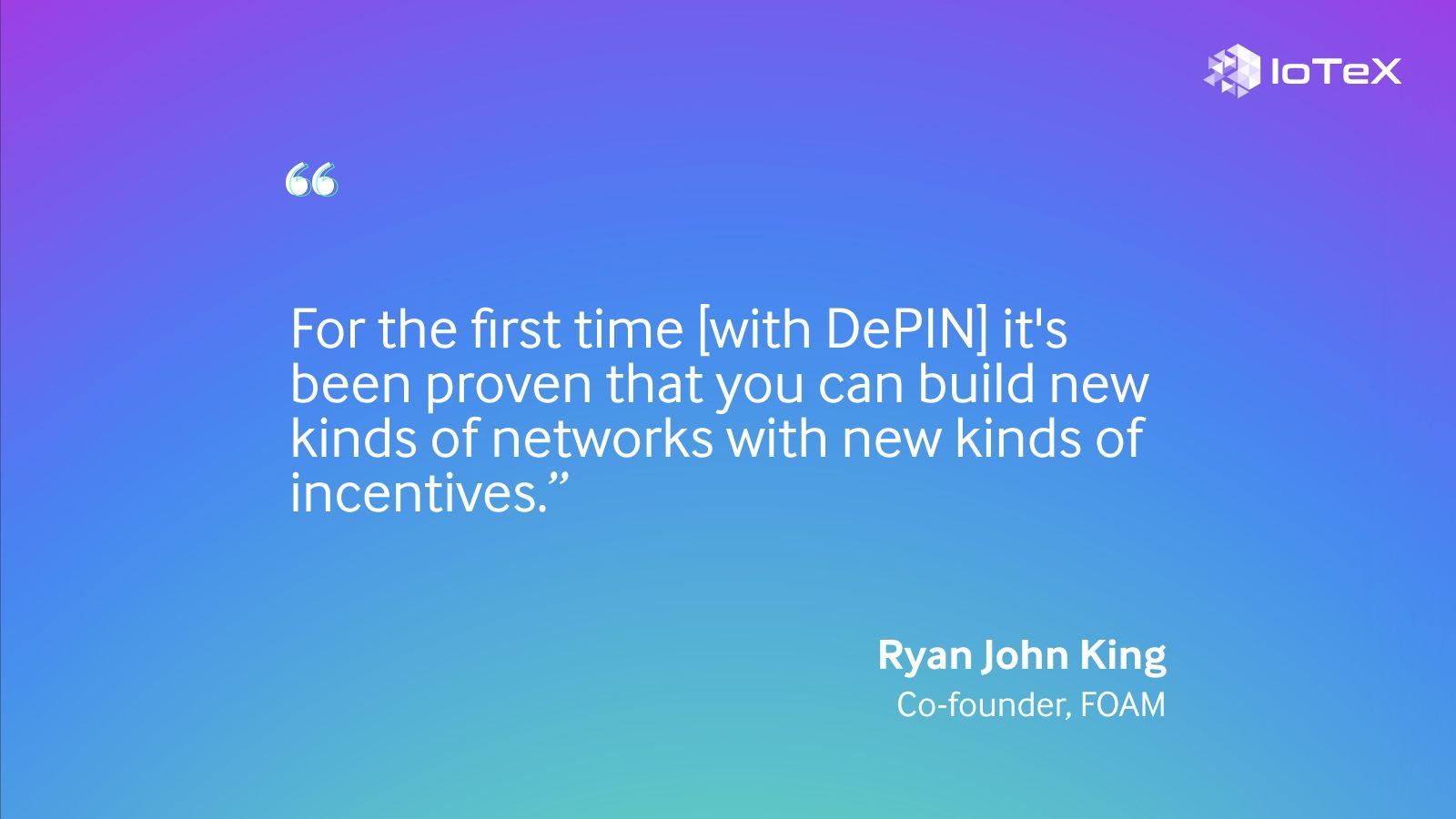 DePIN's Killer App

DePIN's killer app is token incentives. Enabling Helium to deploy a million hotspots to non-technical users in record speed. Dozens of other networks like DIMO and Hivemapper have followed Helium's lead. Users pay for the initial hardware–usually in the hundreds of dollars–and receive steady income streams for the life of the device. In exchange, DePIN protocols crowdsource the otherwise insurmountable expense of an infrastructure network.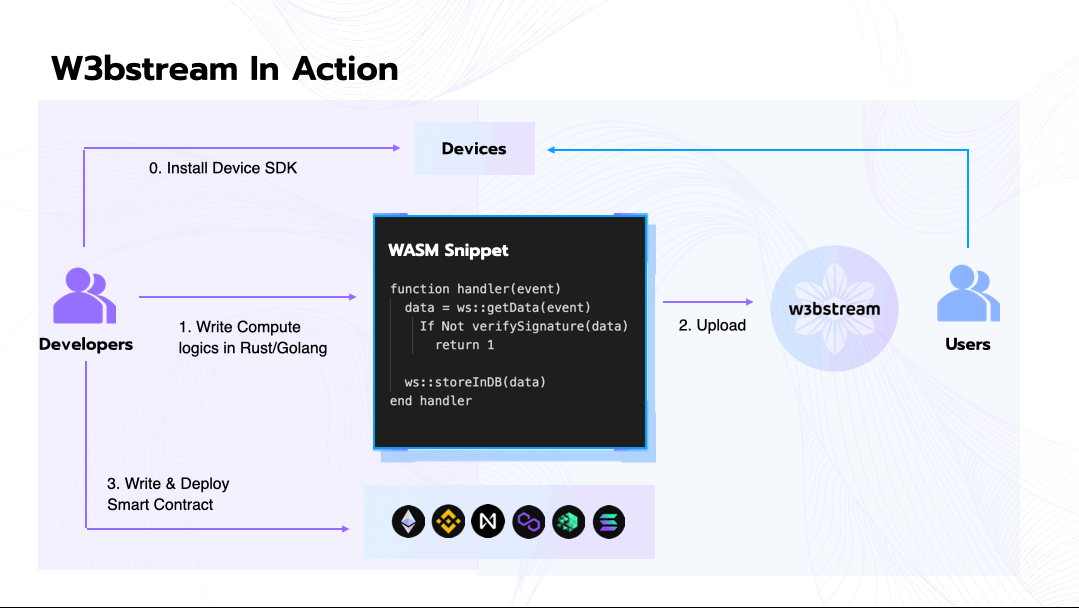 W3bstream Turns Devices Into Ecosystems

"I think that [DePIN] is really on the cusp of becoming one of the major driving forces in the entire web3 industry. Frankly you have to think about [DePIN] as something much bigger than web-3 alone, and as something that can impact the entire consumer product industry." – Alex Rawitz, co-founder of DIMO
Helium's IoT broadband network connects devices that don't have their own cell-chips and DIMO's autopi helps users understand and quickly upgrade their car. DePIN networks have direct value. But by connecting DePIN data to smart contracts and an off-chain r3al world engine, W3bstream unleashes DePINs to underpin entire application ecosystems.
"You should be able to access games and quests, trophy cases and car clubs, all with the data from your car. So we're really trying to open up access [to developers] to this incredibly data rich asset." – Alex Rawitz, co-founder of DIMO
DIMO's network creates an app store for cars that could generate billions of dollars in value. By de-coupling car data from the manufacturer and giving developers direct, opt-in access, consumers can access a free market of vehicle experiences, from virtual car clubs, to better insurance products.
Healthblocks captures data from wearables and packages it with W3bstream into an invaluable dataset. Examples like real-time fitness offers, longitudinal studies, and personalized training plans hint at Healthblock's ecosystem potential.
"That's the beautiful thing about IoTeX [open-sourcing device data], devices are part of our lives, so why aren't we using them as the next generation resource?" – Kim Hoang, co-founder of Perkable
Perkable uses W3bstream to access opt-in and anonymized cell-phone location to connect users with local businesses in real time. IoTeX's suite of DePIN infrastructure–including W3bstream, decentralized identity, and blockchain accounts–comes together to underpin Perkable's vision for web-3 customer acquisition and purchase proofs. Imagine you're driving and your DIMO AutoPi detects you're low on gas, since you've previously opted in, DIMO sends the data to Perkable which finds a deal from a local gas station offering you a 20 percent discount. You pull into the gas station and scan a QR code that executes the discount and generates an NFT proof of purchase.

With W3bstream, developers, small businesses, and even Web2 companies can tap into a multi-trillion-dollar asset class with ease. They can build anything from dApps for employers to incentivize employees to sleep better before going to work, to insurance companies rewarding safe drivers rather than punishing them.

In logistics, transportation and supply chains, smart device networks connected to W3bstream could save billions of dollars optimizing the sector with real-time programmatic and granular data.Examples abound, but the long-term value generation from leading DePIN protocols is likely two-orders of magnitude greater than their base applications.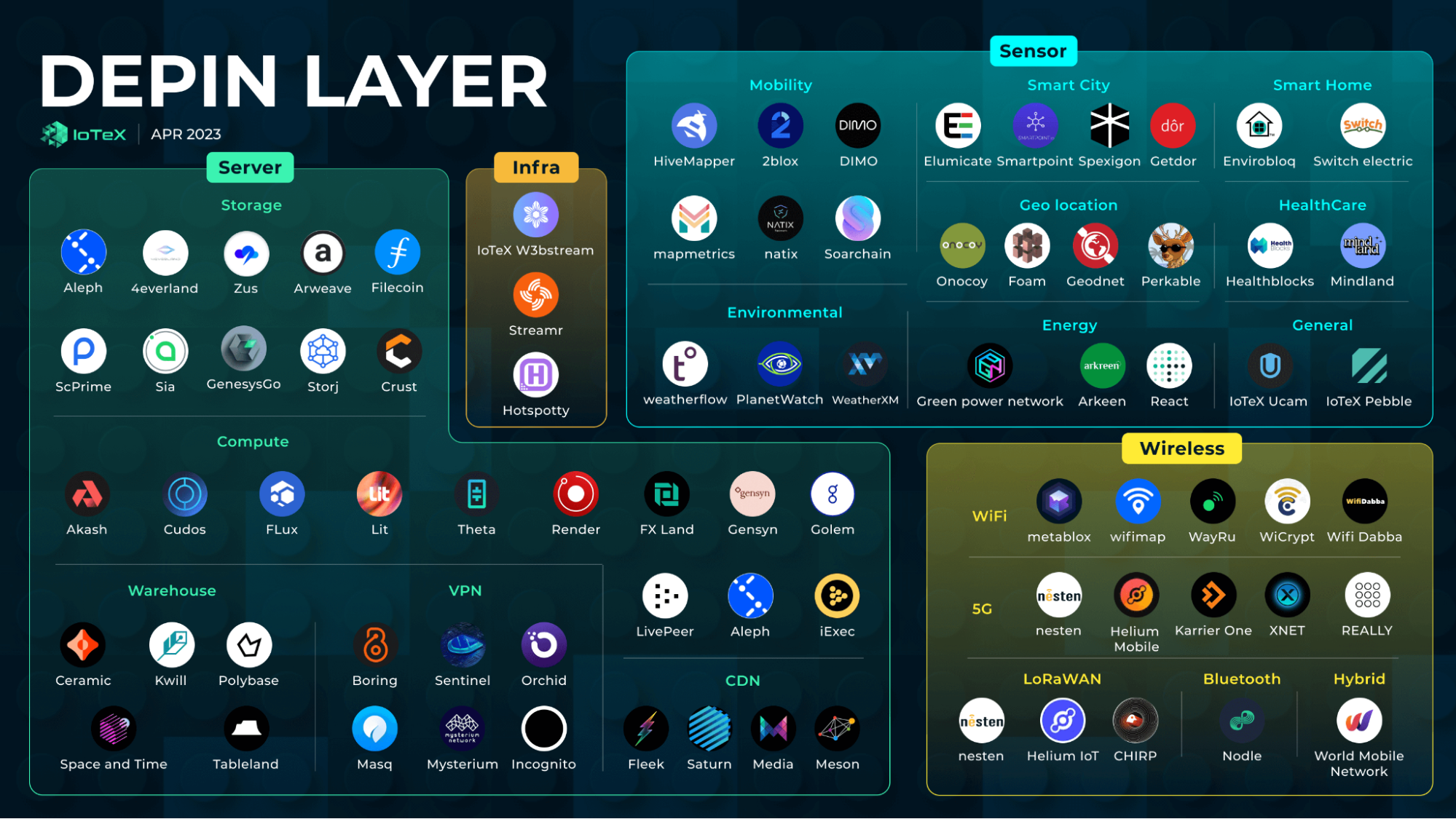 IoTeX is DePIN's Growth Engine

"W3bstream is the smart brain of our application." – Will McCann, co-founder of Envirobloq
DePIN is still in its infancy but the flywheel is spinning and the sector is primed to become the single largest driver of crypto adoption. DePIN is uniquely positioned to decentralize the value and infrastructure underpinning the AI race. AI model training is an eleven-figure industry in its own right, and demand for powerful GPUs is outstripping supply, even as their primary manufacturer, Nvidia, is now a $1 trillion business. Thanks to W3bstream, AI models can access real time data from global sensors, captured with secure hardware that guarantees unbiased inputs to the models of the future.
IoTeX has spent the last six years building infrastructure to help developers across DePIN verticals. Here are a few ways IoTeX is engineering DePIN growth:
Providing the necessary decentralized infrastructure to off-chain validate and compute telemetric data flows to smart contracts or dApps, with complete trustworthiness, transparency, and compatibility.
Reducing the build cycle for DePIN developers through investment, tools, and marketplaces for rapid prototyping.
Onboarding DePIN networks into a rich developer and community ecosystem to help them grow.
Halo Grants 2.0 provides financial backing for developers of all skill levels. With our four precise funding levels, we cater to a wide range of projects, from beginners to professional teams. Our approach helps drive innovation and growth within the IoTeX ecosystem, supports the broader adoption of DePIN in the real world, and visibly affects people's lives for the better.
W3bstream's Superpower

As we've shown, DePIN commingles categories so new startups can emerge. And W3bstream's superpower is turning DePIN networks into startup ecosystems. Thanks to W3bstreams intuitive design, this new design space is accessible to experienced development teams and hobbyists alike. You don't need to build the next people's network to experiment with W3bstream, we welcome applications that optimize your own home in the same way we encourage building global broadband networks. IoTeX infrastructure is tailor-made to dramatically accelerate DePIN growth at all scales, bringing real utility to millions of lives and upgrading the fundamental infrastructure that powers the modern world.
If you are interested in DePIN you can learn more about the latest developments in the sector and compare projects by visiting DePINscan. DePINscan powered by W3bstream and IoTeX is designed to empower intelligent investors in the DePIN sector.