Pebble Tracker + Morpheus.Network Disrupt Supply Chain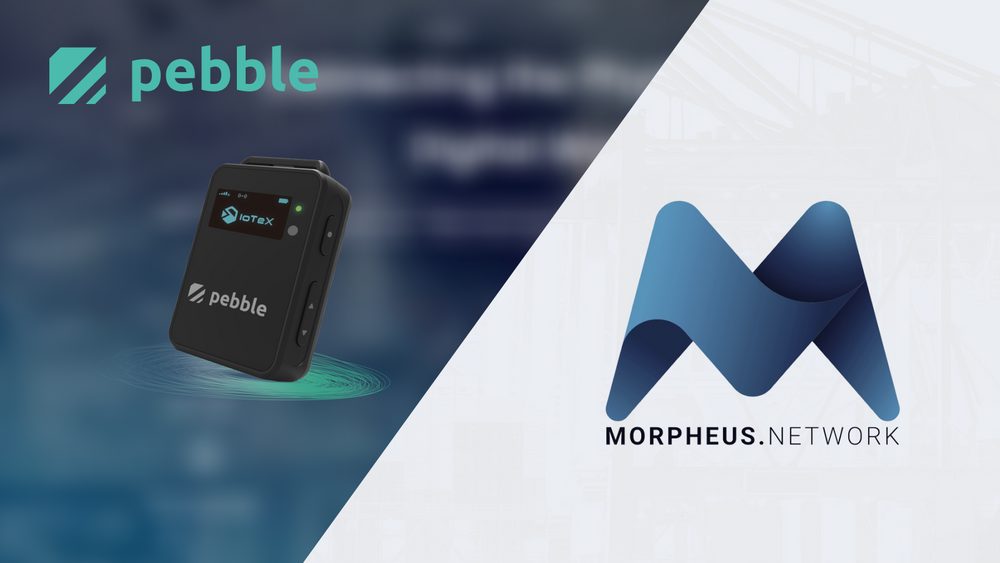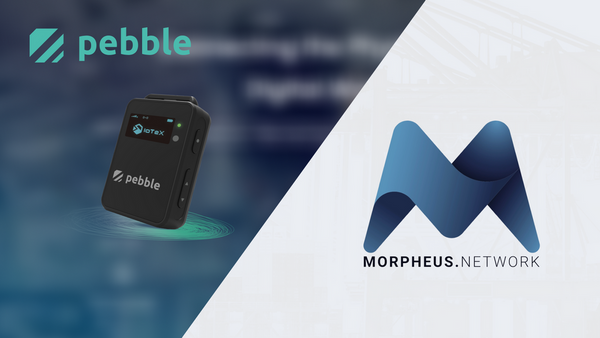 Morpheus.Network and IoTeX are partnering on a blockchain-based proof of concept that will usher in a new standard for supply chain tracking.
Together with IOTEX, we will provide our clients with trust, data, and provenance in a way we've never had before.We look forward to this partnership. - Morpheus Network

This pilot will use geolocation data from the Pebble tracking device that proves presence within  geofenced locations. That trusted proof will  trigger a smart contract to generate cross-border compliance documentation.
What do IoTeX and Morpheus.Network contribute to this effort?
IoTeX will bring our  innovative and disruptive IoT + blockchain-based solution that provides increased value and transparency to time-sensitive global trade at ever increasing scale. Their pioneering work in DID (Digital Identity) with standards organizations such as the Industry IoT Consortium is shaping the industry standard of the next generation of supply chain companies.
Morpheus.Network's document-sharing system facilitates  improvements across all areas of operation for their clients to reduce costs, required manpower, delivery  time and to reduce complexity in international shipping. The Pebble tracker will, at every stage of the supply chain, feed accurate, trusted, real-time data on the movements of physical goods across all points of the supply chain.
Real-World data and smart contracts
When an IoT device, such as the Pebble tracking device, has a DID it is transformed into  a unique actor in a machine-to-machine economy. This device can trigger smart contracts based on 'If/Then' conditions.
If: Goods arrive at a predetermined location:  as reported by a tamper-proof device that encrypts data before it even leaves the device  and sends it to the IoTeX blockchain.
Then: The smart contract automatically generates cross-border compliance documentation and any payments that might be due could be paid out based on the condition being met.
"Pebble is the perfect device for supply chain developers who want to establish a higher standard of trust for their data. Since the device has been designed for use in blockchain applications, both data integrity and the device identity can be verified by anyone against a blockchain record, and the TEE [Trusted Execution Environment] element integrated in Pebble makes this verification 100% reliable. Thanks to these features Pebble will serve as an unbiased third party in the Morpheus Network use case." - Simone Romano, Head of Developer Community Growth

Who benefits?

Supply chain and climate change are inextricably linked. The energy used, the carbon footprint of transporting goods around the globe, can both be reduced by greater efficiencies. With trustless verification of location being recorded and tracked on the IoTeX blockchain, goods can move more quickly from factory to customer. That's a win for every stakeholder in the process of moving goods. IoTeX is optimistic about the success of this pilot program. Together IoTeX and Morpheus.Network can make all supply chains more efficient, more trackable and more economical.
Larry Pang, Head of Business Development, IoTeX added,
"IoTeX is excited to partner with Morpheus Network to bring blockchain and IoT innovations to the supply chain industry. The IoTeX and Morpheus teams met in 2018 and after years of building in our own lanes we are excited to join forces to enable transparency and trust for manufacturers and distributors around the world. Our first proof-of-concept integrates data from IoTeX's Pebble Tracker with Morpheus Network's supply chain management platform to streamline and automate today's inefficient supply chain, and we look forward to bringing more real world devices and data to Morpheus Network in the near future."

Market Size of International Trade
Worldwide, global trade in 2021 reached an all time high of $28.5 trillion, according to a report issued by UNCTAD (United Nations Conference on Trade and Development)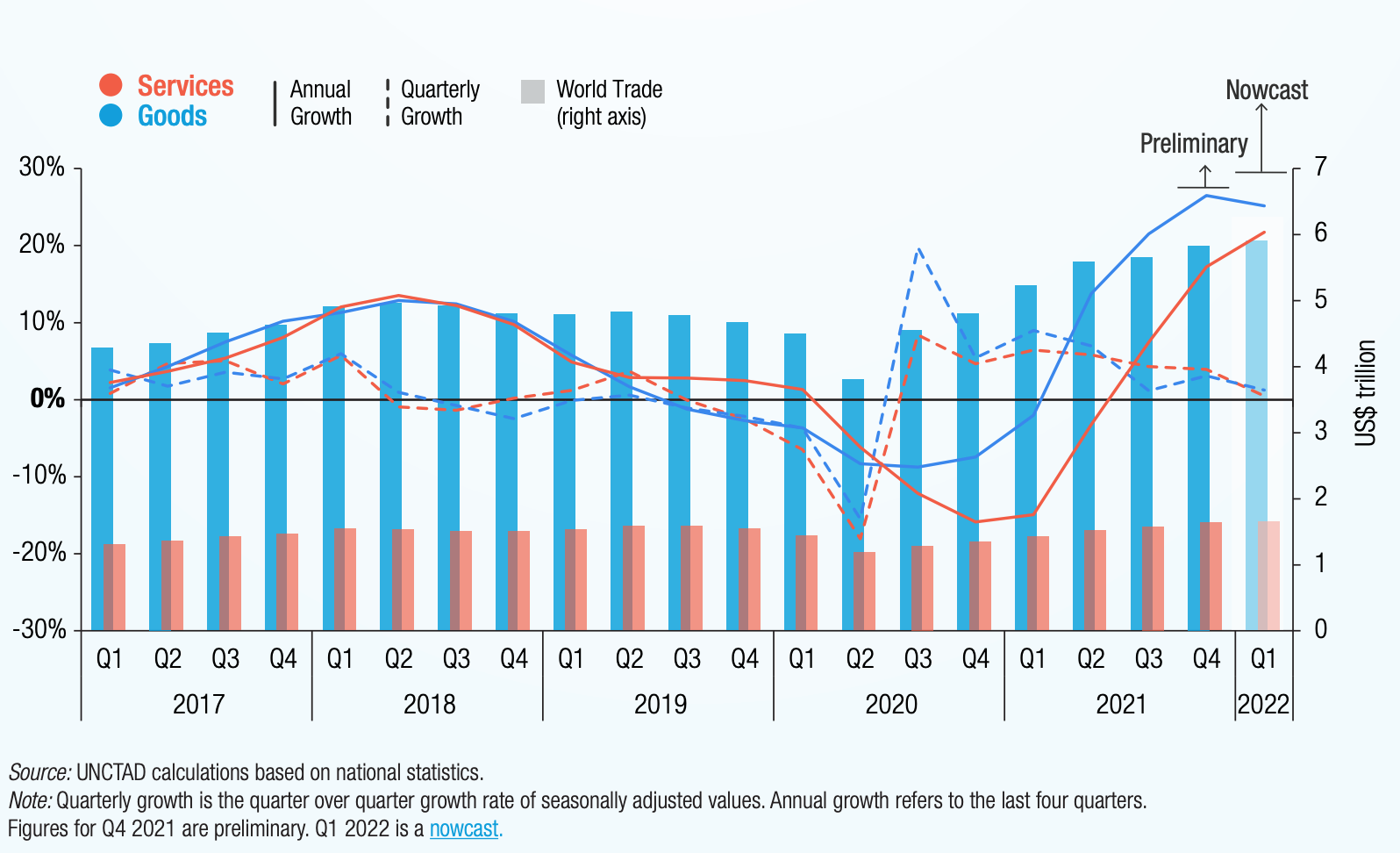 The Impact of Increased Efficiencies
Based on the above 2022 estimates, minus the Q1 $2 trillion in services (the actual total for Q1 was $7.7 trillion) there was $5 trillion in the trade in physical goods in Q1. Extended over all four Quarters of 2022, this works out to $20 trillion of goods being moved in 2022.
With an efficiency improvement of 10 percent, a savings of $2 trillion could be achieved with this greater transparency and automation. That $2 trillion could be shared between profits for investors and cost reductions for consumers. This is a sea change for the supply chain industry.