Recapping an Eventful Week with IoTeX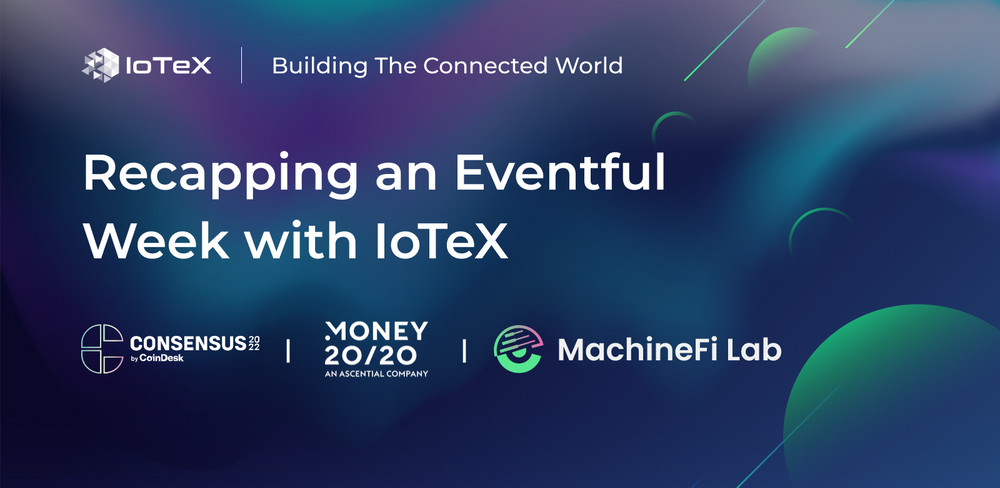 Hi IoTeX Community,
Since we last reached out to you, we've had more than a few events to tell you about. Probably the biggest news being that MachineFi Lab has raised $10M at a $100M valuation, led by Samsung Next, Draper Dragon, and Jump Crypto. This fundraise will let us strongly support more projects to change the web from a taker, extractive economy to one where your real-world efforts and data reward you. That's a day we're working tirelessly to make happen. It's time to bring MachineFi to the masses!
The investments by these companies, with their industry expertise and networks, will accelerate the transition to a fairer economy. We've all been reading WAGMI (we're all gonna make it) on social media. But we won't make it without smart, determined work. That's what we're doing. For you, For us. And for future generations.
And while this was wrapping up, we were preparing for events on multiple continents! We're getting out the word and building our ecosystem person by person.
Let's dive into it.
MachineFi Lab is an entity that builds infrastructure and tools to empower MachineFi developers. We are excited to embark on this next chapter of IoTeX with the support of top Web3, IoT, and traditional VCs.
Subscribe for updates at: https://machinefi.com/lab
Thank you to our investors who believe in the future of IoTeX's MachineFi Lab: Samsung Next, Jump Crypto, DraperDragon, HashKey Capital, WEMADE, IOSG, Goodwater Capital, DHVC, AlphaGrep, Hanwha Impact, Xoogler Ventures , NewBuild VC, and more!
📣  Read CoinDesk's news coverage here.
➡️  Learn about Samsung Next's investment thesis here.
➡️  Check out Xoogler Venture's announcement here.
IoTeX at Consensus by CoinDesk
Some of our team met up in Austin for Consensus by Coindesk, one of the largest crypto conferences of the year. It was a jam-packed couple of days as we caught up with the Web3 community, filled with the most creative and innovative minds. We saw many old and new faces stop by the IoTeX Booth to share in the excitement of the MachineFi vision. We left feeling more inspired and motivated than ever!
👉 Check out CertiK's #AroundTheConference interview (video) with IoTeX's Larry Pang and BitMart Exchange discussing security and more.
IoTeX's Simone Romano Hits the Stage at Money 20/20
Simone, Head of Dev Growth here at IoTeX, joined an insightful panel at Money 20/20 in Amsterdam last week. Titled "Is Wweb3 just VC-driven hype, or is the DeFi world coming good?", you can be assured that these speakers tackled the hard-hitting questions we all want to know.
Our Next Stop: NFT.NYC!
We'll be at #NFTNYC2022 where you can catch IoTeX CEO & Co-Founder Raullen Chai on June 21 at 2:10pm. This is a panel you won't want to miss:
Next Gen NFT Standards and Protocols
With Raullen Chai, Michael Sofaer, Jonathan Dorfman, Victor Zhang, and Riccardo Sibani
If you plan to attend NFT NYC, let's meet and talk about MachineFi, Web3 and IoT.
IoTeX x BitKeep AMA
IoTeX recently partnered with BitKeep, a top multi-chain crypto wallet. Daria Artanovskaya, IoTeX Community manager, will be hosting an AMA with Doc Sam, BitKeep Business Development Lead. And the best part? 15 winners will receive $200 IOTX!
When: 10:30PM (UTC+8) | June 15, 2022
Where: https://t.me/IoTeXGroup
Watch this lively, informative discussion with Chainlink, with panelists, Claire Biasco, Ecosystem Marketing Lead at IoTeX and Brady Gentile, Director of Product Marketing at Hedera Hashgraph.
IoTeX Ecosystem Teams Up with HackenProof for Better Security (CryptoNewsZ)
MachineFi Lab Raises $10M to Incentivize IoT Data Collection for Web 3 (Yahoo Finance)
Samsung Next and Draper Dragon Lead IoTeX's MachineFi Lab Investment Round To Build An Internet That Rewards Smart Device Users (IBTimes)
Samsung Next, Xoogler Reveal Motive Behind IoTeX Investment (Investing.com)
BitKeep Adds IoTeX to its List of Supported Mainnets (Cryptonews.com)
BeInCrypto Video News — Top 7 Altcoins For June 2022 (BeInCrypto)
HealthBlocks
Real–World Health Data Goes Web3 For Millions Of Users (CryptoDaily)
RoninX
RoninX, Open-Source Web3 Infrastructure Protocol, Taps SPROCKIT for Strategic Partnerships with Media & Entertainment (Newswires)
CoinHub Wallet
IoTeX is now supported by CoinHub, a mult-chain crypto wallet. Learn more.
NerveNetwork
NerveSwap now supports assets from the IoTeX blockchain. Cross-chain integration will be available soon! Check it out.