The IoTeX Developer Portal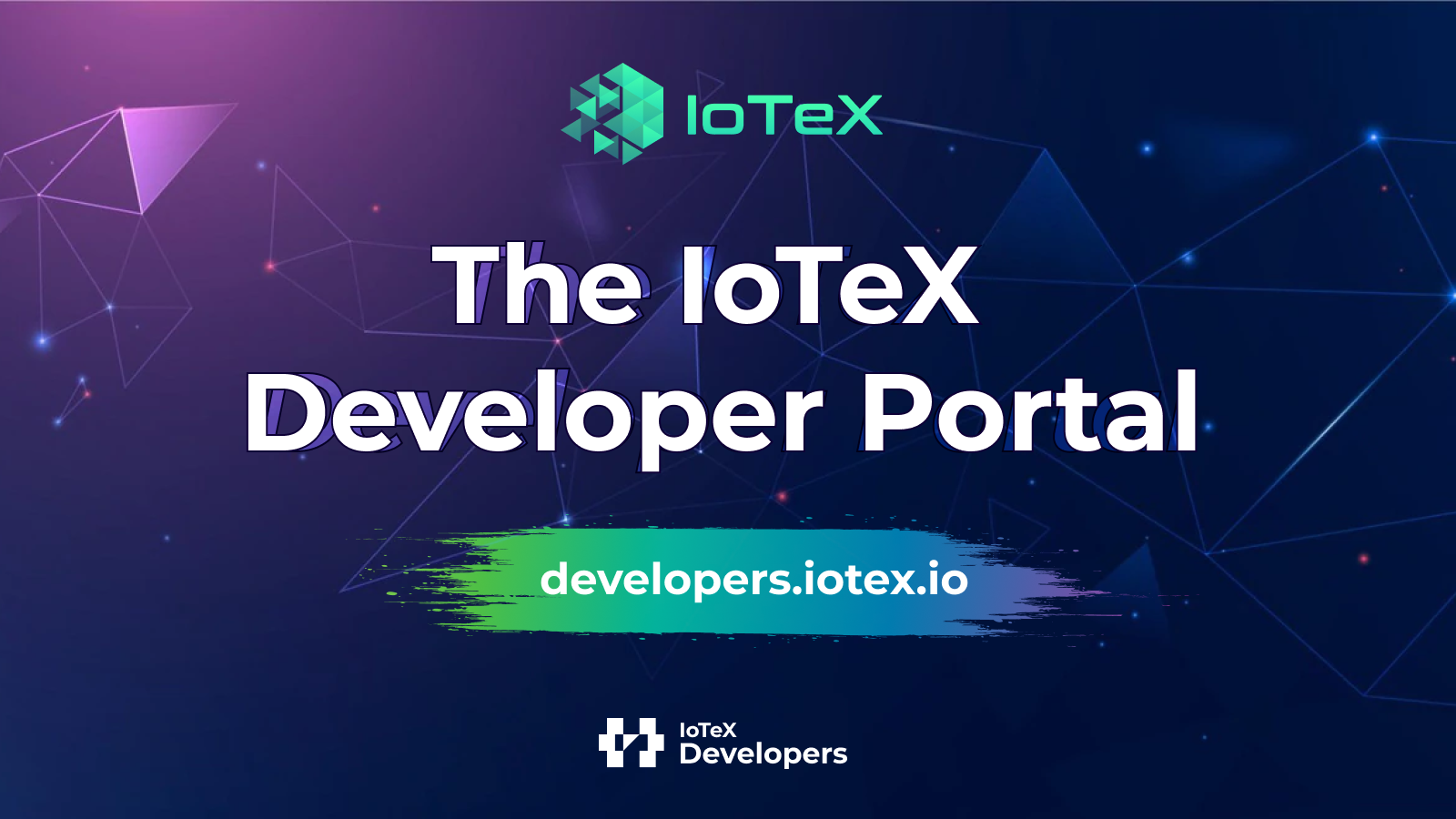 Our developer community has been great. The updated IoTex Developer Portal, after a few months of beta testing, has launched its 1.0 release. This release is the result of gathering and incorporating the creative ideas of our developer community into our vision of a space designed to serve the needs of our developers.
A Place to Learn and Build MachineFi dApps
You probably know this. A good community of Developers is where people learn, share, teach each other, network, and ultimately thrive. The IoTex Developer portal strives to be this. This is where you'll work on MachineFi dApps.
Developers will find methodically written hands-on tutorials clearly marked as Beginner Intermediate or Advanced. You'll also find technical blog articles and updates and in-depth guides to bring you up to speed on new methodology. You'll learn to build the applications that will define the future of Web3 and the machine economy. We trust you'll think this is as cool as we do.
To get the big picture, check out the MachineFi official page, then get started building your next dApp.
The ioDevs Community
Naturally, subscribing to the IoTeX Developer portal is free, and you can do so with your GitHub account. In addition to all the resources we mentioned above, when you sign up you'll tap into exclusive online and IRL workshops from our team of IoTeXperts. Here's what else you get when you join the community of IoDevs:
You'll gain access to quick starts that will allow you to experiment and deploy your IoTeX dApp in minutes
You'll be able to request test IOTX tokens for development simply by connecting your wallet
You can monetize your published content and send tips to other content creators;
Learn from official content published by the IoTeX Foundation or easily contribute with your own
Follow your favorite developers and keep up-to-date with their latest content
Like and bookmark your favorite content
Find teammates to collaborate on new projects with
Browse through our Halo Grants and let IoTeX fund your next project
Be the first to apply to IoTeX-sponsored Hackathons
Never miss one of our periodic events dedicated entirely to our developers' community
Grow Your Public Profile
Besides easily building MachineFi dApps on IoTex, you'll be able to grow your public profile:
Share your social links and your content contributions to the portal
Create showcase projects to attract possible collaborators or employers
Help other developers like yourselves along the way
These are just the first steps. As the community of developers grows, we'll continue to listen to your feedback (very astute, we've got to say) on how to make it easier to learn, collaborate and develop on the IoTeX platform. That's how we'll make this portal meet the needs of IoTeX developers.