Welcome to the IoTeX Forum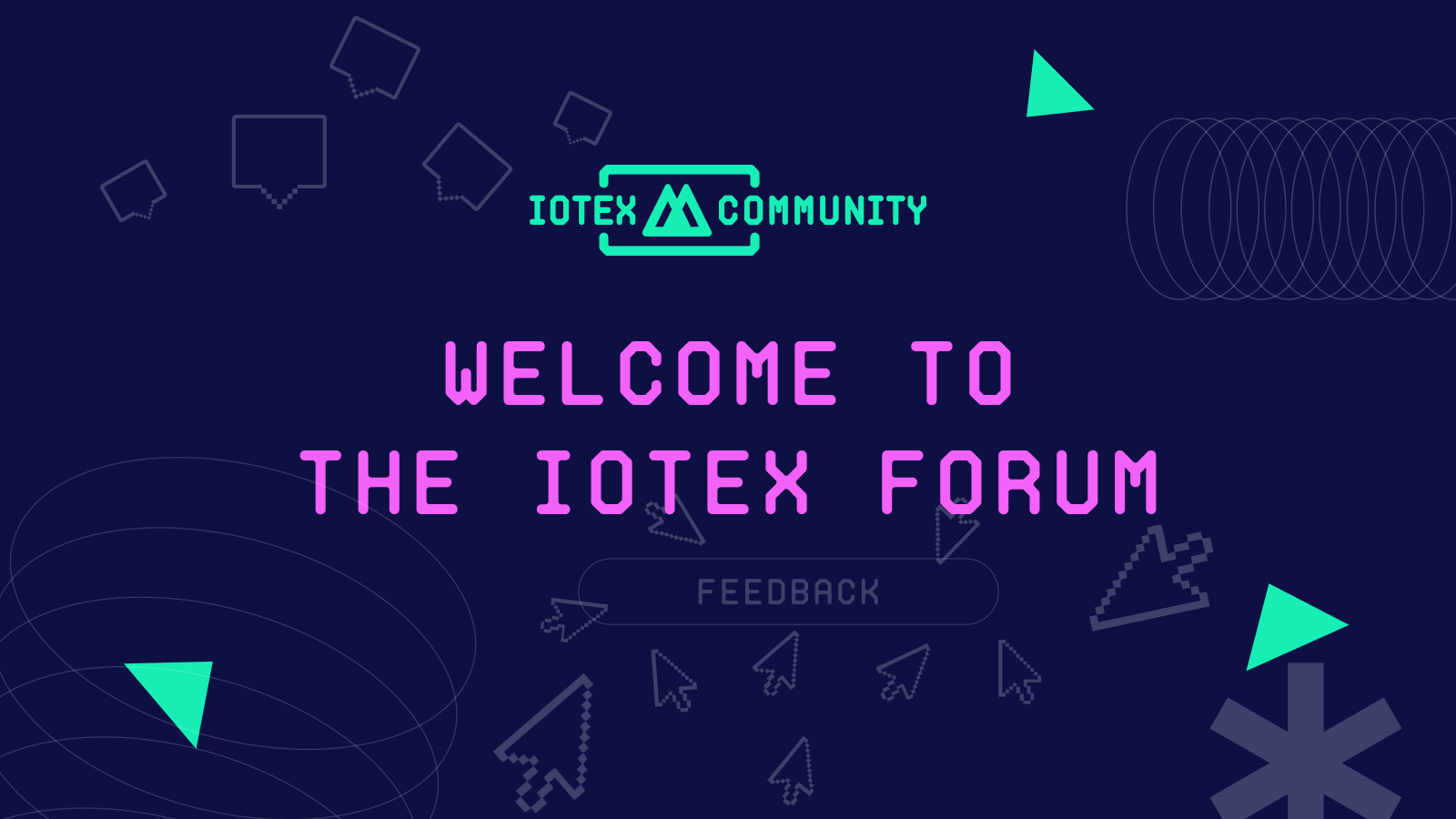 First off - thanks for being a part of the IoTeX Community! Whatever role you play, projects are really great when people like them and use them. Communities vote with their participation. It's what you and I do that matters.
We are always striving to foster the most effective, engaged communities in the IoTeX ecosystem. What will that look like? It will be a place where you see more discussion, with more people talking in greater depth on topics of interest to us all. It will mean more dialogue - the back and forth that clarifies ideas, refines them, and lets us reach agreement. A great community forum will encourage new creative ideas or constructive feedback to builders and innovators.
Check out the IoTeX Forum now!
For project builders, you'll find a supportive community of people who are interested in and understand IoTeX. They will help you refine your ideas and lead you down the right path. Developers will find this a place where they can hear from a range of people with different perspectives on product development, whether they are non-technical users or more sophisticated investors. Devs can also learn from and add to discussions on the latest network tools. Investors will have visibility into projects at their earliest stages and the community's reaction to new and existing projects.
You can expect to see new governance topics coming, product feedback, frequent community surveys, and more! We also have other channels that serve different functions beyond community conversation:
Enhanced Forum Structure
We're excited to introduce new categories in the Forum to best facilitate relevant discussions and activities. Here are the latest categories and what each will cover:
Halo Grants
Ideation This is the place where people can focus on grant idea discussions ("can someone please build ...") and accepted grants.
Status updates After a Halo Grant has been approved, projects can provide status updates and continue to get valuable feedback from the community. Think of it almost like Pre-Beta testing. You'll continue to refine your project and ideas here with people who want you to succeed.
Won't Be Here Grant submissions will be moved to the Developer Portal and Github.
Community Discussion
People will gather here for thoughtful discussions and to participate in community surveys on all things IoTeX and MachineFi.
This is where you, the community, can deep dive on threads covering multiple sub-categories. You'll be playing intellectual table tennis. Take an idea and return it with a little spin.
Governance Proposals
This is where the community can contribute and receive feedback on new ideas, generate proposals, and browse active votes.
Delegates can make proposals to help guide the future of the IoTeX network. Engage with other delegates and get active votes on issues that matter the most to you.
Network & Tools
Have an improvement proposal or technical/usability feedback on core IoTeX infrastructure products and network tools? This is the place.
Here you can find product discussions, updates, beta programs, and feedback requests.
Some of our core products include: ioPay, ioTube, Staking Portal, Burn-Drop, Pebble, Meta-Pebble, MachineFi Portal, and IoTeXScan.
Miscellaneous
Is there anything else? Start a thread here. We hope it becomes the next big thing!
Ready to join the conversation?
We hope you're as excited as we are to be part of the new IoTeX Forum. There's a lot to talk about.
We want to hear your thoughts on what else you want to see in the Forum. Check out the latest thread.