IoTeX 2022: Year in Review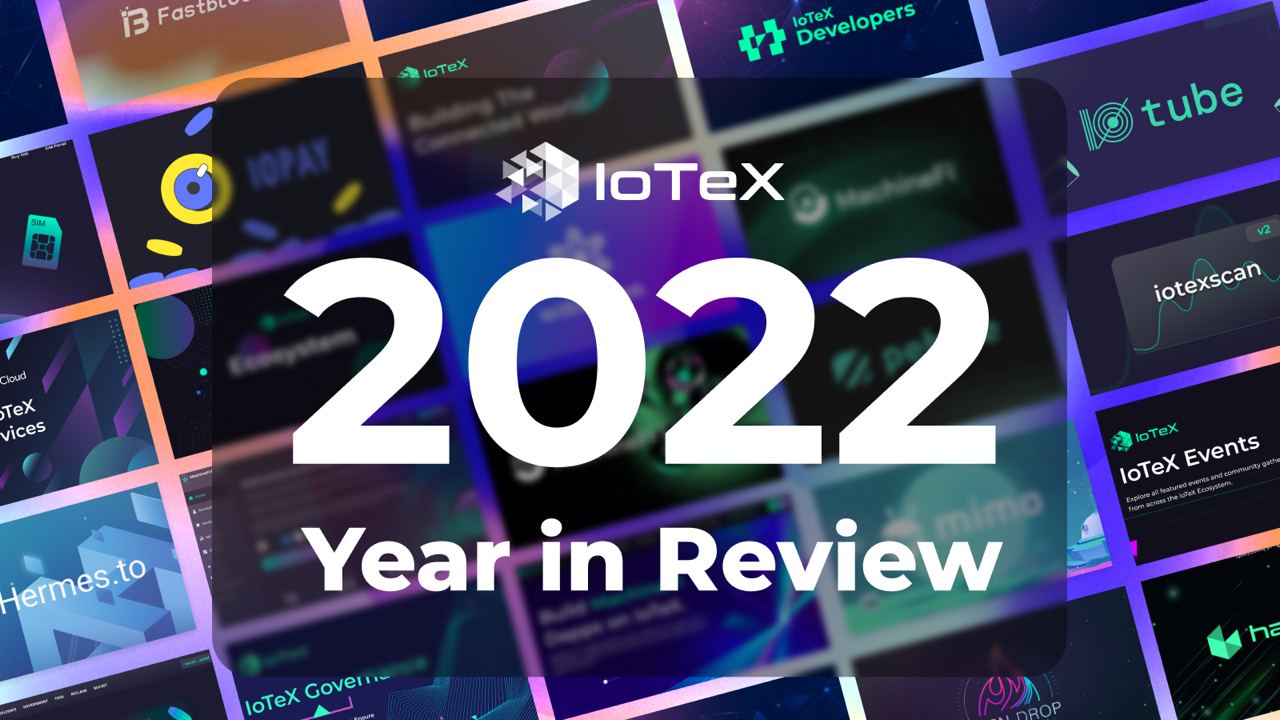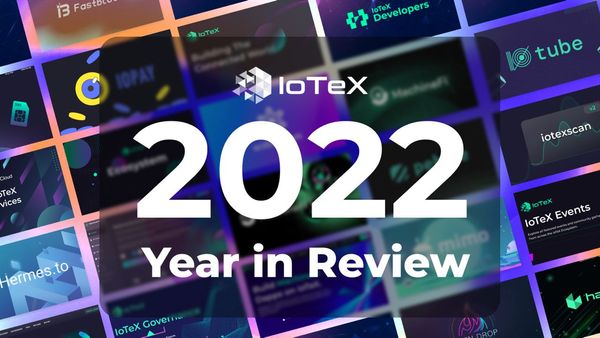 What a year! 2022 was one of the most productive times in IoTeX's five-year history with monumental product releases, new world-class investors, game-changing partnerships, and rapid expansion of our global ecosystem. With widespread recognition that the "Real World ⇔ Digital World" sector is the next big thing, IoTeX is now at the forefront of a renaissance for Web3 and leading the charge to empower the decentralized machine economy for years to come.
2022 will be remembered as a bittersweet period for the Web3 industry and broader world. After years of up-only hysteria, the crypto industry and the broader macro world endured a year-long bear market in 2022, sparked by disheartening news of global war, fraud, and inflation. However, this gloom was balanced with bright rays of opportunity to reshape our world for the better through decentralization and innovation.
The overarching theme 2022 taught us is that trust and transparency is more important than ever. This past year, the collapse of FTX and other centralized institutions reminded us of the importance of self-custody and control of our financial assets. As we look ahead, we must remember that "who we trust and why we trust" is not only limited to who controls our money -- an even greater risk awaits if we allow centralized institutions to control our real world assets, namely our smart devices and personal data.
From day one, IoTeX has been on a mission to use blockchain technology to ensure the future machine economy belongs to everyday people, not corporations and governments. Today our mission is even more critical, and we made incredible strides this year across technology, tokenomics, and community to empower a user-centric, transparent, and innovative future that will transform our world for the better.
Let's take a deep-dive into the incredible year IoTeX had in 2022!
Rapid Growth of the IoTeX Network
IoTeX made incredible strides this year and grew our network activity across all fronts. The IoTeX blockchain is now secured by 85 Delegates and has processed 55,000,000+ transactions, 21,000,000+ blocks, and 600+ verified smart contracts. Most importantly, throughout this rapid growth in network activity, the IoTeX blockchain maintained 100% uptime in 2022 and has never experienced an outage since its Mainnet launch in 2019. This incredible feat is due to our deep commitment to constant improvement of the blockchain.
In 2022, over 5,310 commits were made to IoTeX's Github from the core team and community contributors. Our long history of Mainnet upgrades was extended this year with the launch of Mainnet v1.7, Mainnet v1.8, and Mainnet v1.9 that added massive security/stability enhancements, API improvements, database/network performance overhauls, multiple code refactors, and support for the latest EVM versions (just to name a few). Furthermore, a new partnership with Google Cloud brought new analytics, security, and computing capabilities to the IoTeX platform.
In addition to these exciting platform enhancements, the IoTeX ecosystem also grew at an outstanding rate in 2022. We welcomed new investors including Samsung NEXT, Jump Crypto, and DraperDragon who led a $10M fundraising round for MachineFi Lab in July.
Our global community of users has grown to 480,000+ accounts that are more active than ever -- with 3,300,000,000+ IOTX staked (35% of total supply), the long-term commitment of our users to the future of IoTeX is greater than ever. Across the IoTeX ecosystem, we now have 100+ partners and builders across Dapps, wallets, network tools, service providers, and exchanges, as well as 70+ cryptocurrencies and 30+ NFT projects launched on the IoTeX Network.
Unleashing New Products for Users & Developers
We introduced several groundbreaking products in 2022 that make it easier than ever for users and developers to engage with the IoTeX Network.
The largest and most anticipated product release in 2022 was W3bstream, a new decentralized compute infrastructure designed to bring "smart devices to smart contracts". W3bstream enables an entirely new design space for Web3 builders to seamlessly connect real-world devices and data to Web3 Dapps for the first time.
Under development for over 1.5 years, W3bstream was beta-tested with dozens of companies throughout 2022 and publicly announced in November. W3bstream will be a critical component of the Real World ⇔ Web3 future and has an exciting roadmap in 2023 and beyond.
Other monumental releases in 2022 were centered around multi-chain technologies. ioPay 2.0, a multi-chain crypto wallet supporting 10+ blockchains, provides a secure and user-friendly gateway to the Web3 universe for novice and experienced users alike. ioTube v5, a cross-chain token bridge supporting 40+ cryptocurrencies, enables users to seamlessly and securely transfer tokens between IoTeX, Ethereum, Polygon and Binance Chain. With 600,000+ total users and 170,000+ new users in 2022, ioPay 2.0 & ioTube v5 reaffirm IoTeX's commitment to delivering best-in-class user experience as part of the multi-chain future.
IoTeX's suite of in-house hardware products also made significant strides in 2022. Pebble Tracker, a real-time asset tracking device that streams GPS/climate/motion data to the blockchain, was adopted by 2,000+ users and listed on top hardware marketplaces, such as CrowdSupply & Mouser. We also launched autobahn.earth, a portal where users can purchase a SIM-card for their Pebble Tracker. Ucam, a blockchain-powered and privacy-protecting security camera, also saw increased adoption, with over 15,000 units sold globally to-date.
Rounding out our 2022 product launches were new tools for developers and Delegates. FastBlocks, an all-in-one node management tool enables anyone to seamlessly start an IoTeX full-node or block-producing node. IoTeX Analytics V2 was launched for developers to query/index IoTeX blockchain data via GraphQL interface with increased scalability and higher transactional capacity. Finally, the new Developer Portal and Delegates Portal provided a one-stop-shop for anyone to interact with the IoTeX Network as a developer or Delegate.
Expanding Our Ecosystem of Dapps & Developers
In 2022, the IoTeX Network became home to an exciting variety of Dapps and developers. We've seen home-grown projects launch new Dapps, established companies migrate their Dapps to IoTeX, and developers of all skill levels join through our Halo Grants program. The IoTeX ecosystem is now bustling with mission-driven builders that have jump-started the MachineFi movement!
A huge priority for IoTeX has been to foster our developer community. We started by launching our new Developer Portal and Developer Discord with 1,600+ Web3 & IoT developers registered. We also refreshed our developer documentation for IoTeX & W3bstream, which saw 150,000+ visits in 2022, and started a new bi-weekly YouTube livestream series called IoTeXperts with 10,000+ YouTube subscribers.
We also hosted several dev-workshops (e.g., Arm Dev Summit), as well educational MachineFi Workshops for various universities and enterprises. There has never been a better time to join the IoTeX developer community -- join our Dev-Discord, follow our Dev-Twitter, and subscribe to our Dev-Newsletter!
The IoTeX Business Development team was also laser-focused on connecting with MachineFi builders this year. This focus on nurturing our Dapp and developer ecosystem yielded amazing results. Explore some of our MachineFi ecosystem below:
The IoTeX ecosystem saw amazing growth in other use case categories beyond MachineFi. In the DeFi sector, mimo DEX now supports 183 trading pairs across multiple blockchains and had an all-time-high of $5M in trading volume in May 2022, FilDA launched its lending/borrowing protocol supporting 10+ tokens and liquidity pools, and ioTube securely facilitated $100M+ in cross-chain token transfers throughout 2022.
In the GameFi sector, StarCrazy launched its play-to-earn game to 20,000+ users and auctioned 100 NFT land planets, Perkable was issued a Halo Grant and is hosting the first "geolocation-based NFT mint" using W3bstream in early 2023, and several NFT collections were launched on IoTeX this year.
Driving Cutting-Edge Research in Blockchain & IoT
Those who have been around in the IoTeX community understand our unique approach of applying cutting-edge research to our technology and product development. In 2022, we continued our research-driven approach by publishing 10+ technical whitepapers, academic publications, and standards proposals across blockchain, IoT, and other frontier technologies.
In 2021, IoTeX founded the IEEE P2958 Standard for "Identity of Things" to define a global standard for how decentralized identity (DID) and verifiable credentials (VCs) could be used for smart devices. A core focus of IoTeX's research was to further develop this IEEE Standard alongside reputable enterprises and industry leaders; in 2022, we achieved this by welcoming Ericsson, Huawei, Philips, Lenovo, Lockheed Martin, Bosch, and more to the standards working group.
IoTeX also worked on research directly with leading enterprises on research related to confidential computing and networking optimization. In collaboration with Arm's Veracruz team, IoTeX published Private Delegated Computations Using Strong Isolation and in collaboration with Huawei, IoTeX published Impact of Distributed Ledger Technologies on Provider Networks.
Throughout 2022, IoTeX also led various industry consortiums and published six technical whitepapers, including Impact of Distributed Ledgers on Provider Networks and Trusted and Transparent Asset Tracking on the Edge within the Industrial Internet Consortium (IIC), and Rechargable Battery Identification Numbers and Electric Vehicle Battery State of Health within MOBI.
Finally, the W3bstream Whitepaper was published, outlining the architecture and technical design of the W3bstream v1.0 protocol, which will be extended through future technical papers focused on MachineFi Device SDK & Decentralized Identity (DID) Framework in early 2023.
Bringing IoTeX to the Masses
Building world-class technology is not enough, you also have to spread awareness to the masses! With COVID restrictions loosening, IoTeX hit the road in 2022 and attended 15+ global conferences with the goal of evangelizing the Web3 + IoT sector, meeting our supporters from around the world, and sharing our latest news with the Web3 community. Some of our favorite events included: Money2020 (Amsterdam), ETH Global (Denver, Dubai), Consensus (Austin, TX), Binance Blockchain Week (Dubai), SmartCon (New York, NY), ETH CC (Paris), TIPIN Summit (New York, NY), IoT Solutions World Congress (Barcelona), NFT NYC (New York, NY), and DevCon (Bogota).
This all culminated in November with our Real World Meets Web3 event during San Francisco Blockchain Week (SFBW) co-hosted by IoTeX, Chainlink, and Samsung NEXT, where 10+ members of the IoTeX team gathered to unleash W3bstream for the first time.
In addition to our physical presence at global events, IoTeX greatly expanded our digital presence across the mainstream/crypto news media and various social media platforms. In the mainstream media, IoTeX was featured three times in Forbes (1, 2, 3), Axios, VentureBeat, and CityAM, as well as a deep-dive feature on IoTeX cofounder Raullen Chai on FOX News. In the crypto media, IoTeX also garnered widespread awareness with articles in Coindesk, CoinTelegraph, CryptoSlate, and CryptoBriefing, as well as an in-depth report on MachineFi by Messari.
IoTeX's social media presence grew extensively in 2022 -- our Twitter following grew 52% to 226,000+ followers, our Reddit following grew 26% to 18,000+ followers, and our YouTube following grew 37% to 16,000+ followers. From the physical world to the digital world, we were ecstatic to earn millions of impressions to boost IoTeX's awareness to new heights.
Thank You For Your Support!
As we close the books on 2022 and look ahead to 2023, we want to extend our gratitude to every one of our community members around the world. Your words of encouragement, constructive feedback, and participation in the IoTeX Network have brought us to this point, and we look forward to decades of future growth with you.
The IoTeX team now consists of 50+ passionate builders that are committed to bringing MachineFi to the masses. As we grew our team throughout 2022, we also grew our resolve to fight through any pains and challenges that 2022 brought. Our vision for the decentralized machine economy is too important for a few fraudsters and bad actors to disrupt. With a focus on the long-term and your unwavering support, IoTeX will continue to thrive and become the world's leading blockchain platform. Let's build the future together!