IoTeX Ambassador Program 2.0 - Applications Are Open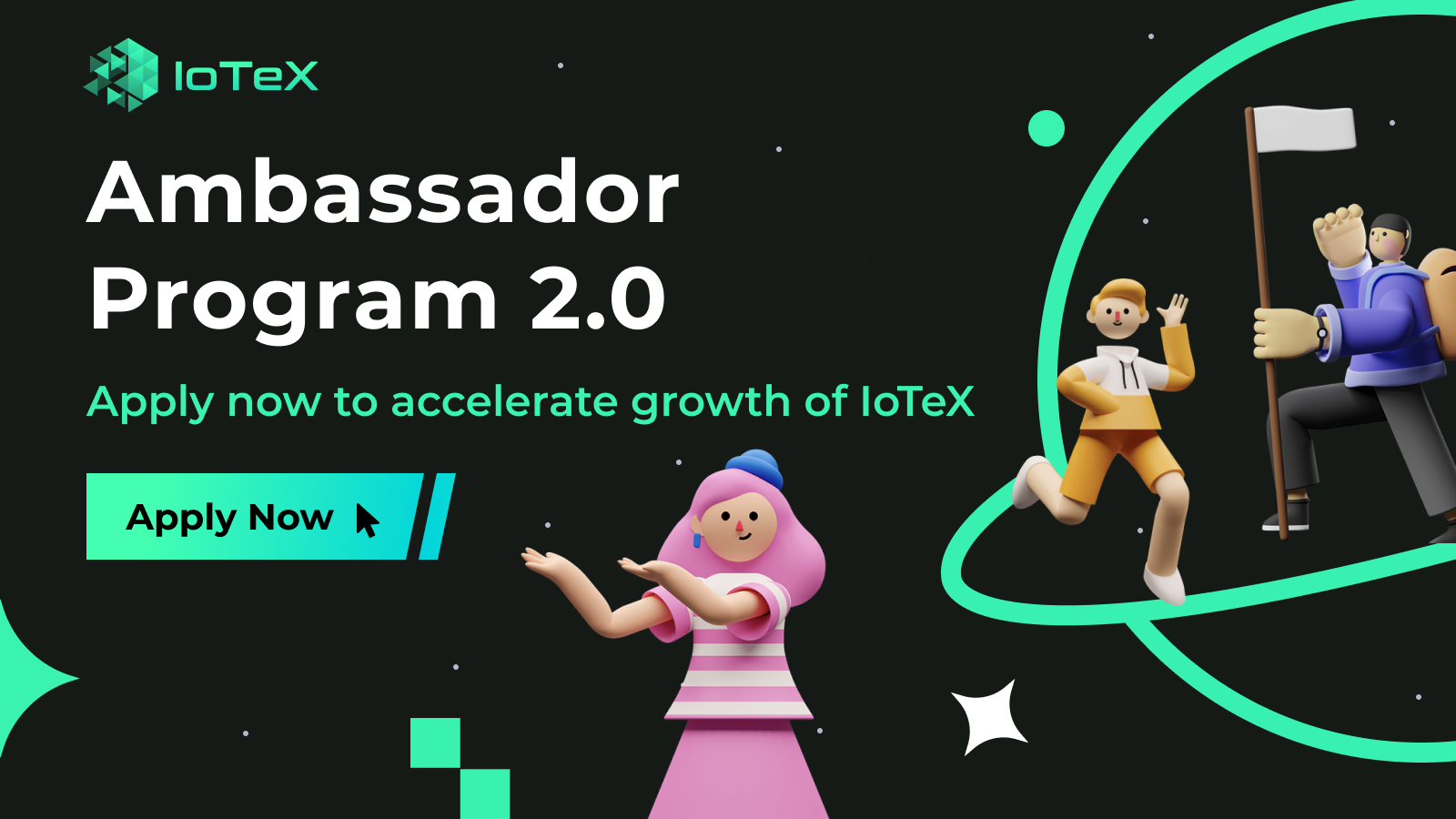 It's powerful to see the IoTeX community grow day after day – community is the most valuable asset for any decentralized network and we are ready to bring our community to the next level with our updated Ambassador Program 2.0. We are looking for passionate, creative, and inspiring community members to serve as Ambassadors for IoTeX – get rewarded for contributing what you do best to IoTeX in an open, community-driven environment. We are excited to hear your open proposals as well as take applications for specific roles:
International Growth Leads
Content Creators (blogs, graphics, videos)
Telegram/Discord/Reddit Moderators
Developers-in-Residence
Governance Managers
The community will ultimately select our new Ambassadors, who will post their proposals and monthly updates publicly on the IoTeX forum for the community to review. By instilling a culture of community reinforcing community and collective accountability, we will further decentralize the IoTeX Network and transition towards a community DAO – fully operated by the community, for the community.
Ambassador Roles - Apply Now!
Want to help IoTeX spread across the crypto universe and real world? As an IoTeX Brand Ambassador, you will get to work alongside the core team and other Ambassadors to grow IoTeX to its full potential. Ambassadors will grow alongside the project, earn rewards + special perks, and even take on full-time or part-time roles at IoTeX for exceptional Ambassadors (we know you're out there). Let us know if any of these roles sound like you:
⭐ Country Leader
design education, creative, AMA, or other campaigns for local community
represent IoTeX at different crypto events/conferences in your country
manage Telegram or other community groups, helping to pass knowledge via translation/sharing of IoTeX news and updates
recruit new Ambassadors and host events both online and offline
⭐️ Content Creator
videos + graphics: create beautiful multimedia for IoTeX and share it (or NFT it) on social media – art, tutorials, educational videos, use case overviews;
blogs + articles: are you a wizard with words? help write articles on the future that IoTeX is building in blog, article, newsletter, or other formats
infographics + memes: spread the word about IoTeX in your own way
⭐️ Telegram/Discord/Reddit Moderators (English):
create an environment that is fun, welcoming, and inspiring
welcome new community members and support their onboarding
initiate discussions and answer questions about IoTeX ecosystem
⭐️ Developer-in-Residence
*a crew of blockchain + IoT devs building with the latest IoTeX tech*
build prototypes + demos for Pebble Tracker, RaspPi, Arduino
create docs + tutorials and help other devs get started on IoTeX
⭐ Governance Manager
collect and initiative governance discussions on behalf of the community
maintain cadence and order for discussions on the governance forum
spread active discussions and votes to other channels
✅ Apply by filling out this form.

After submitting your application via this form, we will contact candidates to discuss the scope and structure of their potential role. Candidates will then post their proposal on the IoTeX forum for review/approval by the community. We look forward to welcoming a new cohort of Ambassadors that will bring IoTeX to the next level!
---
About IoTeX
Founded in 2017, IoTeX is an EVM-compatible blockchain platform to fuel the Internet of Trusted Things, an open ecosystem where humans and machines can interact with guaranteed trust and privacy. IoTeX envisions a future where everyday people can own and control their smart devices, as well as the data and value they generate. Backed by a global team of 30+ top research scientists and engineers, IoTeX combines blockchain, decentralized identity, and secure hardware to enable user-owned IoT devices and networks. By connecting the physical and digital worlds, IoTeX will empower the future machine economy and redefine the trillion-dollar IoT industry.