Drop Wireless Moves to IoTeX: A DePIN Evolution Story
Today, we're thrilled to announce the re-launch of Drop Wireless, previously known as Nesten, on IoTeX's DePIN infrastructure. Drop Wireless has a LoRaWAN network that spans the globe, with over 1,000 nodes across seventeen countries.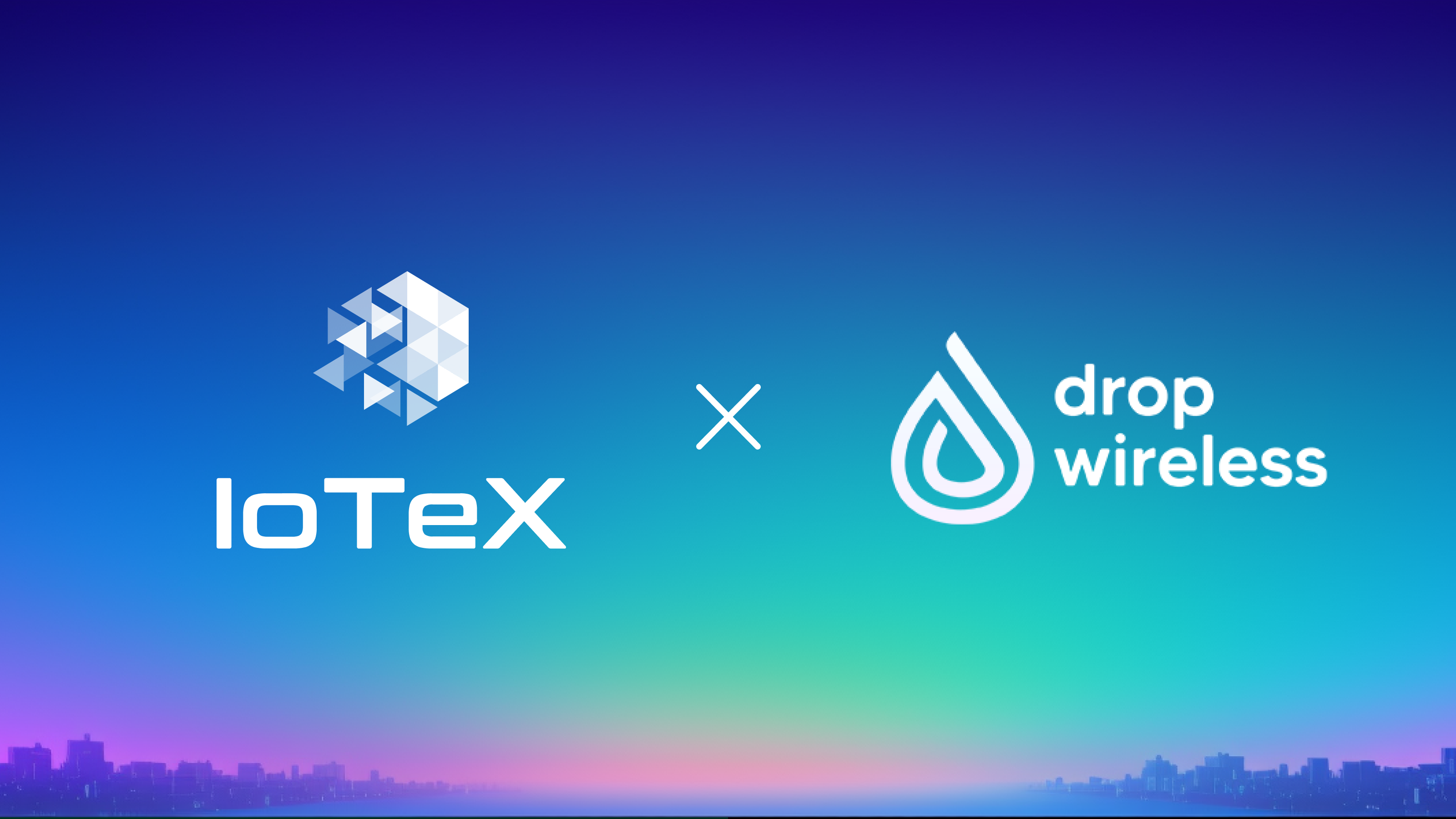 Today, we're thrilled to announce the re-launch of Drop Wireless, previously known as Nesten, on IoTeX's DePIN infrastructure. Drop Wireless has a LoRaWAN network that spans the globe, with over 1,000 nodes across seventeen countries.
Drop Wireless is focusing on use cases that materially affect the well-being of vulnerable individuals–offering telehealth care in India with plans to expand to Africa–as well as decentralizing display advertising to increase equity in global ad marketplaces.
IoTeX infrastructure underpins both Drop Wireless's token, which launched as an XRC20 on the IoTeX chain, and decentralized data storage and transfer, via W3bstream. Drop Wireless's evolution story, which began back in 2018 with the development of their Helium-esque protocol, highlights IoTeX's role as the go-to-market hub for DePINs looking to bring decentralized applications into the r3al world.
What this Launch Means
"IoTeX is the team we worked with [for our transition], in terms of the efficiency and cost, there was no question [IoTeX was the right choice]." – Andrew Baek, CEO of Drop Wireless
The decentralized display ad solution developed by Drop Wireless leverages existing display ads, such as large screens and digital billboards around the world. Drop Wireless developed a phone app to enable business owners to securely upload ads to Drop Wireless's regional network. The ad data is secured on W3bstream, ensuring data security and transparent earnings for all parties involved in the transaction. The display owner receives a cut, as well as the node manager and Drop Wireless's protocol. The punchline? A fully decentralized physical display ad network that transparently shares revenue without the need for a middleman.
While a physical advertising marketplace might seem at odds with the frontier tech ethos of web-3, data shows that users are becoming increasingly disillusioned with intrusive and overly targeted online ads. That disillusionment hasn't been ignored by advertisers. After years of decline, analog ad spend by B2C companies saw an 11.7 percent increase in 2022.
Physical advertising is also an ideal market to disrupt, given the relative lack of innovation and not having to battle the trillion-dollar tech giants that dominate the online ad space.
In Andreessen Horowitz partner Chris Dixon's blog "Why Decentralization Matters," he shows the S-curve modeling the extraction relationship between tech platforms and users (the farther to the right, the more platforms extract from users) was flattening, and more and more was getting stripped from users over time. And it's not just users; internet platforms are n-sided market-places, so the same goes for all businesses, developers, and creators that rely on platforms.
Decentralization breaks the S-curve, ensuring that scale does not equal extraction.
Drop Wireless's decision to focus on building a display ad network highlights the importance of IoTeX's public good infrastructure. By allowing existing DePINs to focus on building businesses, not protocols, IoTeX has enabled the industry to move out of the lab and into the r3al world.
W3bstream's Role in Drop Wireless
"IoTeX's W3bstream is gaining recognition as a fundamental tool for ensuring data validation and integrity, a testament to the team's dedication and commitment to this mission." – Drop Wireless.
W3bstream is integrated into multiple parts of Drop Wireless's stack, securing data and executing crucial decentralized logic to ensure the incentives in the system are functioning correctly. For example, Drop Wireless's G2 unit sends out regular "heartbeats" with timestamped updates about the system that are stored on the blockchain via W3bstream. These w3bstream-secured heartbeats determine fair token rewards for node operators while reducing the possibility of data spoofing.
Other data transmitted via W3bstream includes location data, which is used to populate the map on DePINScan, as well as data statistics, such as the number of seconds a display ad is played.
What it Means for the Future of IoTeX's DePIN Ecosystem
"There's a whole new economy that we will be creating with IoTeX." – Andrew Baek

 Drop Wireless's decentralized ad marketplace is new, but the very fact that they can focus on it instead of building protocol tech is a sign of progress in the industry. For many years the crypto world has been focused on building the sub-application stack, building the foundation before the house. But IoTeX has introduced a universal foundation for DePIN founders to build applications on top of so they can focus on solving r3al world problems. Expect many more organizations in the months and years to come to follow Drop Wireless's lead, migrating to our stack and building solutions that change the global economy.