Community Voting Kickoff - Foundation Bonus Rewards Extension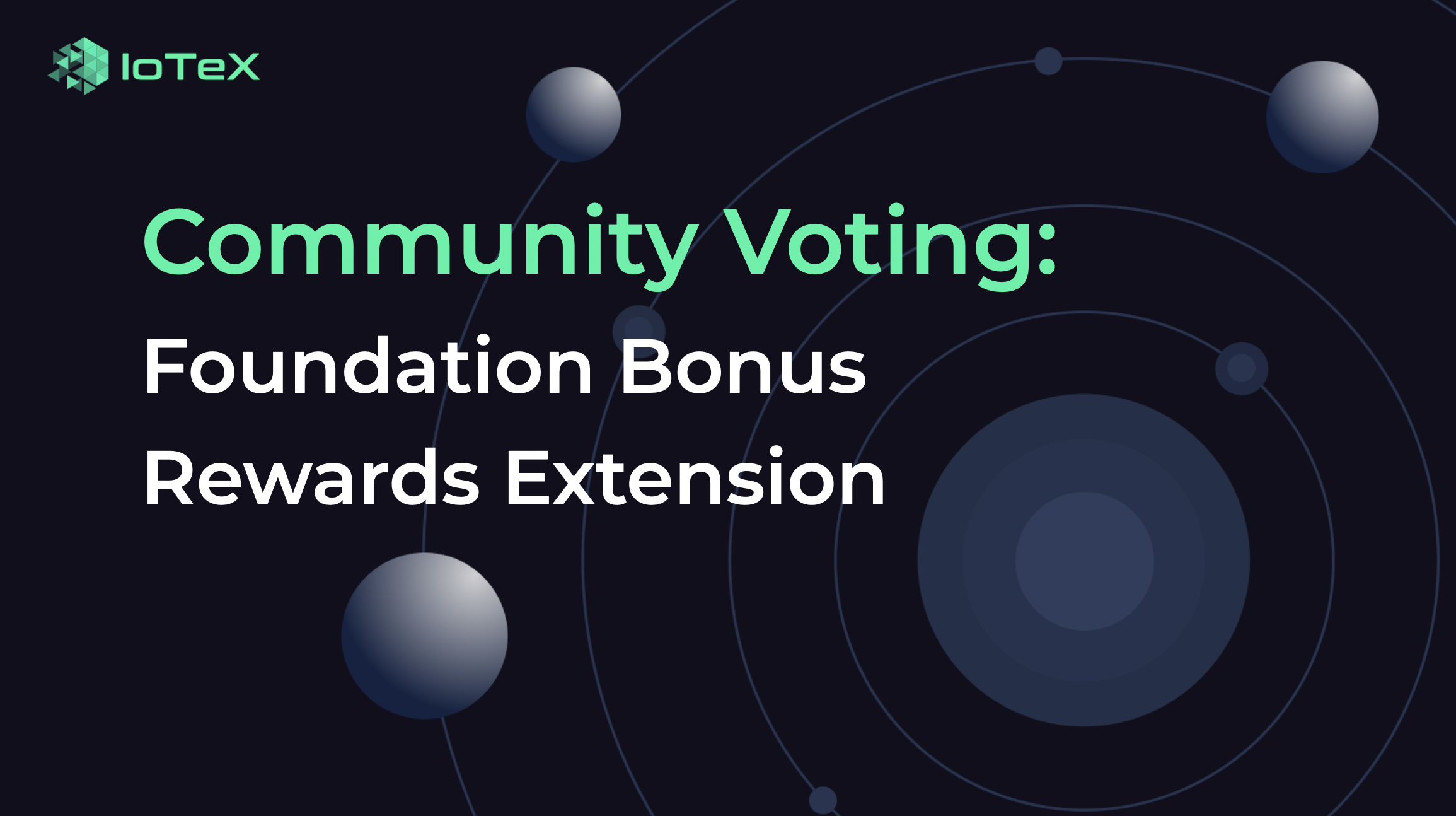 IoTeX began as an open-source project in 2017 with a vision to power the Internet of Trusted Things with technology that is open and transparent to all. We are continuing our mission for radical transparency by introducing decentralized governance to involve our community in core decision-making processes and ensure the future of IoTeX aligns with the views of all stakeholders.
In July, we introduced Snapshot, the industry-standard governance tool to run open votes, polls, and referendums. In addition to IoTeX Network votes, any IoTeX project will be able to host their own votes via gov.iotex.io – we will be hosting our next community vote on Snapshot – read on for the full details!
Proposal: Foundation Bonus Rewards Extension
Since IoTeX Mainnet Alpha was launched in April 2019, Delegates received three types of rewards for running nodes to secure the IoTeX Network:
Block Rewards: 8 IOTX per block mined for Top 36 Delegates
Epoch Rewards: 18,750 IOTX per epoch split by Top 100 Delegates
Foundation Bonus: 80 IOTX per epoch for all Top 36 Delegates
The Foundation Bonus was originally intended to last from April 2019 - May 2020, and was extended by community vote from May 2020 - June 2021. As of June 2021, the Foundation Bonus rewards have expired. This proposal is to extend the Foundation Bonus for one more year, starting from the launch of Mainnet v1.5 in Q4 2021. We believe this proposal will incentivize Delegates to provide exceptional service and make the IoTeX Network more reliable and decentralized.
⭐️ Join the discussion now on the IoTeX Forum – voting will begin Wednesday, September 15 at gov.iotex.io!
Decentralized Governance on IoTeX

The IoTeX community has held several governance votes in the past, including Delegate Slashing & Probation, Delegate Pool Expansion, Private Sale Token Distribution, and more. As we detailed in this post, we are excited to revitalize community voting, which will be open to all stakeholders:
Ideas will be shared/discussed on the IoTeX forum and Discord. Once sufficient quorum is reached, the idea will turn into a formal proposal.
Stakeholders will vote on proposals via Snapshot, which supports various strategies that dictate how votes are counted. We have created our own strategy – "iotex-staked-balance" – that reflects a user's staked IOTX (1 IOTX = 1 vote) with bonus votes from staking durations included.
If a vote is passed, the proposal will be implemented by the IoTeX Foundation and/or core-dev team. Implementation will differ based on whether the proposal is technical (i.e., requires code change) or non-technical.
We look forward to your participation to make IoTeX a community-owned and decentralized network. Please reach out to an Admin on Telegram or Discord with any questions.
⭐️ Join the discussion now on the IoTeX Forum – voting will begin Wednesday, September 15 at gov.iotex.io!
---
About IoTeX
Founded as an open-source platform in 2017, IoTeX is building the Internet of Trusted Things, an open ecosystem where all "things" — humans, machines, businesses, and DApps — can interact with trust and privacy. Backed by a global team of 30+ top research scientists and engineers, IoTeX combines blockchain, secure hardware, and confidential computing to enable next-gen IoT devices, networks, and economies. IoTeX will empower the future decentralized economy by "connecting the physical world, block by block".
Learn more: Website | Twitter | Telegram | Discord | Reddit | Blog