Introducing ioPay 2.0: Multi-Chain Crypto Wallet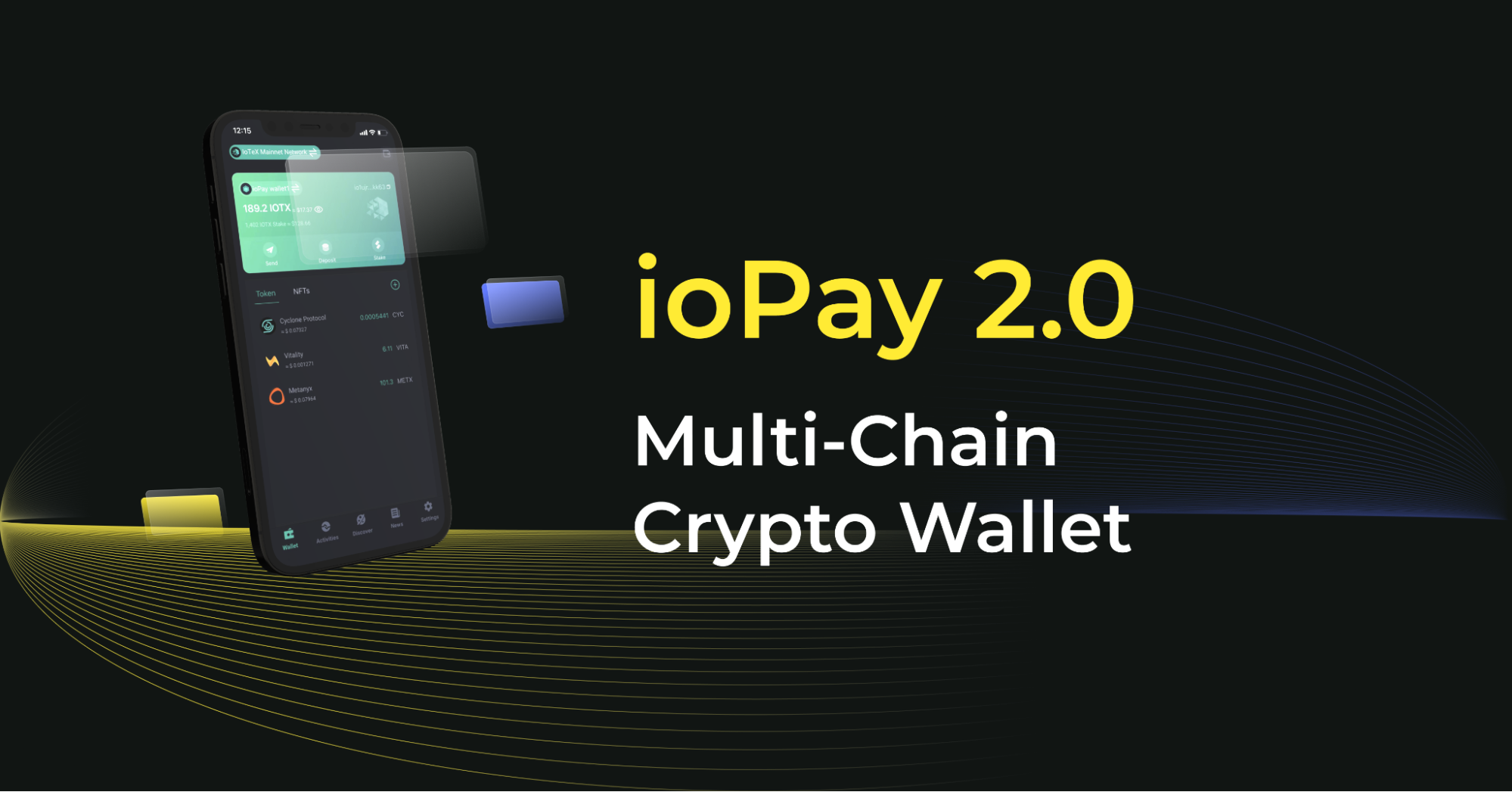 The first version of ioPay we know and love has been a staple in the IoTeX ecosystem, but we are ready to expand the reach of ioPay and welcome users across all blockchain platforms in the pursuit of mass crypto adoption.
ioPay is no longer an IoTeX-only wallet – the latest ioPay 2.0 takes security, usability, and functionality to the next level as a multi-chain wallet with a brand new suite of features.
ioPay 2.0 is a secure, decentralized mobile wallet providing an enhanced, user-friendly experience for novice and experienced Web3 users alike.
Before we dive into what makes ioPay 2.0 shine, it's worth noting ioPay's remarkable growth thus far. In 2021, IoTeX reached record-breaking highs, and the community expanded to hundreds of thousands of people globally. The network experienced >20x growth across key metrics like wallets, TVL, and market cap. We even saw an increase of 1800% in total wallet users, to reach over 350,000 total wallets!
Since then, the IoTeX ecosystem has only continued to grow with no signs of slowing down. IoTeX has now evolved into a leading blockchain in the Web3 space, and it's only fitting that ioPay 2.0 should position itself as a leading wallet for all of the Web3 community to experience.
We are thrilled to introduce ioPay 2.0 as the ideal wallet choice for all blockchain users, whether you are completely new to crypto or have been around for years.
For our all-in-one ioPay v2 User Guide, click here.
Advanced functionality meets novice simplicity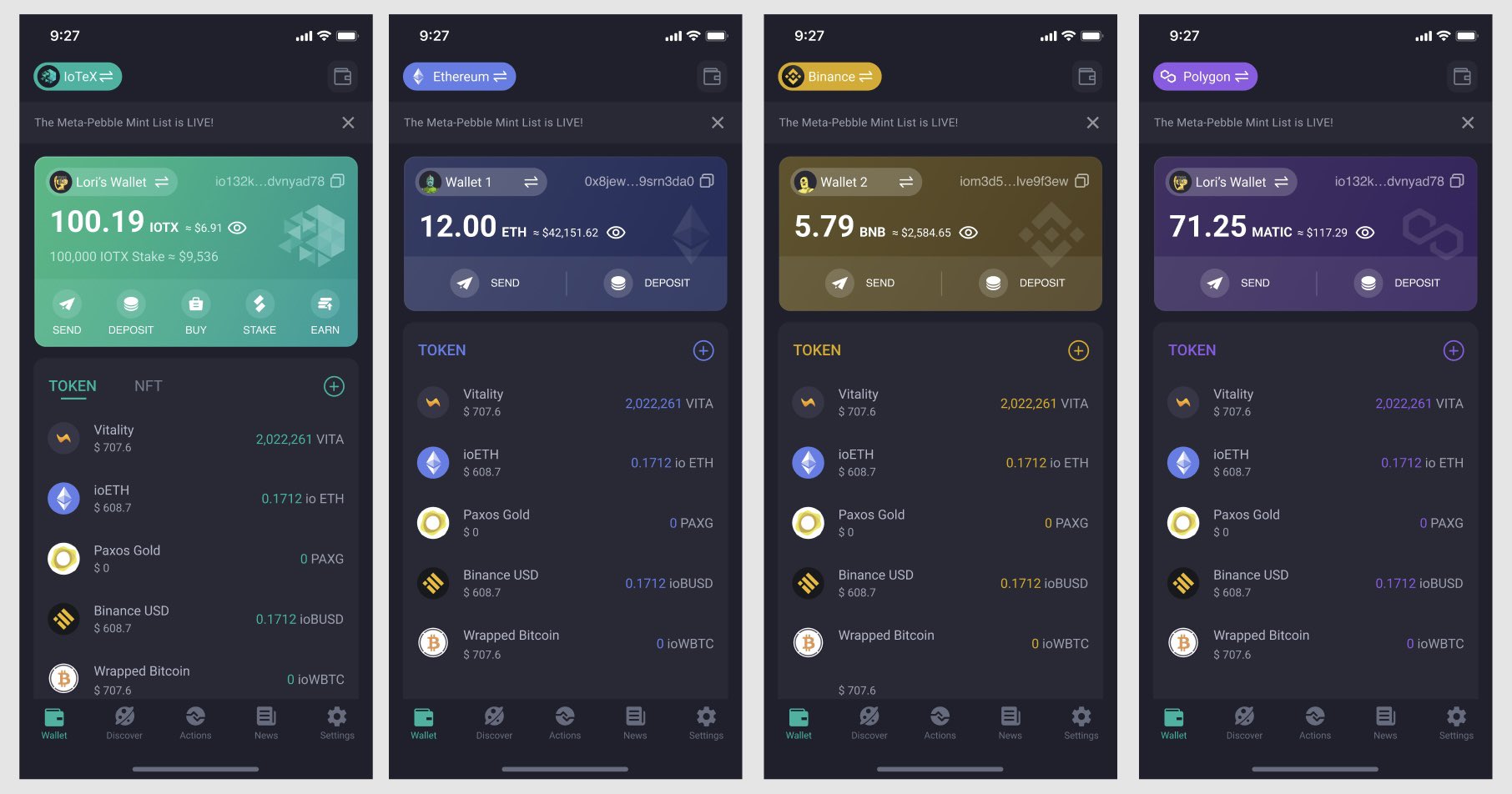 Multi-Chain Support
ioPay 2.0 offers multi-chain functionality, allowing users to easily store and send crypto assets across multiple networks, including IoTeX, Ethereum, Binance Smart Chain (BSC), Polygon, and many more to come.
ioPay 2.2 Update now includes Avalanche, Fantom, and Arbitrum networks.
With ioPay 2.0, you can also add any EVM-compatible blockchain, making ioPay 2.0 a truly borderless experience across all networks. Seamlessly manage 13,000+ tokens across all blockchains!
Safety, security, and convenience are all made possible with this multi-chain support for your crypto assets. Purchase your crypto assets with a debit or credit card without ever leaving ioPay, thanks to Changelly, ChangeNOW, and mimo DEX.
Explore Hundreds of DApps with the Discover Page
ioPay 2.0 opens access to more DApps than almost any other wallet offered in the blockchain space today. Interested in DeFi? We have you covered! Take advantage of the wide variety of DeFi applications including mimo, Uniswap, Quickswap, Pancakeswap, and many other decentralized applications available on Ethereum, IoTeX, BSC and Polygon.
Check out DeFi, NFTs, GameFi, MachineFi, marketplaces, and more. On the Discover page, simply search for the project you are looking for and start exploring!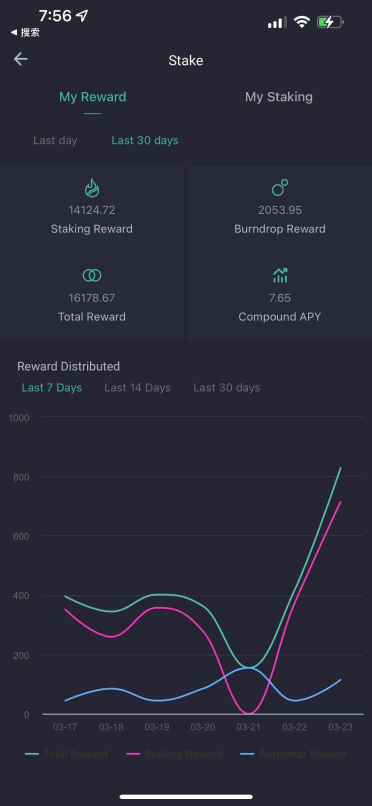 New and Improved Interface
The improvements don't stop there! ioPay 2.0 has new features and details at every click. To simply name a few…
Developer Mode support allows simple access to testnets
News page to keep up with the latest blockchain happenings
'Hot DApps' section to find trending projects
Improved staking features to get a 360 degree view of your earnings
Enhanced homepage where users can add tokens from different blockchains
Biometric authentication for full privacy and control over your assets
Support for transfers and swapping of all tokens
Follow the ioPay Twitter as we roll out even more features and functionality. For our all-in-one ioPay v2 User Guide, click here.
Welcome to the Web3 revolution with ioPay 2.0! Discover multi-chain freedom.