IoTeX 2021: Year In Review & The Journey Ahead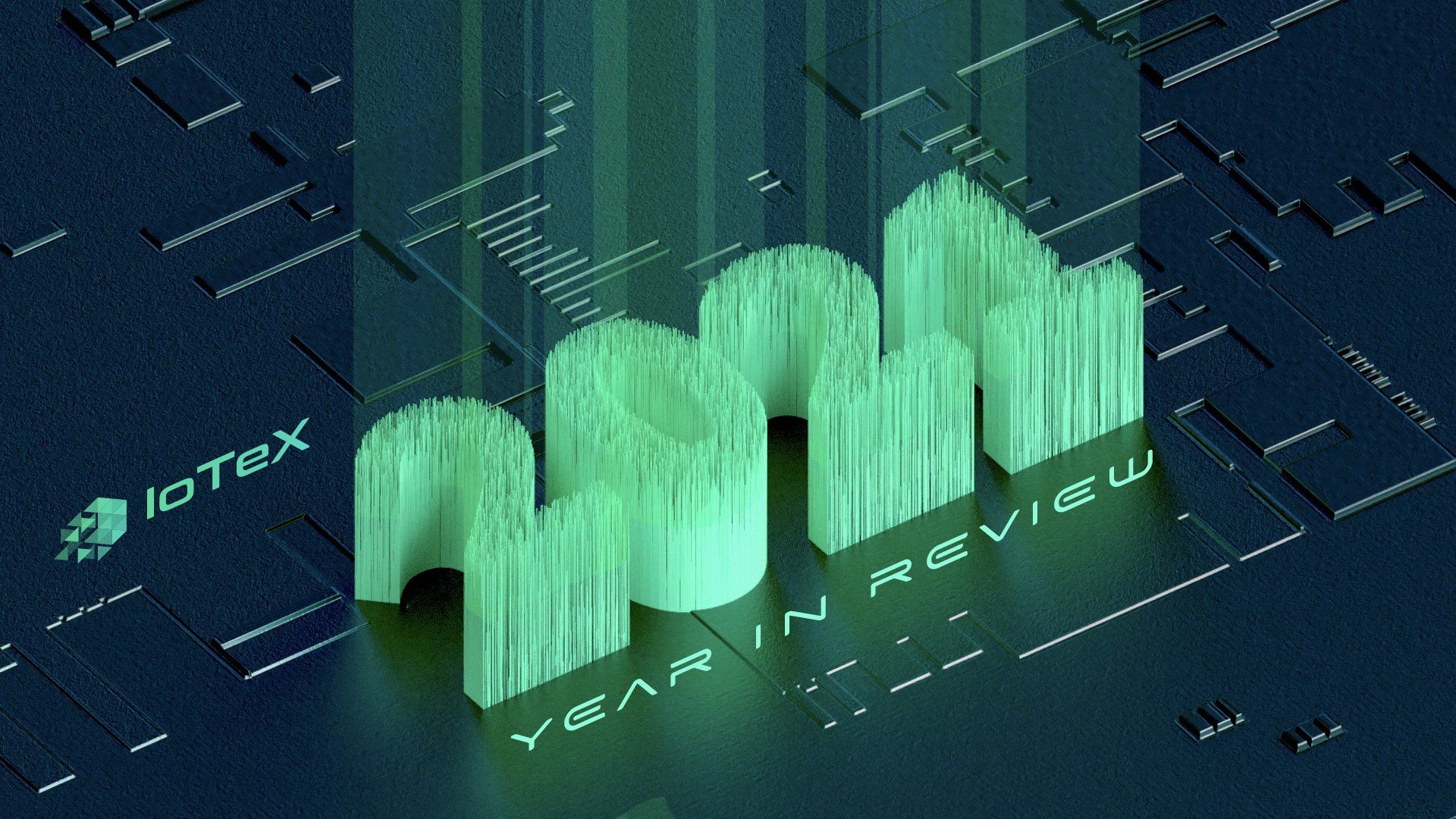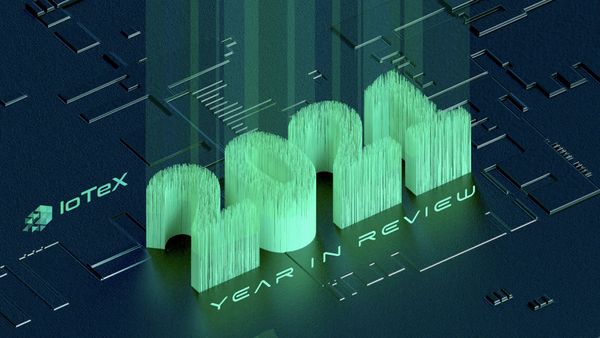 Hello IoTeX community! What a year's it's been for IoTeX and the entire Web3 industry. As we look back on 2021, it's incredible to see the evolution of the IoTeX Network. We started this year as a platform and evolved into a flourishing ecosystem. We welcomed over 130+ projects and partners to IoTeX across DeFi, GameFi, and MachineFi. We worked with entities of all sizes – individuals, startups, enterprises – to build new use cases and explore the next frontier of Web3. And we grew our community size by 2,000%+ to hundreds of thousands of people that represent 150+ countries. 2021 was truly a year to remember and lays the foundation for IoTeX to scale to new heights in 2022.
👀  Did you know? On January 1, 2021 there were ~18,000 IoTeX wallets and only a few active tokens. 365 days later, there are now ~350,000 IoTeX wallets and 50+ tokens that comprise $400M in assets on-chain. A 20x increase in wallets and TVL – let's see if we can beat that in 2022.
To end this unforgettable year, IoTeX hosted an end-of-year livestream with presentations from members of the core team, as well as a special panel with the IoTeX Co-founders. Watch the replay now on YouTube, and get the highlights in the rest of this blog.
---
2021 Statistics & Milestones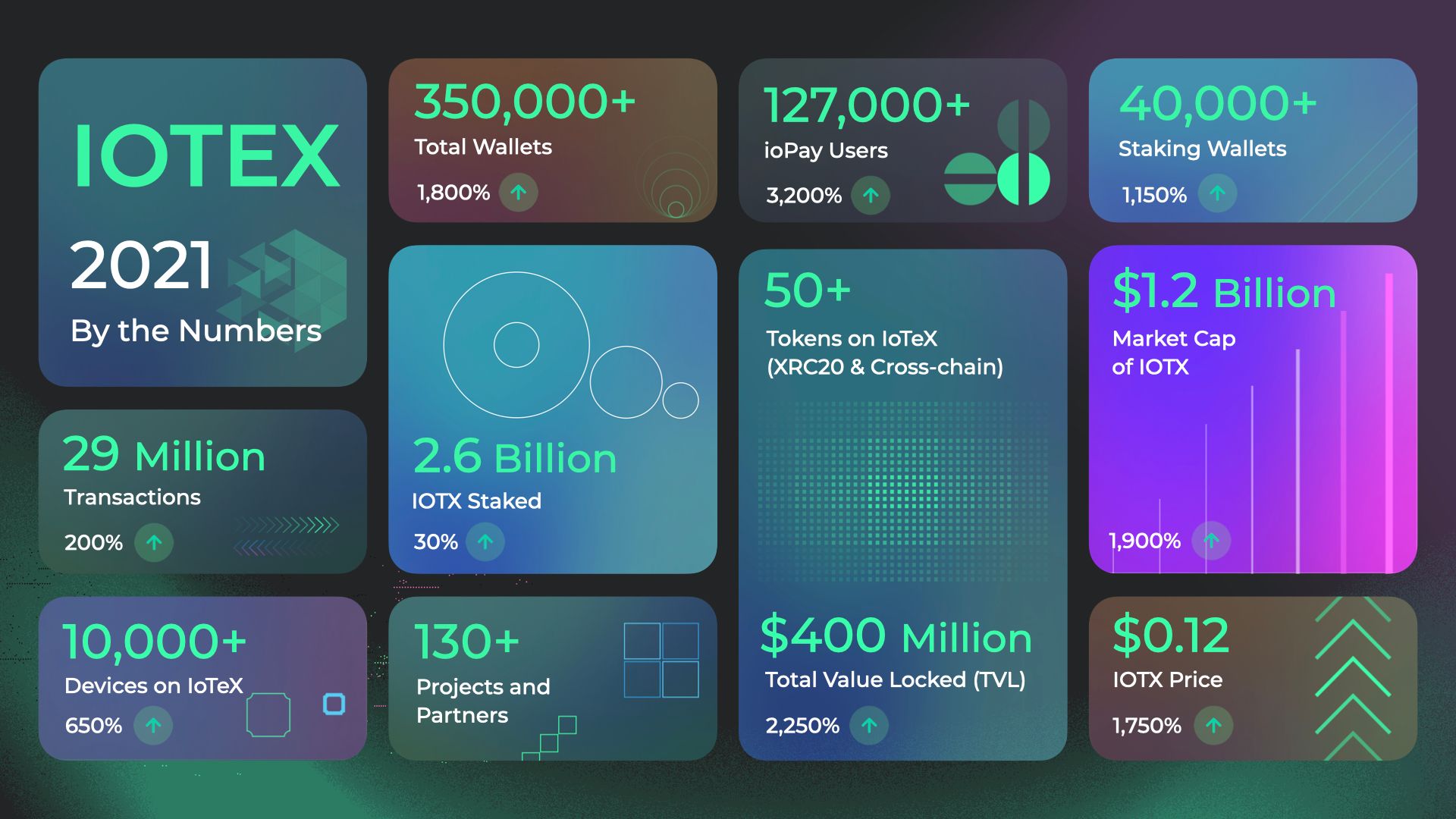 IoTeX had a record year. Don't just take our word for it – let the numbers do the talking! With >20x growth across key metrics like wallets, TVL, and market cap, IoTeX experienced exponential growth this year:
From 200 to Top 70 Crypto Project on CMC: IoTeX has jumped from ~ 200 crypto position well into Top 100 on Coin Market Cap. Reaching as high as 70. Outpacing over 100+ other crypto projects on the market.
350,000 wallets: A surge of new users came to IoTeX in 2021, all eager to experience our fast, cheap, and user-friendly blockchain.
130+ projects and partners: To complement the growing userbase of IoTeX, projects flocked to IoTeX and launched new Dapps, tools, and wallets, as well as started their own sub-communities within the IoTeX Network.
29 Million transactions: On-chain activity was off the charts this year, with ~15 million transactions alone coming in the last 3 months of 2021.
10,000+ devices: Ucam continued to be a best-seller in the USA on Amazon and b8ta retailers, as well internationally across 60+ countries. With Pebble Tracker and other IoTeX hardware coming onboard, the sky is the limit.
50+ tokens: A wave of new XRC20 tokens from native IoTeX projects were launched in 2021, and thanks to ioTube and other cross-chain bridges we saw dozens of cross-chain tokens find a new home on IoTeX.
>$1 Billion market cap: IoTeX broke into the Top 70 projects by market cap for the very first time, exceeding a $1B market cap for the majority of Q4.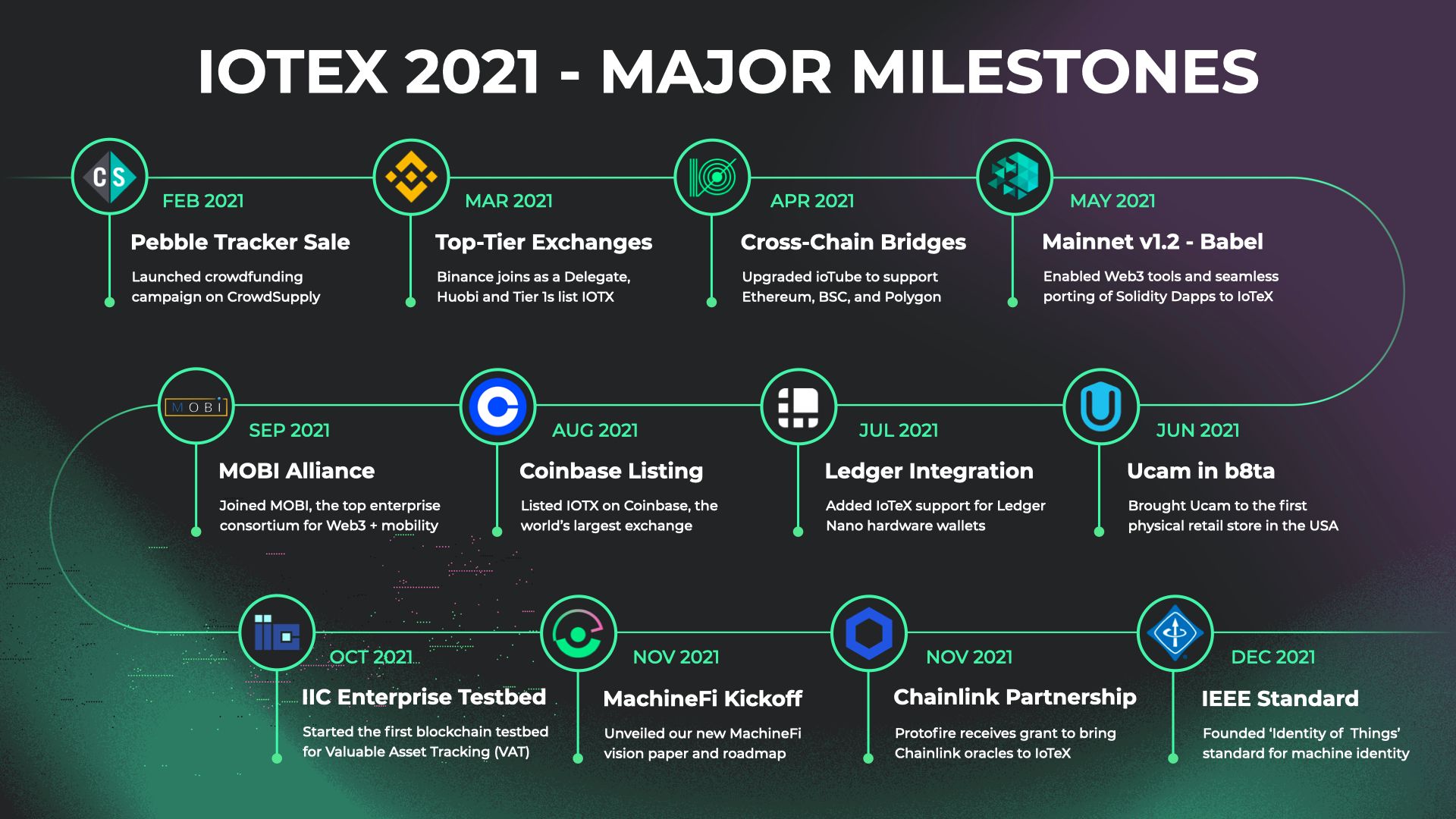 To generate these impressive 2021 statistics, IoTeX had a busy year with major milestones reached every month. From launching Pebble Tracker on CrowdSupply to being listed on Coinbase and other top exchanges to upgrading our core infrastructure to advancing our efforts with enterprises and consortiums, IoTeX expanded our brand and reputation in the Web3 + traditional worlds by partnering with like-minded industry leaders and doing what we do best: #BUIDL.
An important catalyst to 2021's success was investing time and resources early in the year to build infrastructure, such as cross-chain bridges and Web3-support via Mainnet v1.2. This enabled builders to seamlessly launch new Dapps on IoTeX and welcomed the masses to build on IoTeX. Similarly, our upcoming MachineFi roadmap and Chainlink integration will unlock an entirely new design space for IoTeX builders – brace yourselves for the real Cambrian Explosion in 2022.
Ecosystem of 130+ Projects & Partners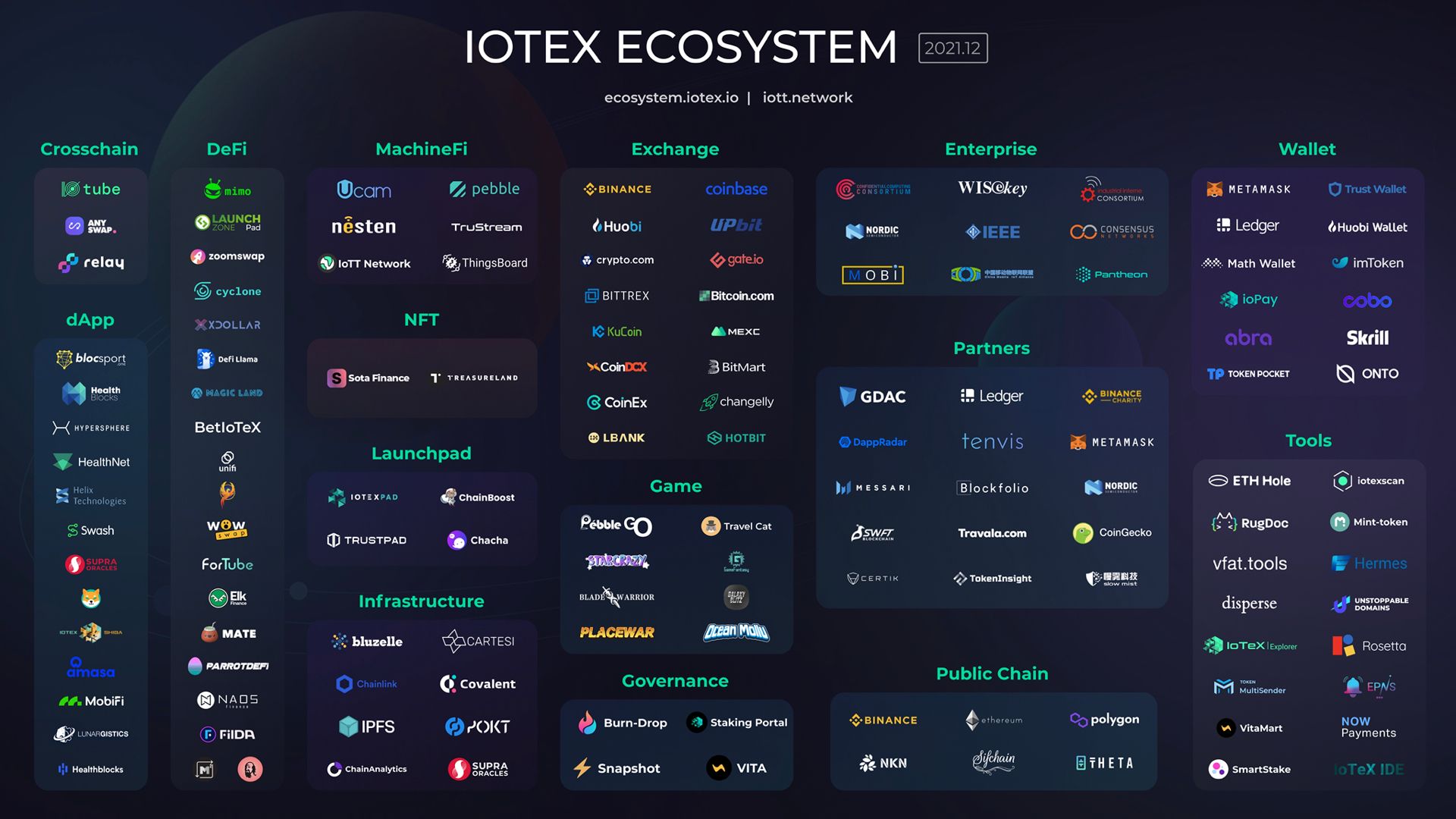 The IoTeX ecosystem was just finding its footing in January 2021, and to see the rapid growth of our family of projects and partners is certainly the most important achievement of 2021. IoTeX is now home to a diverse and global ecosystem of builders – check out some of the highlights below:
⭐️ Explore the IoTeX Ecosystem now at ecosystem.iotex.io.
Development Recap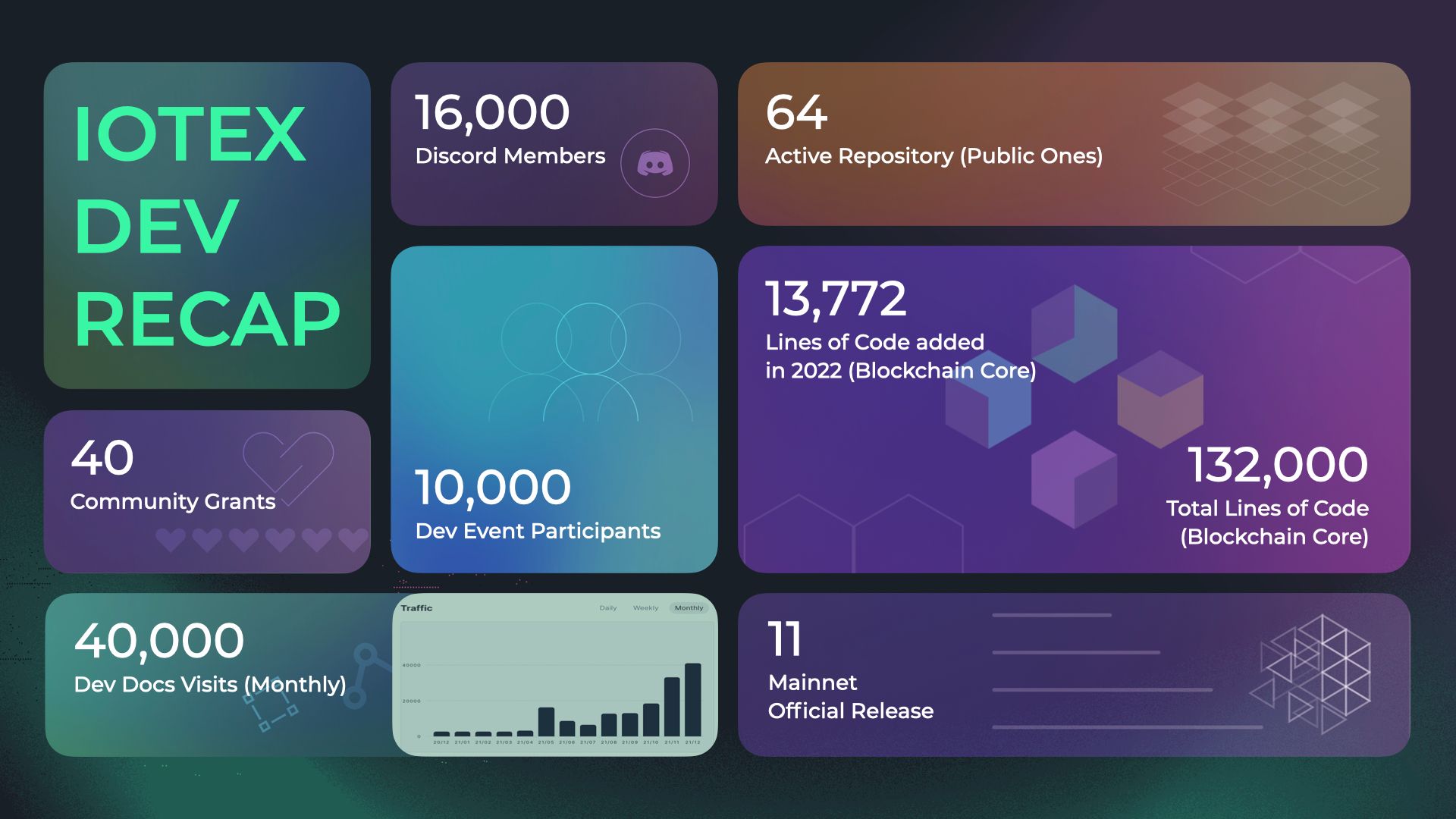 As always, the IoTeX core team was hard at work throughout 2021 with 5 major code releases that introduced new capabilities for developers. Following the launch of Mainnet v1.2 in May, which introduced the Babel API for Web3-compatibility and seamless onboarding of Solidity-based Dapps to IoTeX, a huge spike in development activity occurred on IoTeX. This catalyzed a year of incredible hackathons, community grants, and dev discussions on Discord.
With over 132,000+ lines of code, 40,000+ monthly visits to our dev docs, and 64 active Github repositories, the development of IoTeX is at an all-time high pace with no signs of slowing down!
⭐️ Join our Dev Discord now at iotex.io/devdiscord.
Community Growth Summary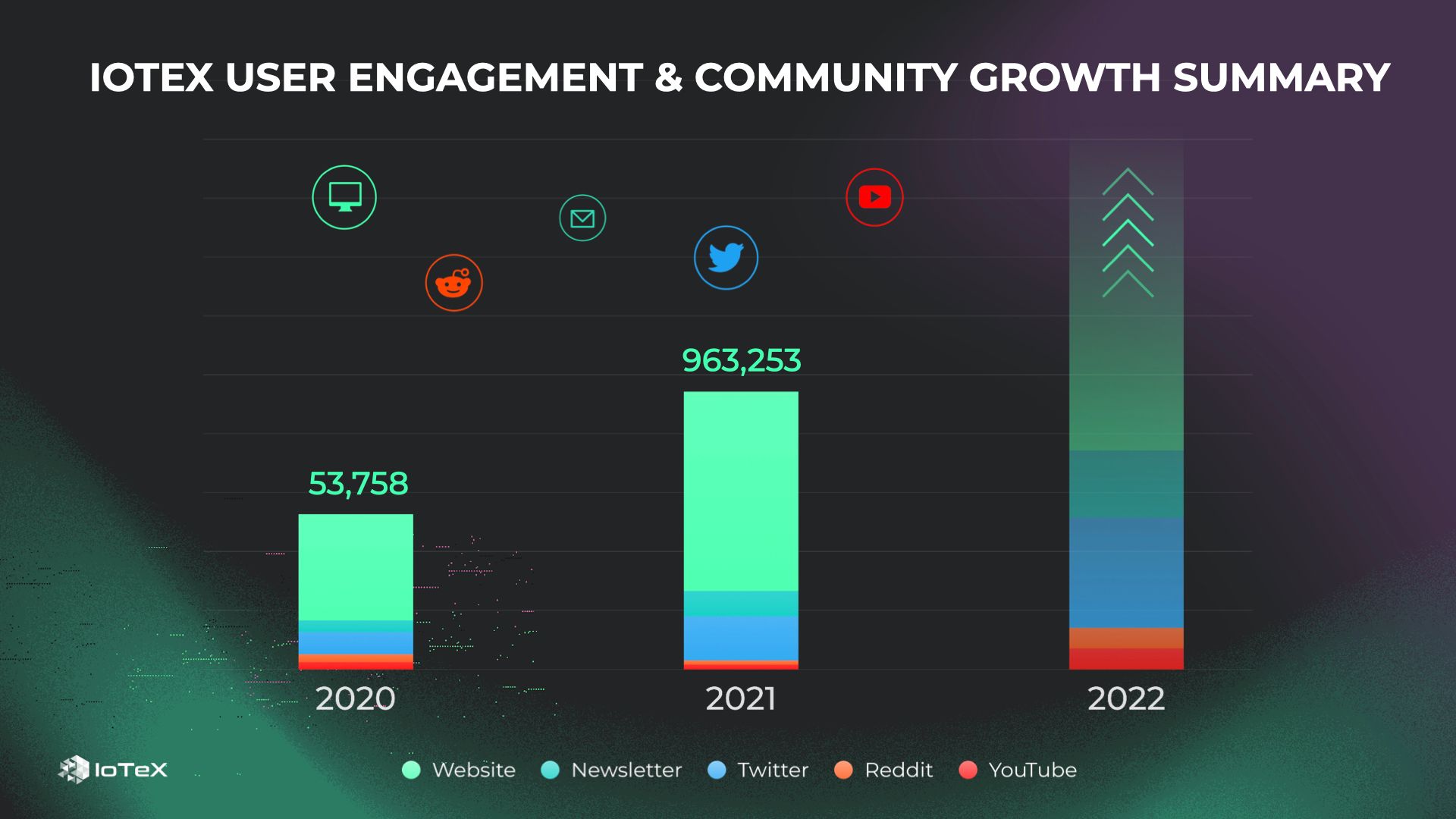 Last but not least, IoTeX's social media presence and global community size grew exponentially on 2021. Compared to 2020 where we had a total of ~53,000 followers across website, newsletter, Twitter, Reddit, and YouTube, 2021 saw an ~18x increase in cumulative followers with 963,000+ global followers. This means that our news and awareness spread broader and deeper in 2021, laying a solid foundation for even more user engagement and community growth in 2022.
⭐️ Follow our channels: Website | Twitter | Telegram |  Reddit  | YouTube
What's Next?
From all of us here at IoTeX, we want to extend our sincere thanks to the global community. IoTeX wouldn't be what it is without you! It's amazing to see all of the hard work and determination over the years blossom into this vibrant, global community we now have. 2021 was a record year for crypto, but regardless of whether 2022 brings a bull/bear market, we now have true believers and lifetime members of the IoTeX community that will continue building the future with us through thick and thin.
As we move into 2022, there is a huge opportunity to make IoTeX one of the top blockchains in the world and an indispensable part of the Web3 universe. MachineFi is a design space that is entirely our own – our Day 1 vision to connect the real world to blockchain is finally coming to life and there is limitless opportunity for the IoTeX Network and all of its builders. Thanks for an amazing year and see you in 2022!
---
About IoTeX
Founded in 2017, IoTeX is an EVM-compatible blockchain platform to fuel the Internet of Trusted Things, an open ecosystem where humans and machines can interact with guaranteed trust and privacy. IoTeX envisions a future where everyday people can own and control their smart devices, as well as the data and value they generate. Backed by a global team of 30+ top research scientists and engineers, IoTeX combines blockchain, decentralized identity, and secure hardware to enable user-owned IoT devices and networks. By connecting the physical and digital worlds, IoTeX will empower the future machine economy and redefine the trillion-dollar IoT industry.