IoTeX Collaborates With ARM-Research to Bring Privacy into the Real World
Together with ARM Research, IoTeX is adding confidential computing to its DePIN stack, enabling privacy-preserving computation to deliver valuable insights without exposing sensitive data.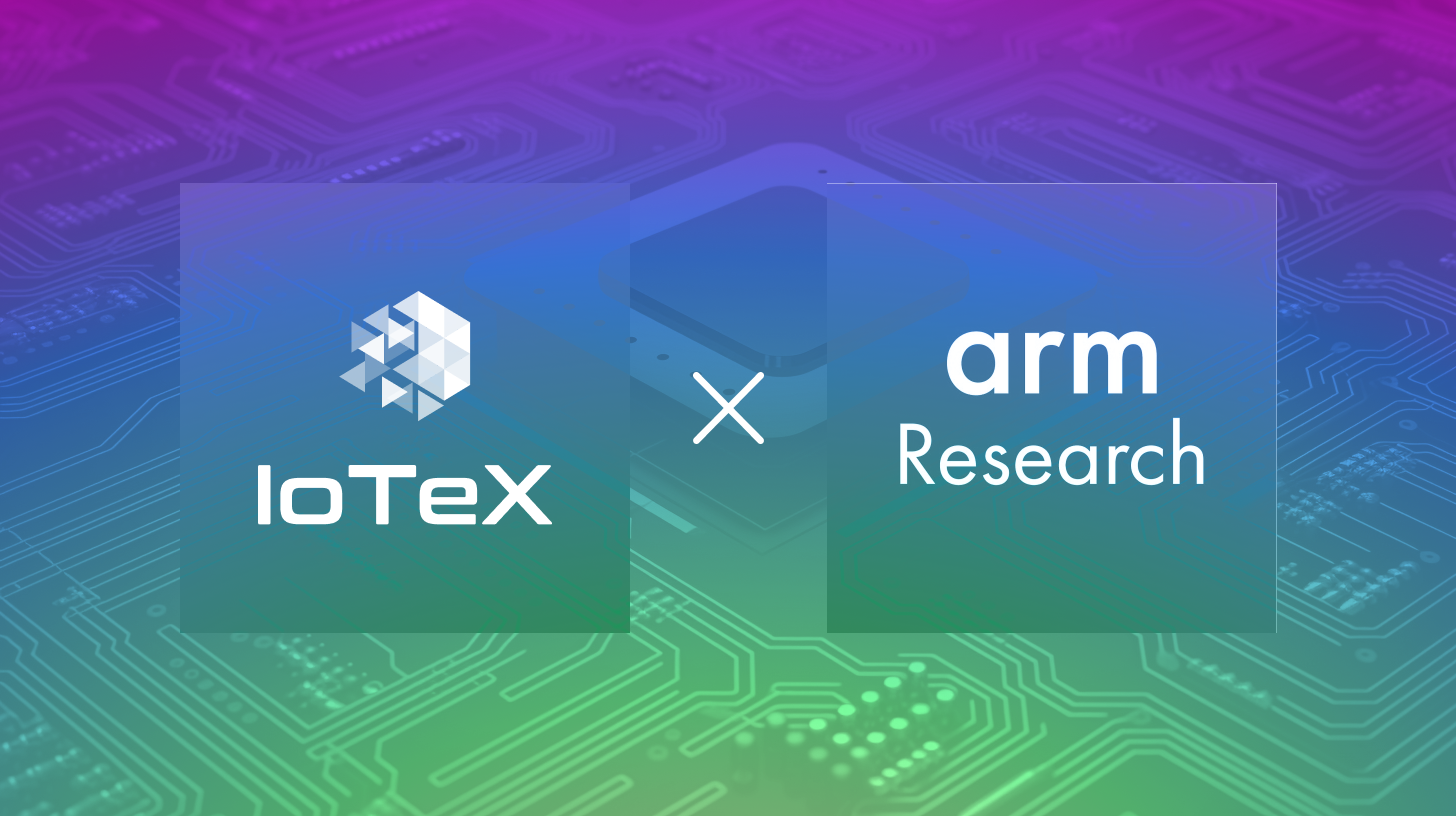 Creating A DePIN Future, Together
DePIN stands for Decentralized Physical Infrastructure Networks. And a DePIN future is one where autonomous device networks provision society's base infrastructure—from energy systems to bandwidth (click here to learn more about DePIN). IoTeX has spent over five years developing a constellation of technologies to ensure these networks are decentralized and secure. From an IoT-optimized L1 to w3bstream middleware, data analytics tools, physical devices, and token frameworks. And now, together with ARM Research, IoTeX is adding confidential computing to its DePIN stack, enabling privacy-preserving computation to deliver valuable insights without exposing sensitive data. ARM, which was recently listed on the Nasdaq (Nasdaq:ARM), is the world's largest provider of hardware and chip technology IP used by more than 180 billion chips globally. Arm Research works closely with institutions worldwide to drive research success across academia and industry. Ucam, IoTeX's indoor security camera, is the first proof of concept for the IoTeX-ARM collaboration, which uses confidential computing for privacy-preserving object recognition.
Why DePIN Needs Confidential Computing
DePIN needs confidential computing the way cars need windshields. Some people would still drive, but they would be far less comfortable.
Simply put, confidential computing enables computation over encrypted data. That means devices can pool their data to generate system-wide insights without revealing private information. It also means devices and their owners do not have to hand over their unencrypted data to manufacturers or cloud service providers, which is especially crucial for an indoor camera like Ucam operating inside people's homes. Manufacturers and cloud providers do not need to have ill intent to make the status quo a poor security model. "Flip-the-switch" risk highlights how trust assumptions within any given organization are subject to change at any time. The post-911 PRISM and XKeyStore programs (exposed by Snowden in 2013), installed a backdoor into the data centers of every major US telecom and tech company in the name of national security.
But confidential computing isn't just about personal privacy. Arm's Veracruz system, used in the Ucam PoC, allows multiple organizations to funnel encrypted data into a trusted node and then compute over it, generating insights from multiple organizations without exposing any competitor data.
If every device within a DePIN, say a network of Ucams, wanted to license data to a security firm studying home invasions, they could share encrypted data for analysis without revealing actual images of their homes. This model scales across DePIN applications.
Healthblocks is an example of a DePIN that greatly benefits from confidential computing. Their model of licensing private fitness data to health researchers only works if that data can be analyzed anonymously. Confidential computing makes this possible, unlocking a vast ocean of data from Healthblocks and many other networks to flow to researchers and businesses across the globe, unlocking the decentralized business models of the next digital age.
The ARM-IoTeX Collaboration
IoTeX and ARM got to know each other as members of Linux's Confidential Computing Consortium, working together to solve real world problems. Ucam is the first use case of Veracuz and the teams have been working closely together for months to integrate it. The Veracruz-Ucam integration relies on an untrusted host, AWS's confidential computing service in this case, to compute object detection on behalf of Ucam owners.
Going Forward
The collaboration between IoTeX and ARM-Research signifies a pivotal moment in the intersection of confidential computing and Decentralized Physical Infrastructure Networks. The strides taken by IoTeX and ARM to introduce private computation to Ucam are the harbingers of a new era where privacy isn't a luxury, like car windshields, but a norm.
As DePINs grow and more devices are added, the need for data privacy frameworks that enable interoperability without compromising security grows. The ARM-IoTeX collaboration is based on a shared vision for a world where data sovereignty is restored to its rightful owners.
Looking ahead, we can expect more innovations, robust solutions, and wider adoption stemming from this collaboration. Whether it's for the regular homeowner wanting a privacy-first indoor security system or large corporations securely combining their databases to generate better insights, the future beckons with solutions that are both revolutionary and essential.