IoTeX Mainnet Hardfork on v1.12.0 - What You Need to Know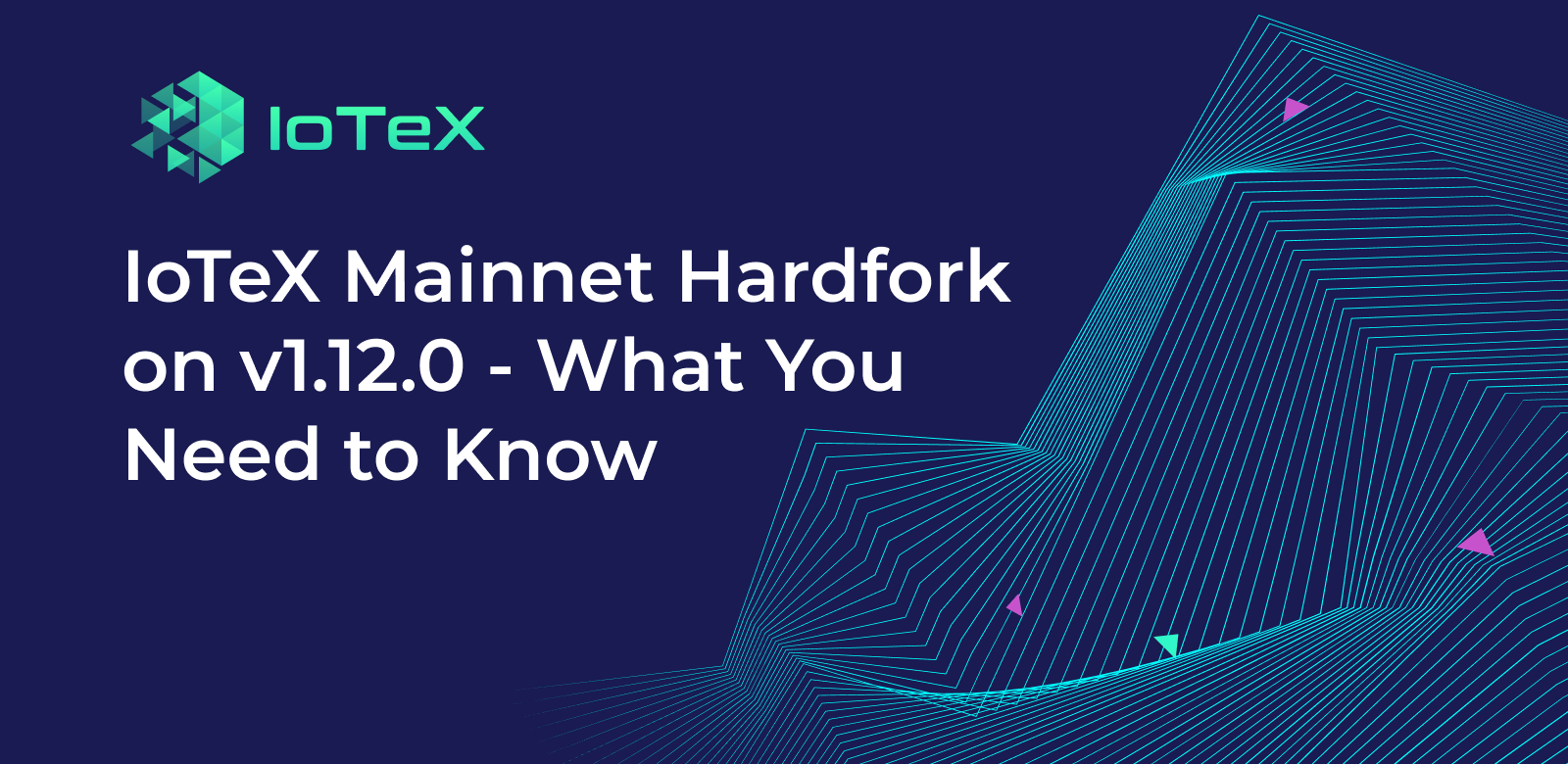 The IoTeX core release v1.12.0 is just around the corner. Here's a rundown of what's new, and what you need to do to stay synced with the blockchain.
Important Dates and Info
First and foremost, please mark your calendars: v1.12.0 introduces a hardfork, set to activate at block height 26,704,441. The estimated time of activation is 11/05/2023 at 23:59pm UTC. This means that if you're running a node, you need to upgrade to the latest release before this block height. Failure to do so might lead your node to go out of sync with the blockchain once other nodes have been upgraded. The full release notes can be found below.
Special Note: Fortunately, there's no need to make any changes to the mainnet config.yaml and genesis.yaml. A simple restart of your node with the new image will do the trick.
What's New in v1.12.0?
EVM Upgrade: One of the standout features is the upgrade of the EVM to the Bellatrix release, leapfrogging the previous London release. And there's more on the horizon. Our team is already gearing up for the Shanghai release and has an exciting array of features planned for subsequent versions.
Staking Bucket NFT Update: With v1.12.0, the Staking Bucket NFT, which was introduced in July with version 1.11.0, now has enabled weighted vote counting. This means buckets created using this feature will have the same voting power and will fetch the same rewards as native buckets with equivalent balances. If you'd like to learn more about Staking as NFT on IoTeX, check out this blog: https://iotex.io/blog/staking-bucket-as-nfts/
Other Enhancements
A new ioctl bc delegate command that lets users easily retrieve detailed information of any delegate using either their name or operator address.
An error fix related to json unmarshal when invoking eth_getTransactionByHash through ethclient.
Upgrading is Crucial
Given that v1.12.0 includes a hardfork, it's imperative to upgrade to ensure seamless sync with the IoTeX blockchain.
| Node type | Action |
| --- | --- |
| Delegate | Must upgrade |
| Fullnode | Must upgrade |
In summary, this release brings with it pivotal upgrades and essential features that further solidify IoTeX's commitment to its community and its continuous growth. Ensure you upgrade and stay tuned for more developments!