Breaking Ground in The Real World: Mycelium Networks and IoTeX Unite for Next-Gen DePINs
IoTeX partners with leading DePIN Testbed provider Mycelium Networks to enable IoTeX projects to undergo real-world trial and fine-tuning.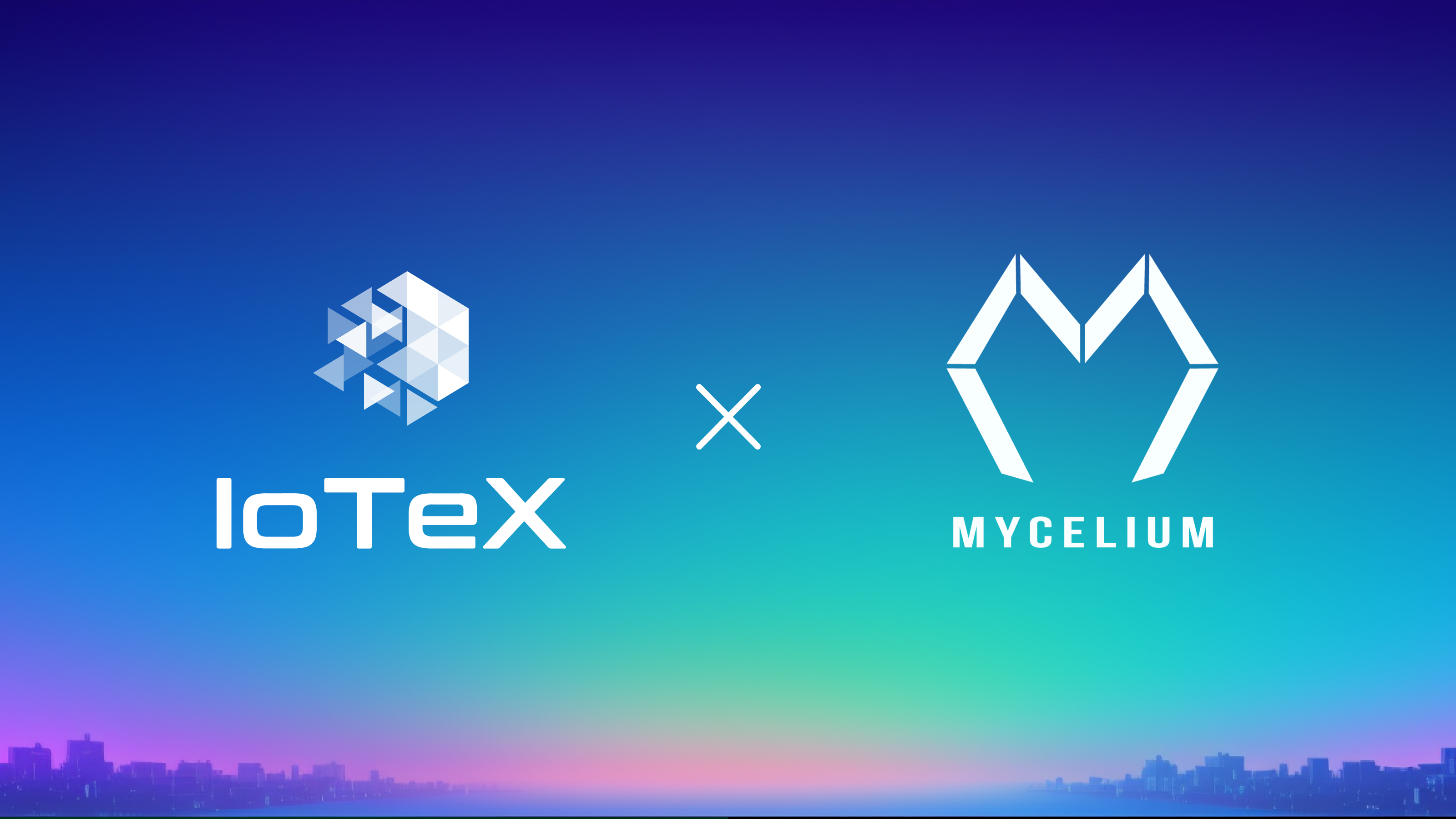 DePIN is getting real with hundreds of thousands of devices deployed worldwide and entrepreneurs launching networks in industries from telecom to ridesharing. But while ideas and capital are flowing, the problems the industry faces are getting real too. With the launch of W3bstream devnet, IoTeX has made significant progress in reducing infrastructural bottlenecks, but limited real-world testing environments continue to obstruct further development. This is why IoTeX is thrilled to announce our latest partnership with leading DePIN Testbed provider Mycelium Networks.
IoTeX is a core sponsor and infrastructure provider in the DePIN space that supports every facet of the entrepreneurial journey from ideation to launch and ultimately scaling to widespread adoption. IoTeX offers multiple pillars of support to founders, including financial, technical, and community marketing. Thanks to its partnership with Mycelium Networks, IoTeX has a new pillar: real world testing. By combining one of the leaders in DePIN infrastructure with a leader in DePIN testing, the IoTeX and Mycelium partnership will help ease the founder journey and reduce time-to-market for new DePIN applications.
What is a DePIN Testbed?
The Mycelium Testbed covers over 1620 square miles in Northwest Arkansas and includes over 400 Helium nodes, creating the ideal environment for teams to deploy and test their projects. Mycelium is a major force in the region, securing partnerships with organizations like Walmart Amphitheater (Arkansas Music Pavilion) to provide Helium WiFi coverage at their venue.
A sandbox for all things DePIN, Mycelium helps founding teams curate and execute their individualized deployment strategy. Mycelium also manages and maintains DePIN deployments in the Testbed. Any decentralized physical infrastructure hardware, including DeWi, sensor data collection devices, power solutions, climate tracking, and mapping technologies, has room to play in the Mycelium Testbed. In the Testbed, IoTeX projects can undergo real-world trial and fine-tuning.
Why Mycelium is Partnering with IoTeX
With the launch of W3bstream devnet in June, IoTeX has become an infrastructural hub trusted by many leading DePIN startups including GEODNET and Drop Wireless. IoTeX's partnership with Mycelium means that the growing number of DePIN founders who rely on IoTeX now have a built-in testbed to stress-test their proof-of-concepts and hardware. The Testbed also augments IoTeX's ecosystem by assuming the role of an incubator – not only for IoTeX launchpad projects and products but also for refining market strategies through controlled experimentation.
For example, project teams could use the Testbed to introduce localized incentives to determine their efficacy without risking the significant capital required for a global launch. Within the Testbed, IoTeX projects have the opportunity to experiment with network composability by leveraging the utilities of other DePIN applications operating in the region. For example, a weather station DePIN like WeatherFlow could sync up with an energy grid DePIN like Daylight Energy to predict solar and wind patterns and support more accurate pricing and stabilization within the local grid. Mycelium is also an IoTeX delegate, helping secure the network while receiving staking rewards for their service, further deepening the connection between our respective organizations.
Going Forward: Bringing DePIN into the Real World
A unique challenge new DePIN founders face is managing real-world deployments while simultaneously building the digital infrastructure every web3 project needs. By outsourcing some of the demands of real-world deployment to a physical testbed operator like Mycelium Networks, IoTeX projects can focus on building the core technology required to scale a DePIN application. Combined with the benefits of composability offered by an on-the-ground DePIN hub, founders now have a middle-ground between the whiteboard and global deployment to test the efficacy and safety of their applications before going mainstream.
If you are interested in DePIN you can learn more about the latest developments in the sector and compare projects by visiting DePINscan. DePINscan powered by W3bstream and IoTeX is designed to empower intelligent investors in the DePIN sector.
Website | Twitter | Developer Twitter | Developer Portal | Reddit | Discord | YouTube