IoTeX Hits #1 ! MachineFi Has Arrived.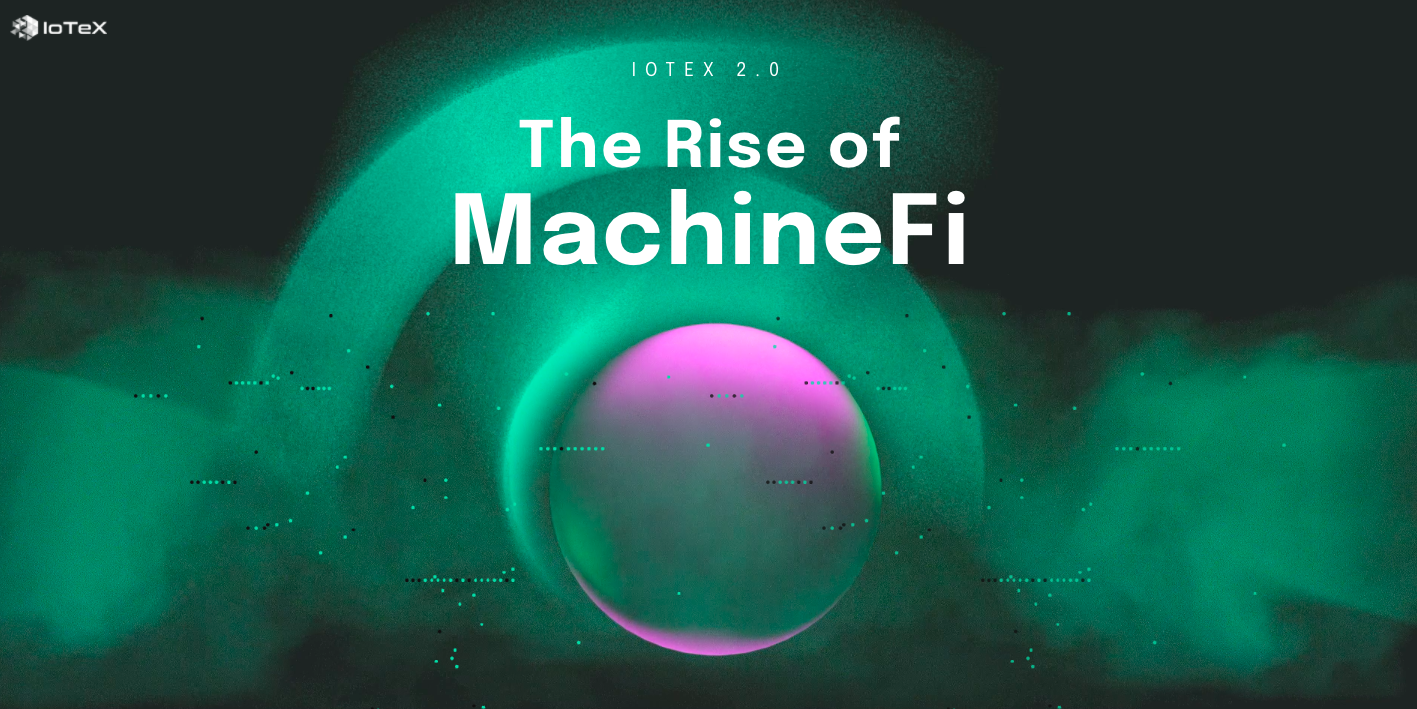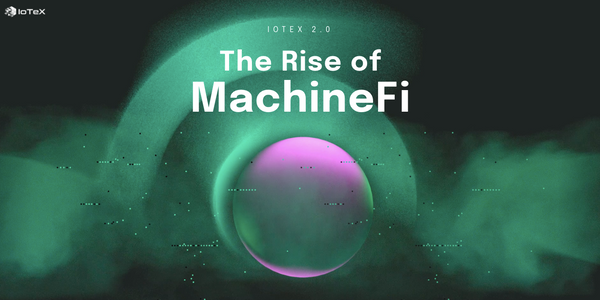 The Rise of MachineFi
We are entering a new machine economy that will propel us into a new digital era. If we don't step in now, centralized corporations will continue having a monopoly over the data and the revenue generated from people and machines.
Visit MachineFi.com and get a glimpse of the future Machine economy.
Join the MachineFi x Metaverse Revolution.  Watch it now!  
Curious what MachineFi could look like?

Watch the MachineFi Roadmap below to see whats coming for IoTeX 2.0

There have been many incredible updates in the IoTeX universe this week, so we want to give you a quick summary before diving in.
TL;DR
IoTeX Hits #1 Alt Coin out of 3,264
IoTeX x Chainlink San Francisco Meetup
Travala listing (Travel booking platform)
NOWPayments listing
Pebble Tracker completely sold out!
Coinbase IoTeX reaches #2 ranking in 24hr volume
IOTX hits new ATH!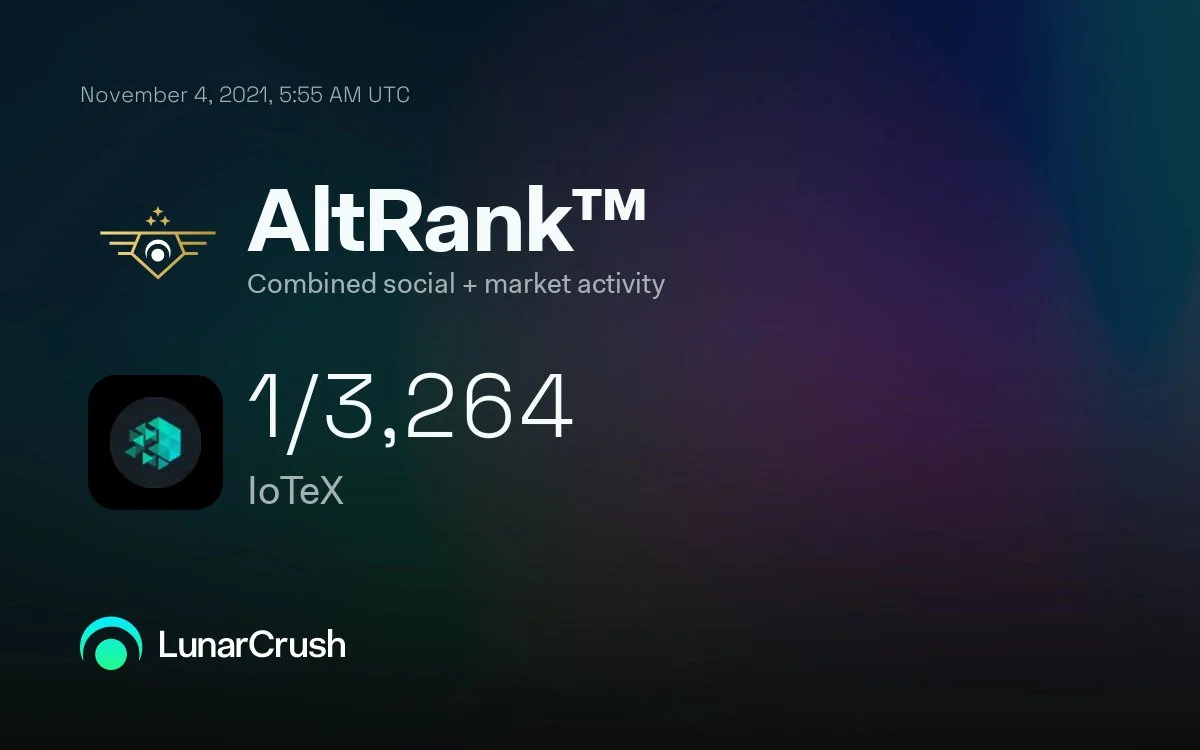 Based on combined social and market activity, IoTeX has hit AltRank™ 1 out of the top 3264 coins across the market according to LunarCrush! Both veterans and new members of the IoTeX community have been spreading the word and taking IoTeX to all time highs. We are so thrilled to see the network constantly growing and evolving.
IoTex and Chainlink Meetup
Last week, Chainlink and IoTeX got together in San Francisco to discuss various topics ahead of an upcoming integration with Chainlink's decentralized blockchain oracle network to IoTeX's Mainnet.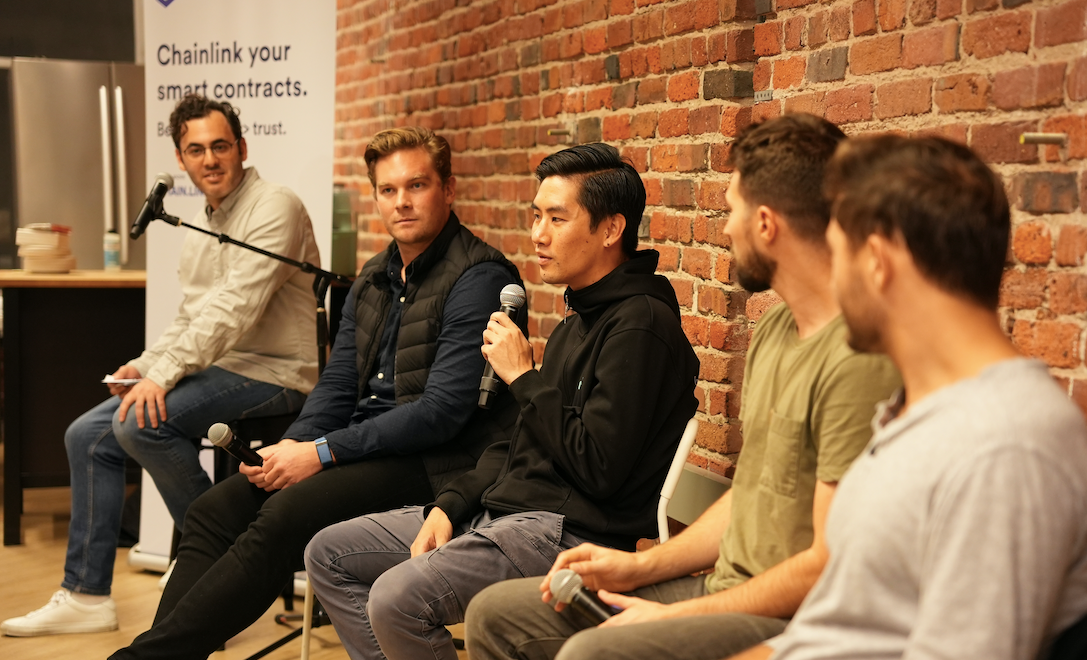 IoTeX and Chainlink are working on two of the top 100 blockchain projects. They shared thoughts and ideas on data, smart contracts and what their deeper relationship will mean. The teams have been collaborating since 2019, when they began working together on oracle research and development to bring real-world data to blockchain applications. Now that research is becoming a reality.
Read more about this collaboration here.
Book your next trip with IOTX on Travala!
Travala is a travel platform that lets you book hotels, flights, activities, and other accommodations using cryptocurrency. You can now pay with IOTX for Travala's 3 million+ travel products worldwide.
This is super exciting as IoTeX continues to hit mainstream milestones to help you use IOTX in your everyday life. To celebrate the announcement, Travala is hosting a $900 giveaway!
Check out how to enter here.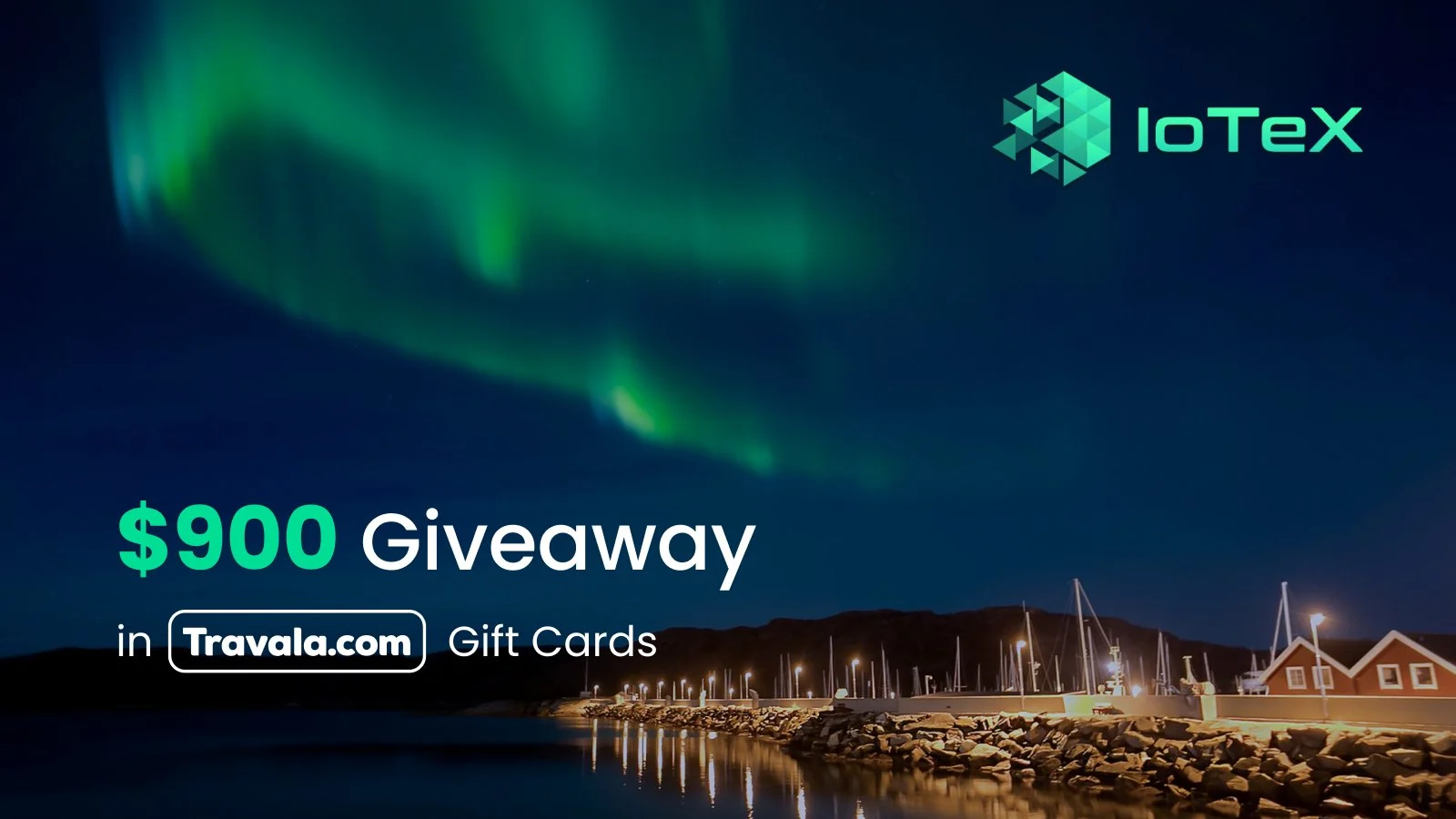 IoTeX is listed on NOWPayments
Don't be fooled, this is not simply another exchange listing. NOWPayments powers millions of eCommerce sites to accept cryptocurrency as a payment and donation- and now IOTX is one of those currencies.
Any eCommerce platform using Shopify, which has roughly 3.3 million sites, can now pay with IOTX. NOWPayments also enables businesses to pay their employees in IOTX. Even Twitch streamers can start accepting IOTX donations!
Best of all, NOWPayments offers the lowest fees on the market (starting at only 0.4%). Keep in mind that this is more than three times lower than most credit card fees today! We could not be more excited to see how NOWPayment users start paying in IOTX!
The First Batch of Pebble Trackers are officially SOLD OUT!
After months of final product testing, mass production, and certifications, we are so happy to announce that the official first batch of Pebble Trackers are shipping on Thursday, November 4. Not only that, but they have completely sold out! Pebble Tracker will be shipping to users, developers, and businesses in over 40 countries.
Read the latest news and updates about Pebble Tracker use cases and opportunities here.
We can't wait to see what creative, innovative things you will do with your Pebble Tracker. Our team has been working incredibly hard in the midst of global chip shortages and supply chain delays to make this a reality. Thank you for your continued support!
IoTeX ranks #2 on Coinbase for 24hr trading volume!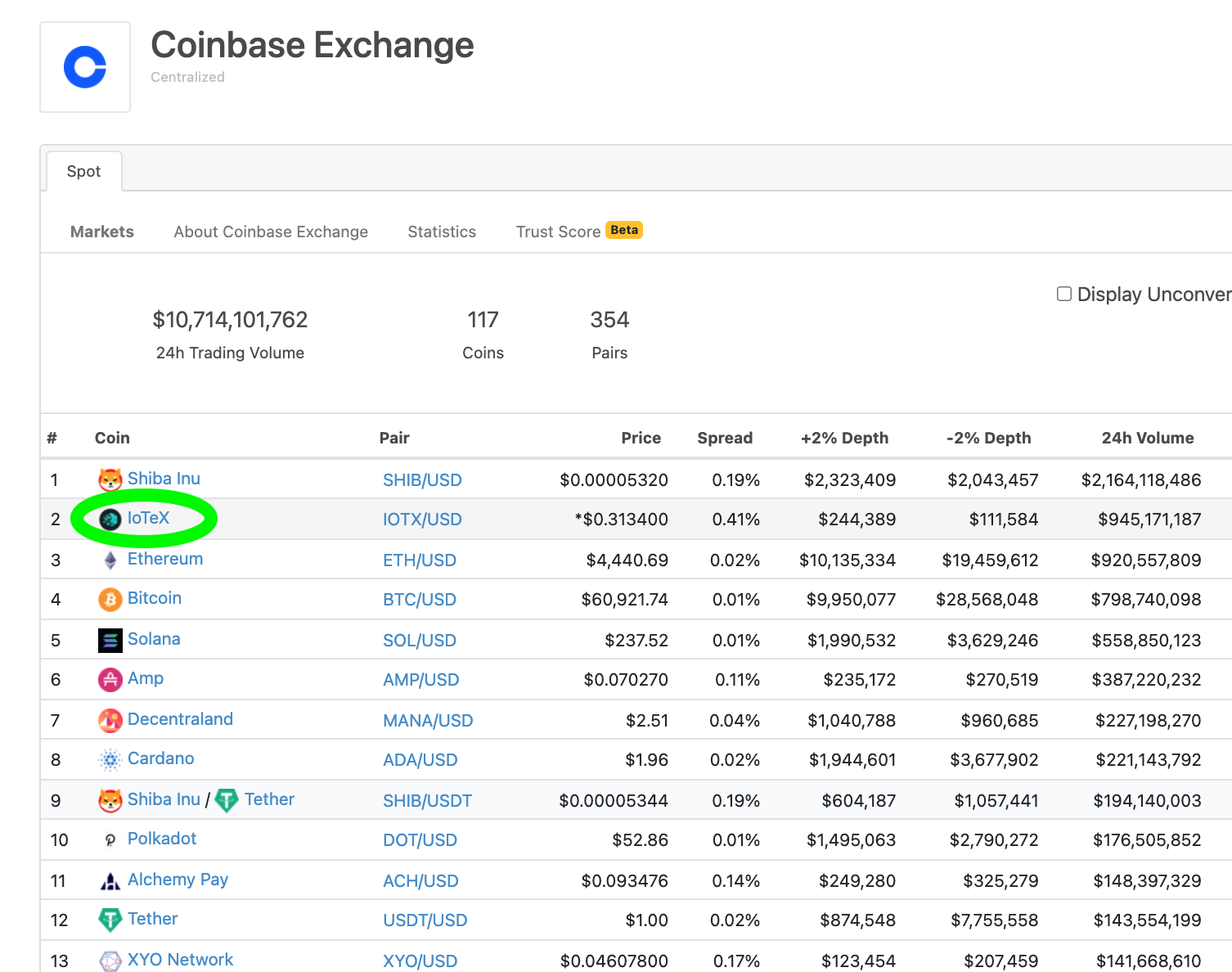 IoTeX is happy to be recognized among fellow blockchain giants like Ethereum and Solana after growing over 1000% in one day trading volume! IoTeX's steady climb is a testament to both its future potential and real-world capabilities today. IoTeX has been turning concepts into reality for several years now and shows no signs of stopping.
As always, stay tuned for many more exciting announcements coming soon! Thanks for being a part of the ever-growing IoTeX family.
Visit MachineFi.com and watch this video to see what MachineFi could mean for you.