Meta-Pebble Debuts at ETHDenver + Say Hello to Halo Grants!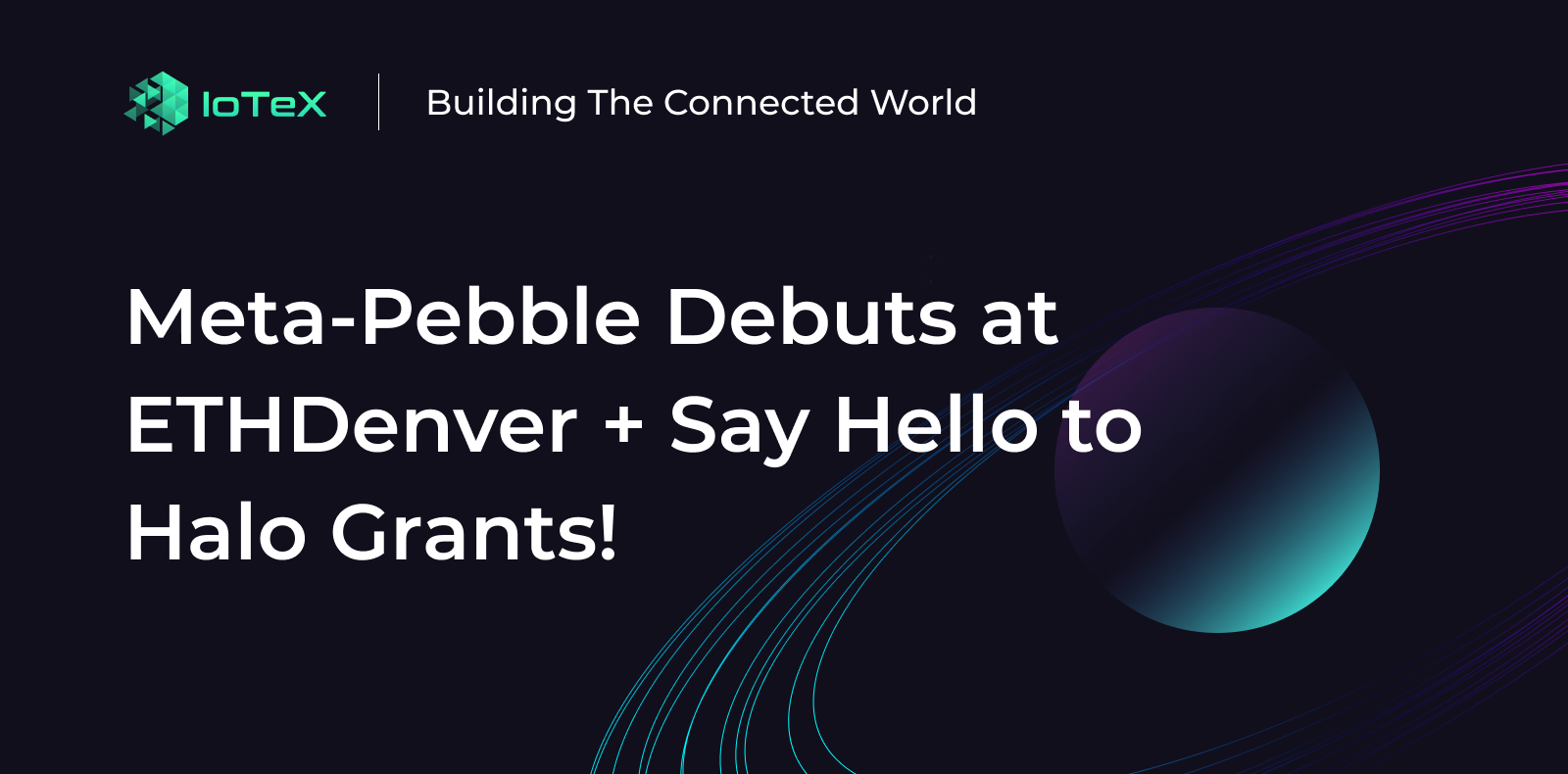 We've had a busy few weeks preparing for and attending ETHDenver. It was well worth it!
IoTeX Makes a Splash at ETHDenver
As we mentioned above, the team spent much of last week at ETHDenver giving presentations on MachineFi, Pebble Tracker, and Meta-Pebble, as well as meeting 1:1 with the many, many people who were excited to learn about the great work we're doing. And the big announcement was the launch of Meta-Pebble.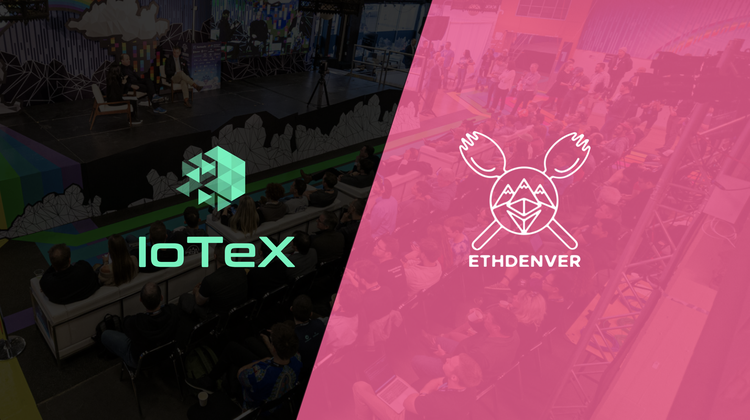 You can watch the MachineFi presentation here. MachineFi: Real-World ←→ Web3
And you can read about it in our recent blog. Meta-Pebble: A Miner in Your Pocket
Google Cloud to host BigQuery datasets including IoTeX
IoTeX is expanding its reach with Google Cloud. The Google Cloud Marketplace will list data hosted on IoTeX. This will include Google acting as the 'connective tissue' between traditional enterprise and blockchain technologies.
We're so excited about what developers can build on the IoTeX platform that we created a grants program to support your great ideas: Halo Grants. In addition to funding (grant amounts vary), we connect you with our amazing ecosystem to help your project succeed.
"Build it and they will come"?
No, 'They' need to know about it and that's where we come in.
We help you promote your project with:
Over 113K active email subscribers who care about the IoTeX ecosystem
A chance to be part of our bi-weekly ecosystem highlights
Exposure to 100K monthly users through ioPay Wallet
Integration with existing products and services on the IoTeX platform including DEXes, Decentralized bridge, Government Portal, DeFi, Dashboards, dApp Directories, and more.
That is truly a fantastic opportunity to jumpstart your project without spending your valuable time fundraising. It's like plugging into your very own design workshop. Learn more and start Buidl-ing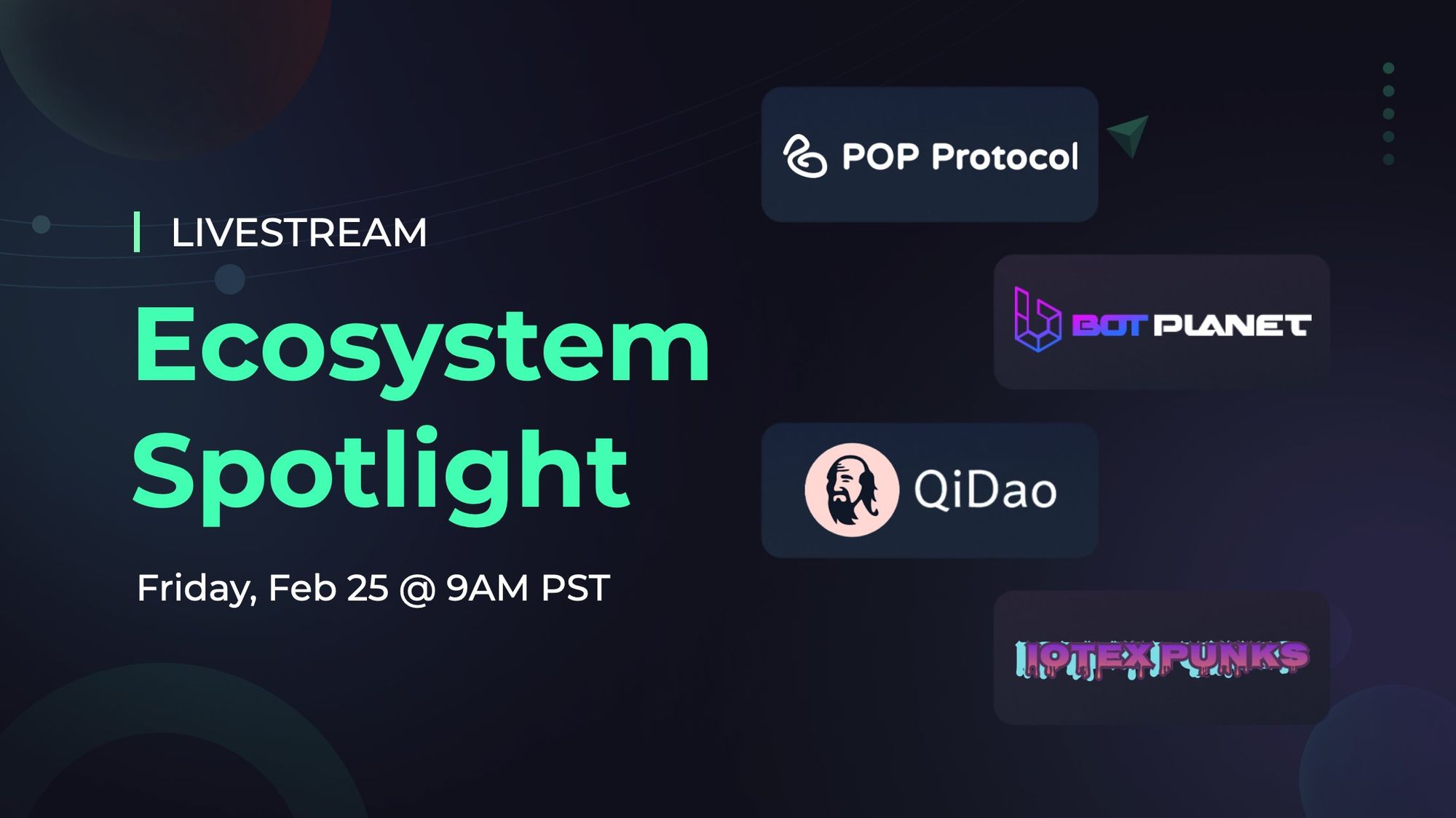 Ecosystem Spotlight Friday, Feb 25, 9am PST
Meet the innovators building the future on IoTeX during our Ecosystem Spotlight! Join us LIVE with @QiDaoProtocol @BotPlanet_ @iotexpunks. We'll also preview our brand new Proof of Presence (POP) Protocol. Watch it here.
CityDAO
On November 1, 2021, , CityDAO became the first Decentralized Autonomous Organization to own land using the new Wyoming DAO LLC law. With the initial purchase of 40 acres, the parcel references a promise made but largely unmet by the US government.. The official commitment  after the Civil War was to give 40 acres and a mule to formerly enslaved families.
CityDAO is exploring decentralized asset ownership on chain, starting with a piece of land in Wyoming. Each parcel of land is an NFT that can be owned collectively by the DAO or by individuals. Being a DAO, or Decentralized Autonomous Organization, means the organization is managed by the community.
More updates are to come on how CityDAO is using Pebble Tracker technology to expand their promises of community.
ICYMI:
IoTeX Ecosystem Spotlight, Larry Pang, Moderator || Ankr, FilDA, Treasureland, MachineFi
Save the Date
StarCrazy x IoTeX AMA
Mar 6, 1pm UTC (8am EST) is AMA - StarCrazy x IoTeX (Rey, Ann of StarCrazy, Claire of IoTeX + a guest player) Get ready for some big announcements!

Stay tuned for more news very soon. We can't wait to share it with you!