CityDAO Brings Real World to Web3 with IoTeX's Pebble Tracker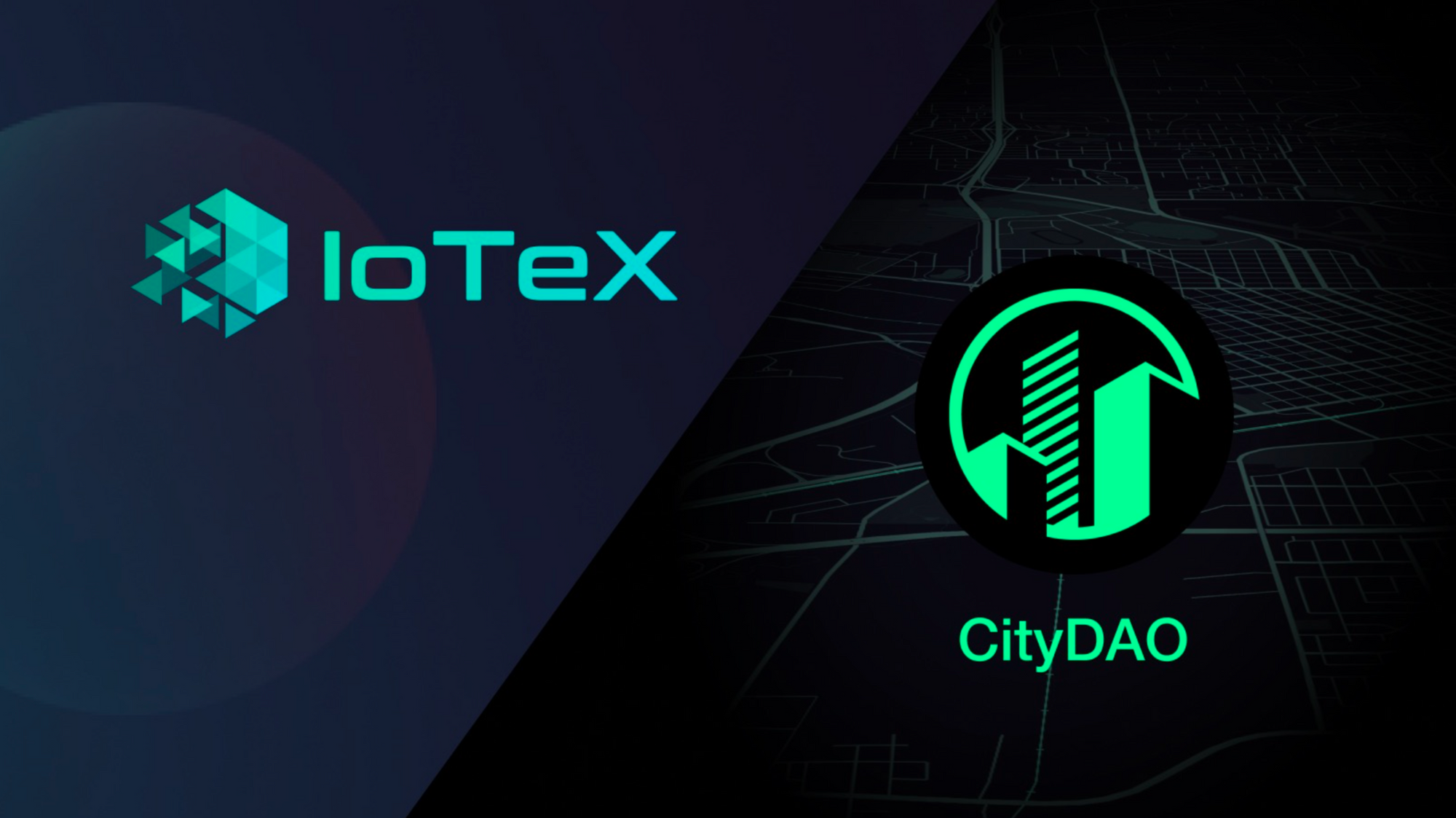 The mission of MachineFi is simple: connecting the real world to Web3. MachineFi brings verifiable, trusted data from the physical world onto the blockchain to power an entire economy for humans and their machines to own, utilize, and monetize that data. CityDAO is the latest member of the MachineFi vision building this connected reality.
CityDAO is using IoTeX's Pebble Tracker to track sensor data on the first piece of on-chain land. This collaboration is pioneering how real-world, tamper-proof data can power decentralized land ownership.
What is CityDAO?
With the purchase of a 40-acre parcel in Wyoming, CityDAO has become the first official DAO to own land. Wyoming is the first state to legally recognize DAOs (Decentralized Autonomous Organizations), which are community-led entities that operate collectively instead of having a centralized authority.
With CityDAO, parcels of land are digitized as NFTs that are owned and managed collectively by the community or by individuals. CityDAO envisions a future of decentralized governance with a network of on-chain assets to power smart cities.
"Digitizing physical assets democratizes access, increases transparency, removes gatekeepers, and reduces complexity. Putting land on chain has several benefits: 1) Instant land transfers, reduced legal complexity; 2) Democratization of ownership through crowdfunding. Currently land is only available to large investors who can afford an entire parcel. 3) Open, transparent, programmable digital records" -- CityDAO
Pebble Tracker Plants its Roots on Parcel 0
On this first parcel of land, the citizens of CityDAO are using two Pebble Trackers to analyze sensor data. The collaboration sparked from a community proposal for a sensor initiative that would help Parcel 0 establish itself as a "good neighbor" to the Shoshone National Forest directly next to them. The citizens wish to dedicate the property to conservation and offer visitors a collectible NFT.
This proposal was approved to "Authorize up to 2.5 ETH from the treasury to fund cameras and sensors outlined in the CIP-14 forum post. Specifically, a camera live stream of the parcel, live temperature sensor, and LTE IoT devices to send the data back, and for the dev team to create a dashboard for viewing the camera, temperature, and IoT data."
The two Pebble devices have been registered to the MachineFi portal, and they are already recording real-time data including climate temperature, humidity, air pressure, air quality, and light intensity. Pebble delivers trustworthy, verifiable information about Parcel 0 that can then be owned, managed, and monetized by its owners.
What makes this collaboration so exciting is that Pebble puts this valuable data directly into the hands of the DAO citizens. It is ultimately up to the community to vote and decide on how this data will be used. The Parcel 0 owners have complete control over the sensor data, and in turn, will reap all the benefits.
CityDAO opens endless possibilities for the future of decentralized land ownership and how community-powered assets can be part of the MachineFi economy. The MachineFi portal is gearing up to welcome an entire suite of powerful DApps that provide opportunities for all users to own and monetize their data in a myriad of ways.
To learn more about the MachineFi Portal: MachineFi Portal Opens Its Doors [Beta Launch]
What's Next for Pebble Tracker?
Are you a developer looking to start building with Pebble Tracker? Get started with our new developer documentation for Pebble Tracker that details everything from hardware specs, data fields/formats, firmware packages, DApp examples, and MachineFi Portal integrations. We also have an exciting lineup of dev workshops, hackathons, and other interaction points planned for early 2022 that will bring all Pebble Trackers together to build the future on IoTeX.
Don't have a Pebble Tracker but want to join the MachineFi revolution? Learn more about the upcoming launch of Meta-Pebble: A Miner in Your Pocket.
---
Want More on IoTeX x CityDAO?
Check out this informative livestream interview with the CityDAO team on our recent IoTeX Ecosystem Spotlight: