Liquid Staking on IoTeX is Here: Introducing uniIOTX
We are excited to announce the first-ever liquid staking dApp on IoTeX: Bedrock.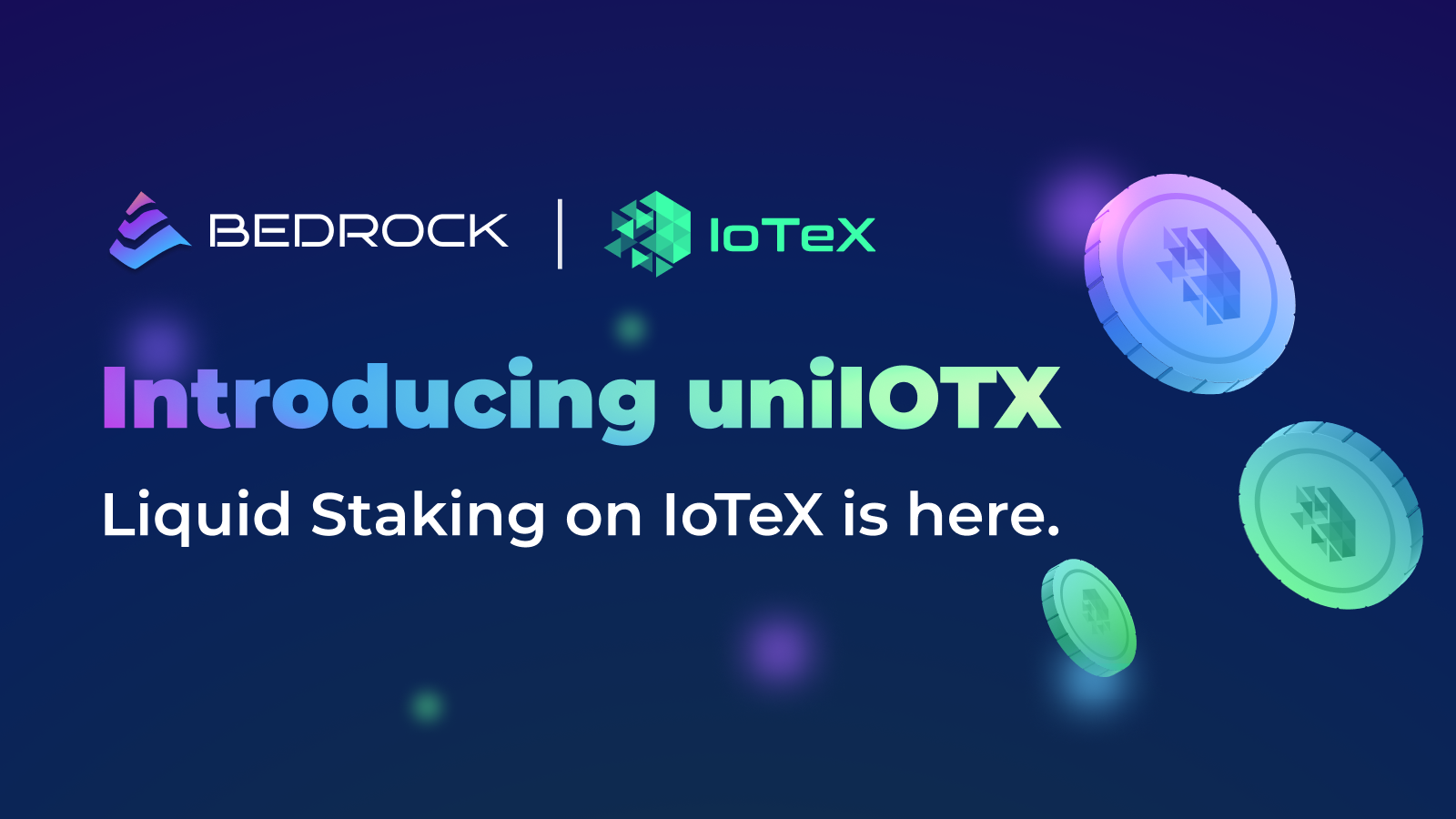 One of the hallmarks of the IoTeX network is the community that underpins it – that's why we are dedicated to improving the extremely vital system of IoTeX Staking.
Our community of token holders has the opportunity to stake IOTX and participate in the voting process to endorse Delegates, directly contributing to the growth of the network. This mechanism not only fortifies the IoTeX Network's security but also offers substantial returns to token-holders who choose to stake their IOTX.
October marked a significant leap forward for the IoTeX blockchain and its community. The implementation of IIP-13 NFT Staking Buckets paved the way for Liquid Staking applications and interest-earning derivatives to emerge on IoTeX, giving our community the freedom to engage in DeFi protocols and staking simultaneously.
Now, we are excited to announce the first-ever liquid staking dApp on IoTeX: Bedrock.
Bedrock is a cutting-edge Liquid Staking protocol by RockX that has created the first Liquid Staking dApp for the IoTeX blockchain. IOTX holders can stake their tokens with Bedrock to receive uniIOTX, providing users with staking rewards while enabling the flexibility to be traded at any moment. Various projects within the IoTeX ecosystem are already exploring potential collaborations with uniIOTX for their stablecoin initiatives. With this new way to earn yield while still having complete control over your staked IOTX, actively contributing to the IoTeX network is now more accessible than ever.
"Introducing the first liquid staking protocol on the IoTeX blockchain, we aspire to advance decentralization and  make staking more accessible for our users. Leveraging Bedrock's track record with its fast-growing ETH staking dApp, which has secured the top spot for 7-day and 30-day change on DeFi Llama, we believe that Bedrock will bring the launch of uniIOTX to the new heights."
-Raullen Chai, Cofounder of IoTeX
What is Liquid Staking?
Conventionally, staked tokens are immobilized, constraining your capacity to utilize them for alternative purposes. But enter Liquid Staking – it flips the script. Now you can stake your tokens and still keep them in play for trading, lending, or any other DeFi activities you're into. It's like having your cake and eating it too for those who want rewards without tying up all their crypto.
How does this work?
Simply put, Liquid Staking dApps take your coin deposits, stake them, and give you a "receipt" to cash in those staked assets – in this case uniIOTX – to transform illiquid assets into liquid ones.
Bedrock issues a Universal IOTX token, symbolized as uniIOTX, for staking services. Users will accrue uniIOTX when they deposit the native token, IOTX, into their staking pool. The value of uniIOTX will increase over time and provide liquidity, all without the need for intricate technical knowledge.
What is Bedrock?
Bedrock is a non-custodial solution designed in partnership with RockX, a longstanding blockchain infrastructure company with strong roots in crypto staking. Tailored for institutions, Bedrock prioritizes security, compliance, and transparency.
Bedrock's protocol is built entirely on-chain, leveraging the benefits of decentralization while maintaining important KYC/AML compliance.
Bedrock has secured its status as a leading institutional-grade liquid staking solution with its ETH staking dApp, which has consistently been a top-ranker in TVL growth among ETH staking solutions.
Why Stake IOTX Through Bedrock?
Simplified Staking Process: Bedrock eliminates all the complexities of Delegated Proof of Stake associated with IOTX by handling the technical side of things. Mint uniIOTX with your IOTX tokens, and they take care of the rest.
Optimized Returns: Bedrock intelligently allocates specific IOTX amounts to various validators with multiple staking periods and delegation strategy in mind, ensuring better profitability.
Assured Transparency: Everything is built on-chain, and every transaction is fully transparent and traceable on the blockchain. Their white paper offers an in-depth understanding of their smart contract mechanisms and business processes.
Proven Security: uniIOTX upholds the highest standards of trust with a thorough code audit by industry-leading firm PeckShield.
Instant Liquidity: The platform grants users uniIOTX immediately upon deposit, allowing for both instant liquidity on staked IOTX and continued staking rewards.
While in its beta phase, this release showcases the complete functionality of IoTeX liquid staking. Users can stake IOTX tokens, earning extra yield without sacrificing liquidity. Throughout this beta stage, we're working closely with the Bedrock team and our community, conducting stress tests to ensure safety and complete functionality of uniIOTX, even under extreme scenarios. This ensures our users enjoy the best experience with the highest possible level of security.
Throughout the beta period, we'd love users to share their experiences with uniIOTX via Discord or Twitter. Your feedback is highly valued!
About RockX
RockX is a global blockchain node network and gateway for users to seamlessly access Web3, offering institutional-grade solutions and a full suite of developer tools for users to stake and build on all major Proof-of-Stake blockchains.
With its foundations rooted in staking, protocol research and infrastructure design, RockX has built countless access nodes for users to interact with over 20 layer 1 and 2 protocols — driving greater accessibility and furthering adoption of blockchain technologies.
With over 20 major tokens supported and over USD 1 billion staked in cumulative token value since 2018, RockX is one of Asia's leading staking platforms, offering institutional clients new ways to do more with their crypto.
About IoTeX
IoTeX is a modular Web3 infrastructure platform connecting smart devices and real-world data to blockchains. IoTeX's middleware solution W3bstream provides the computation and verification of real-world data, bringing it on-chain while offering the modularity and customizability builders need to facilitate mass adoption. As the leading provider of DePIN infrastructure, IoTeX facilitates new rewards from devices and on/off-chain activity for users, turns personal devices into communal economies, and tokenizes the "data of everything." Backed by a global team of 60+ research scientists and engineers, IoTeX combines its EVM-compatible L1 blockchain, off-chain compute middleware, and open hardware to connect billions of smart devices, machines and sensors, and dApps across the physical and digital world.
Website | Twitter | Developer Twitter | Developer Portal | Reddit | Discord | YouTube