IoTeX Mainnet GA — FAQs
On June 1, IoTeX launched Mainnet GA ("Machina"), our biggest milestone yet! Mainnet GA unleashes new technology, governance, and ecosystem tools to supercharge our vision for the Internet of Trusted Things.

On June 1, IoTeX launched Mainnet GA ("Machina"), our biggest milestone yet! Mainnet GA unleashes new technology, governance, and ecosystem tools to supercharge our vision for the Internet of Trusted Things.
In this post, we walk through the basics of Mainnet GA and answer some frequently asked questions (FAQ).
What is IoTeX Mainnet GA ("Machina")?
What started as a few lines of code in April 2018 is now a live blockchain platform that is maintained by 60+ global Delegates. Mainnet GA is more than just technology — it comprises IoTeX Platform 2.0, Pantheon for Enterprise, Halo Grants Program, Native Staking v2, and Hermes Rewards System. With Mainnet GA, the IoTeX Network has also established independence from Ethereum and is now a fully native network.
IoTeX Mainnet GA was launched on June 1, 2020 at 6pm PT.
For more information, see our open-source code on Github and the official Mainnet GA thread on the IoTeX Forum.
What happened to my existing stake/votes on Ethereum?
As part of the Mainnet GA launch, the IoTeX Foundation migrated all staking/voting information from Ethereum to the IoTeX Mainnet and activated a new native staking mechanism. By default, all existing ETH stake/votes were mapped to your corresponding IOTX address, which share the same private key. If you mapped to a different address, you can access your stake/votes using the private key to the IOTX address you selected.
Note that ONLY staked buckets were migrated. For any buckets that were in the process of "unstaking" or "ready to withdraw", these IOTX have been sent directly to your corresponding IoTeX address on Wednesday, June 3:
IoTeX [1] — pre-Mainnet GA staking contract on IoTeX
If you are a Ledger user, please see this thread for more information.
For any questions on accessing your stake/votes, contact an Admin on Telegram.
What is different about staking on Mainnet GA?
The most noticeable difference is that from now on, instead of using IOTX-E (ERC20) + MetaMask to stake/vote, you will use IOTX (native) + ioPay, the official IoTeX wallet for both Desktop (Mac, Windows) and Mobile (iOS, Android), to stake/vote.
We have also added new features to make managing your stake/votes easier. You can now add IOTX to an existing bucket (note: auto-stake must be ON to add tokens to a bucket) and transfer buckets to a different address. Try it out today via ioPay!
Finally, the concept of "decay" for staking durations has been changed. Instead of your bonus votes gradually converging to zero over time, your bonus votes will be retained for your entire stake duration and will be reduced to zero after your stake duration expires.
Please see details regarding new native staking features for Mainnet GA below. For more information on staking on Mainnet GA, see this blog.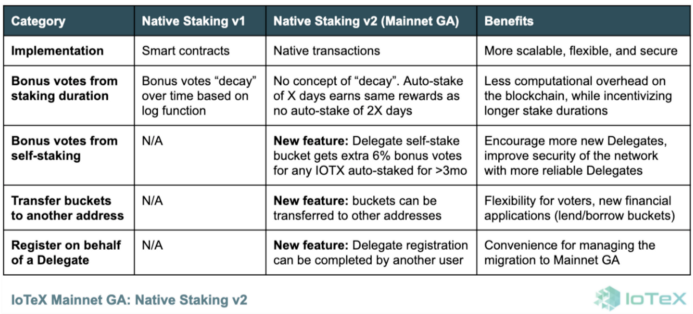 What if I still have IOTX-E (ERC20)?
Don't worry — you can still swap your IOTX-E (ERC20) to IOTX (native). You have a couple options: 1) use our swap tool (recommended), 2) deposit IOTX-E to Binance, Gate.io, or other exchanges and receive native IOTX in return.
Do NOT wait to swap your IOTX-E to IOTX — swap NOW! Eventually, we will permanently shut down the swap tool and all IOTX-E will be deemed inactive. However, this will not happen until at least the end of Q3 2020.
Why is Mainnet GA codenamed "Machina"?
In May, we held a "Name-the-Mainnet" community campaign and Machina was the clear winner! "In Latin, the phrase "ex machina" means "of the machine" which is the perfect representation of the IoTeX Network. Our vision for an open ecosystem where humans and machines can interact with guaranteed trust, free will, and privacy is now coming to life with Machina!
Any other questions?
You can always contact an IoTeX team member or an Admin on Telegram with any questions — we will be happy to help. We appreciate your support!
About IoTeX
Founded as an open source platform in 2017, IoTeX is building the Internet of Trusted Things, an open ecosystem where all "things" — humans, machines, businesses, and DApps — can interact with trust and privacy. Backed by a global team of 30+ top research scientists and engineers, IoTeX combines blockchain, secure hardware, and confidential computing to enable next-gen IoT devices, networks, and economies. IoTeX will empower the future decentralized economy by "connecting the physical world, block by block".