Ways and Whys to Become a Delegate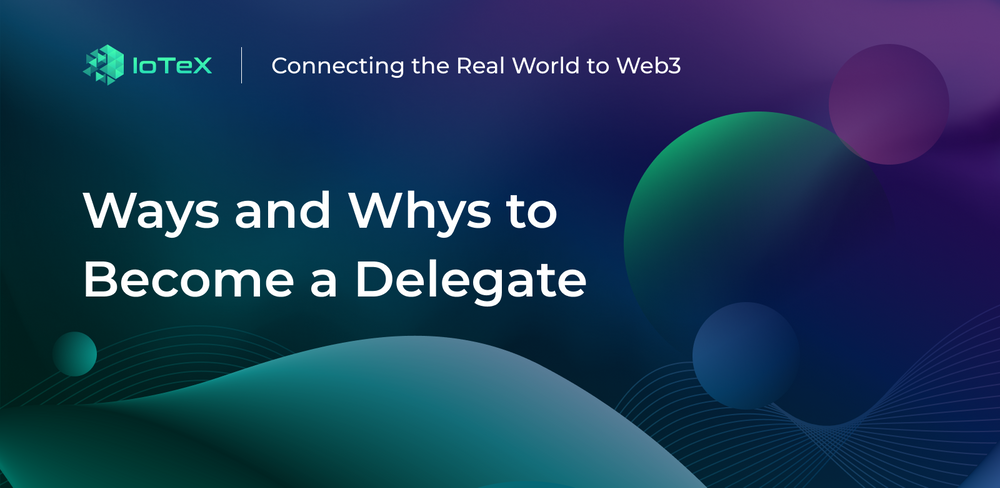 The Merge: Both a Major Achievement and a Major Meh
First, the accolades. The move by Ethereum to a Proof-of-Stake consensus model is a major success. This change reduces Ethereum's energy usage by 99.95%. Now, for the Meh. It went smoothly and for IoTeX it was a complete non-event concerning its impact on IoTeX. This is an epic case of "No news is good news".
As expected, the Merge did not impact IoTeX during and after. How did we approach the run-up to the Merge? Keeping the lines of communication open. Transparency. All watchwords at IoTeX. Here's how we keep the community up to date on topics that concern them. Read our blog
The Delegates Program Updates:
"This proposal introduces changes to the IoTeX Delegates program, including reducing the minimum self-stake requirement, increasing hardware/node requirements, and adding new Delegate roles/responsibilities (e.g., making governance proposals)."
There's a great, thoughtful discussion happening on this topic that we urge you to read and join.
What's New on the IoTeX Delegate Portal
The Delegate portal has a new look and feel, making becoming a delegate easier than ever. Already a Delegate? Monitor your performance and manage settings on your personal page in the portal. Looking to become a Delegate? Set up your Profile & Staking Bucket (1.2M $IOTX min) and configure your node.
And with the launch of Fastblocks, all the tasks of running a node can be done from your home computer setup. There's no need to buy specialized equipment. That saves you effort, time, and money. Set up your node in just three steps.
➡️ What's New on the IoTeX Delegate Portal (Blog)
➡️ Fastblocks Tutorial (Video)
➡️ Delegate Portal Walkthrough (Video)
2 Approved Proposals
Both proposals for Mainnet v.1.9 Release Updates and Burn-Drop Tokenomics have passed with overwhelming support from the community! Visit the Community Forum to learn more about these latest updates.
On September 19th, at the Q3 Membership Meeting, Raullen Chai was part of a panel at the IIC (Industrial IoT Consortium): Roundtable on Supply Chain and Other Innovations. By being an active member of the IoT community, IoTeX contributes and benefits from the educational, social, and networking communities these gatherings afford. Good community members lift all IoT boats.
Escape Velocity, an investor in MachineFi lab's recent $10 million Seed Round, has issued a report on DeWi: Beyond Networks. The report covers the current state of projects working in the Decentralized Wireless space. Market size, resistance to censorship and hacking from insiders (government) and outsiders (malicious actors). Learn more about Escape Velocity. Paying People to Deploy Devices at Scale: In Conversation with Mahesh Ramakrishnan (Video)
Halo Grant Highlight: Switch Electric
Congratulations to Switch Electric, the most recent recipient of a Halo grant. Switch Electric powers pay-as-you-go solar projects for developing countries where electrification is unavailable. It allows access to clean energy at a fraction of the cost.
EnviroBLOQ
Who knew attic data could be history-making? IoTeX is glad to be doing our small part to support this effort. (just how many squirrels are in an average attic?)
IoTeX at Google
GoogleCloud SG team invited IoTeX for a special workshop on Web3 infra scalability, security & data intelligence. And, yes, MachineFi!
Chainlink gave Raullen Chai a nice shoutout for his coming presentation at SmartCon 2022. Thanks!
Pebble Tracker + Morpheus.Network Disrupt Supply Chain
We're excited to see the results of this trial for supply chain tracking. It's likely to open up a new chapter in the Supply Chain industry.
"Morpheus.Network and IoTeX are partnering on a blockchain-based proof of concept that will usher in a new standard for supply chain tracking." Read the full blog here
Nabox Wallet
SwapBox now supports IOTX cross-chain swap. Swap IOTX across BSC, Ethereum, and Polygon. Learn more.
Fastblocks Node ManagementFastblocks has officially launched as an all-in-one node management tool for IoTeX delegates and validators. It opens up opportunities to receive rewards as a delegate or data validator and helps the IoTeX ecosystem grow. Follow their Twitter or visit fastblocks.io to get started.