IoTeX 2021: The Year Ahead
Another year, another adventure. IoTeX had a monumental year in 2020 — we made massive upgrades to our platform and protocols, launched the first "Powered by IoTeX" products, and expanded our global community.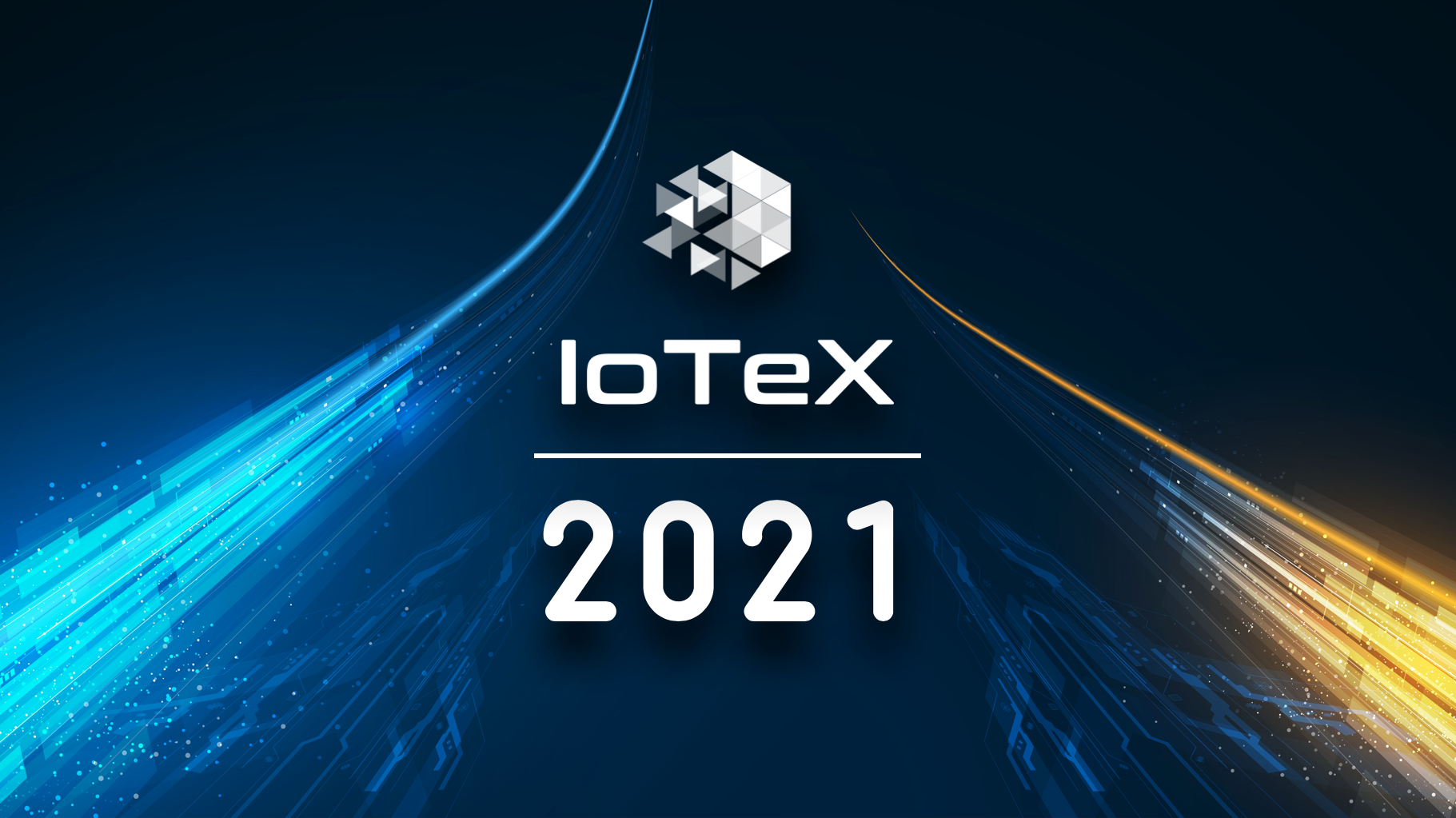 Another year, another adventure. IoTeX had a monumental year in 2020 — we made massive upgrades to our platform and protocols, launched the first "Powered by IoTeX" products, and expanded our global community. With a solid foundation in place, IoTeX will carry our strong momentum into 2021 with a refreshed focus on growth, awareness, and adoption.
In 2021, IoTeX will introduce the first decentralized autonomous machines (DAMs) that will unleash powerful DeFi & IoT applications that are only possible on IoTeX. A new machine economy will be born where sensors, devices, and machines will generate new synthetic assets and autonomously deliver monetary value to humans. From fractional ownership of machines to real-time leasing of resources ("machine-as-a-service"), IoTeX will establish a new paradigm for trusted human-machine interactions.
"Collaboration is the key to excellence in today's market. Unsurprisingly, this coincides with the decentralized thought process running in the industry. IoTeX going cross-chain will bring real-world benefits to the ever-growing digital world, and make NFTs more relevant to this novel philosophy"
Sandeep Nailwal, Co-founder and COO Polygon
In this article, we share our plans for hyper-growth of the IoTeX ecosystem, new initiatives in real world data oracles and decentralized autonomous machines, and high-level roadmap for 2021.

Watch below what AWS, Consensus Networks, and Bitmart say about building on IOTEX technology.

Hyper-Growth of the IoTeX Ecosystem
IoTeX is one of the most unique, performant, and reliable networks in the world, powering an ever-growing ecosystem of devices (e.g., Ucam, Pebble), DApps (e.g., mimo, Cyclone), and services (e.g., ioPay, ioTube). Even with our incredible progress over the past three years, we still treat every day like it's Day 1 — IoTeX is just getting started.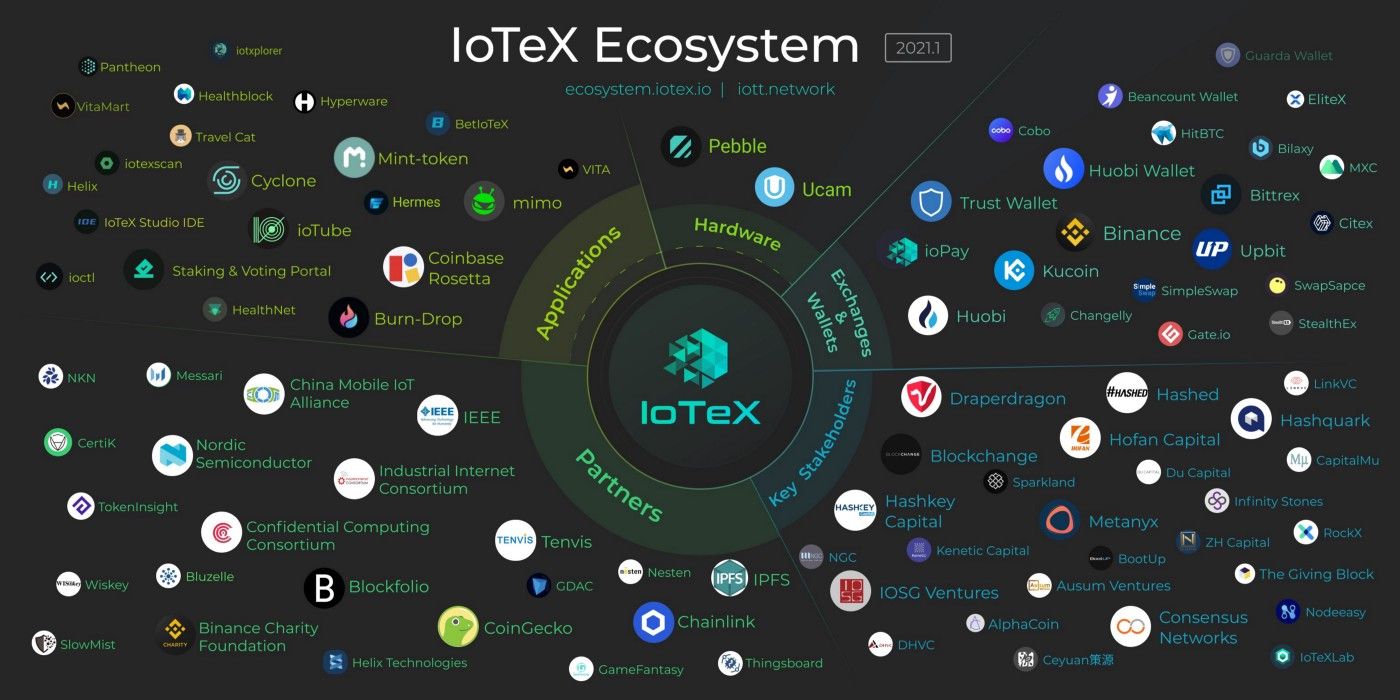 In 2021, we will prioritize hyper-growth of the IoTeX Network, including users, DApps, tokens, partners, and exchanges. We will make the IoTeX brand synonymous with quality, innovation, and trust by strategically onboarding new partners and communities that share our vision. Finally, we will enrich our user-facing tools with a focus on making ioPay a seamless onboarding tool for new users and a gateway to the IoTeX Network for all.
Post Update!
Watch our panel from August 19th, 2021. Exploring what's next for IOTEX and the future of smart devices. Watch it here:
Our Journey to the Internet of Trusted Things
Since IoTeX started in 2017, our vision for the Internet of Trusted Things has served as our "north star" to guide our development. IoTeX was built from scratch to serve as a trusted foundation for the future machine economy and to secure the data, devices, and funds of millions of global citizens. Year over year, we have aggressively launched new capabilities that bring us closer to our ultimate goal — this year, we plan to make our biggest leap yet.
In this section, we explore our core 2021 initiatives across self-sovereign devices, real world data oracles, and decentralized autonomous machines.
Self-Sovereign Devices
IoTeX believes everyone has the right to own their devices, as well as the data and value they generate. In 2020, we made this a reality with Ucam, which utilizes IoTeX's Decentralized Identity (DID) protocol and DID Access Management (DIAM) framework to give users exclusive ownership and control of their videos. In 2021, we will apply our DID system to onboard new "Powered by IoTeX" devices and privacy-conscious users. We will also formalize and standardize our DID technologies through collaborations with enterprises and professional standards bodies, including IIC and IEEE.
The IoTeX blockchain platform is designed to connect these types of smart devices to decentralized applications. This would enable users to be in full control of their devices and data... there are currently thousands of devices using its blockchain.   - Nasdaq.com
Real World Data Oracles
For blockchains to reach their full potential, they need access to the world's data. This is why oracles are crucial to make off-chain data available to on-chain smart contracts. IoTeX will not compete with existing oracle providers that focus on general data (e.g., price feeds) from centralized databases and APIs. Instead, we will develop first-of-its-kind "real world data oracles" to unlock an entirely new data source for the blockchain industry: verifiable real world data from trusted devices.
This untapped data source will empower IoT-fueled DeFi use cases on IoTeX and pave the way for new on-chain assets backed by real world data. Becoming an official hub for real world data also positions IoTeX to "serve" data to other blockchains like Ethereum and Polkadot in the future. We are kicking off this effort in Q1 2021 with Pebble Tracker and our real world data oracle and will publicize our innovative oracle design for community review in Q2 2021.
"On the IoT side, we are already seeing smart home system integration increasing, and I'm sure that IoTeX and Amazon will continue their efforts to make it a seamless experience"

Chad Liang, VP of Listings at Bitmart
Decentralized Autonomous Machines
In the future, we will own fewer assets and consume more services, especially from trusted machines. Every machine (e.g., drones, mining rigs, autonomous vehicles) is different, but there is a common thread that ties them together: the ability to create value/services for the people that own them. This year, we will expand the capabilities of "Powered by IoTeX" devices from verifiable data providers for DApps to verifiable service providers for consumers.
Machines will play a pivotal role in DAOs that will underpin the future machine economy. In 2021, IoTeX will develop an open framework to register/manage decentralized autonomous machines, which will facilitate real-time leasing of machine resources (e.g., hashpower, compute, connectivity) and execution of predefined "jobs" (e.g., 3D printer prints an object). We will also introduce new machine-backed synthetic assets that will allow anyone to fractionally own devices and the data/value they generate via Initial Machine Offerings (IMO).
"98 percent of device data is actually controlled by 2% - centralized entities - a monopoly, to be sure. IOTEX is here to change the status quo, and give back control to the people"  - Raullen Chai, CEO & Cofounder, IOTEX
2021 High-Level Roadmap
IoTeX has ambitious goals for 2021 — as always, we have set high expectations for ourselves but we believe wholeheartedly that "nothing worth doing is ever easy". This high-level roadmap includes bodies of work where timelines are controlled by the IoTeX Foundation — not included are the many community- and partner-led initiatives that will flourish this year on IoTeX. With this in mind, we are proud to share our high-level roadmap for 2021:
Protocols and Platform
Mainnet v1.2 & v1.3: EVM Upgrade, optimized storage/APIs, P2P communication
Mainnet v2.0: expansion of Delegates, new gas model (EIP1559), account abstraction
Real world data oracles: DApp integration and synthetic assets
v2 DID protocol + SDK for Decentralized Identity & Access Management
v2 ioTube for cross-chain interoperability with Ethereum & Polkadot
v2 ioPay as the portal for all users to access the IoTeX universe
Tokenomics & Governance
v2 Burn-Drop Tokenomics (starting Phase 3)
v2 Delegates Program for new roles and expanded Delegates pool
Governance DAO based on community-defined structure
DeFi protocols for Lend/Borrow + Stablecoin (with mimo team)
Ecosystem
Community Task Groups (Governance, Marketing, and more)
IoTeX Hackathons (one per quarter starting Q2)
IoTeX Idea-Thons (one per quarter starting Q1)
Goal of 100+ active ecosystem projects fueled by Halo Grants
As always, roadmaps are subject to change and may be re-prioritized. However, this is a good reflection of the core initiatives that the IoTeX Foundation will drive throughout 2021. In addition to the tech/product focused efforts listed in this roadmap, IoTeX will devote significant resources in 2021 to brand awareness, product marketing, and user/developer onboarding. We look forward to the community's feedback — let's make 2021 the biggest year yet for IoTeX!
Learn more about IOTEX and claim your free pioneer NFT on our get started page!