IoTeX's W3bstream Integrates Optimism: Expanding the DePIN Ecosystem
IoTeX's W3bstream is unlocking the data of everything for DePIN builders on Optimism.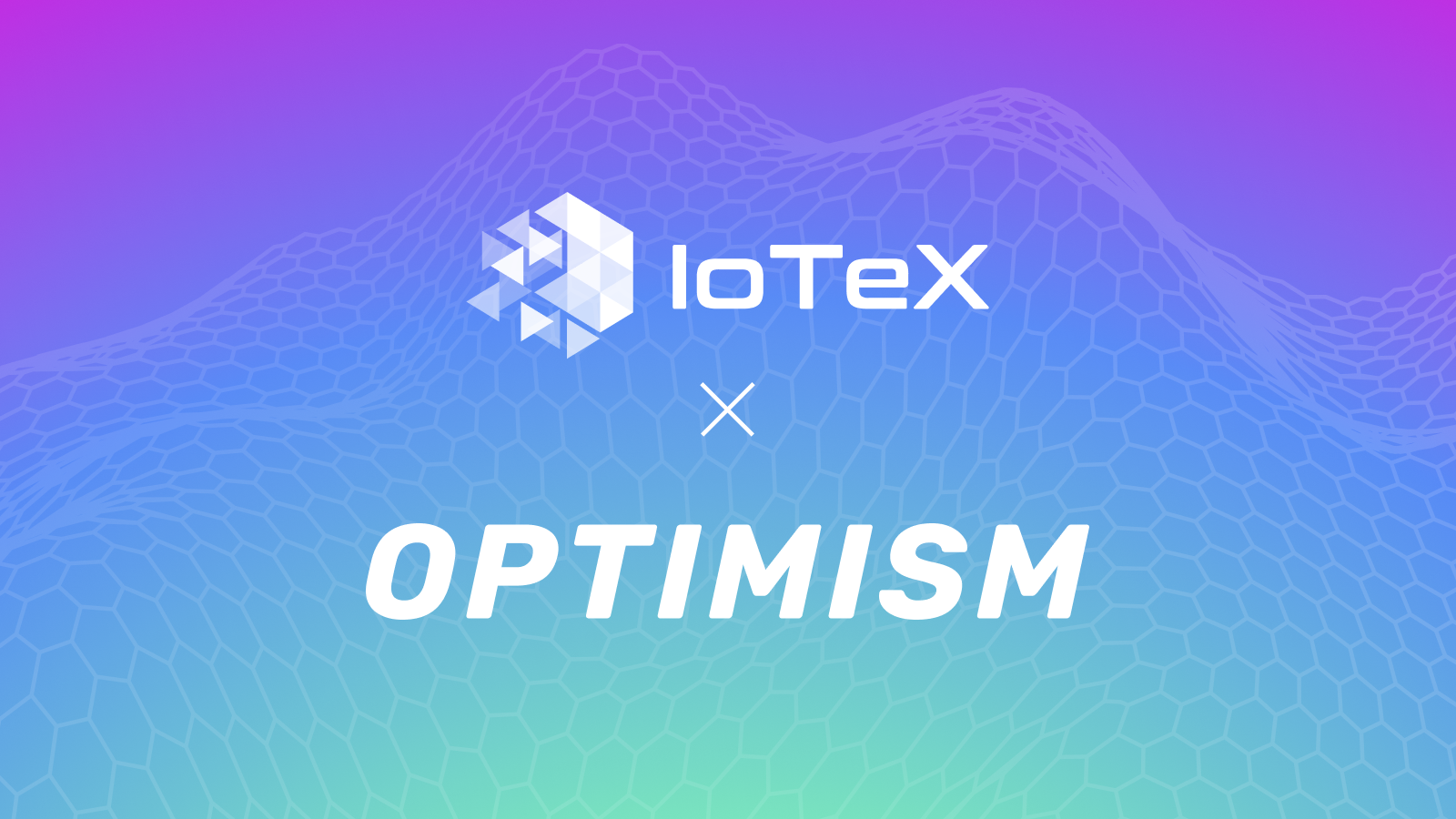 IoTeX is connecting real-world data with Web3 to enable developers to build applications that disrupt the 75 trillion dollar physical economy. The introduction of W3bstream creates an expansive real-world design space, reducing the time it takes for developers to deploy DePIN (Decentralized Physical Infrastructure Network) applications from years to just days. But to access the world's deepest Web3 developer pools, W3bstream needs to be connected with the largest L1 and L2 ecosystems. That's why we are thrilled to unveil our newest W3bstream integration: Optimism.
OP mainnet promises faster transaction speeds and drastically reduced gas fees, which resonates with our commitment to deliver the best to our users. The OP mainnet boasts the second highest TVL (at $2.6 billion at time of writing) among Ethereum L2s and hundreds of dApps and tools. Its burgeoning ecosystem signifies a promising future for decentralized applications, especially in the real-world context.
What "Optimism Integration" Means
The integration of W3bstream empowers Optimism developers to link their decentralized applications (dApps) with real-world data and trigger associated on-chain events. The potential applications span a wide spectrum, including fitness apps, green energy initiatives, and the deployment of wireless 5G technology, offering limitless possibilities.
DePIN builders on Optimism have access to W3bstream's robust suite of tools, including DePINscan and W3bstream Studio.
DePINscan is the map explorer-as-a-service for real-time, deep and transparent insights for every project in the entire DePIN landscape. With DePINscan, Optimism DePIN builders will have access to an out-of-the-box custom dashboard tool that will scale with their dApp, providing invaluable data-driven insights to their team, investors, and community. DePINscan integration is free and takes only one hour.
W3bstream Studio, the user interface where developers can instantly deploy and manage their real-world dApps, has incorporated a suite of tools that range from metrics dashboards to blockchain event logic. With the Optimism integration, all these advanced features are now in sync with the Optimism chain. It's akin to deploying a dApp on IoTeX mainnet, but with on-chain proofs dispatched to Optimism.
In this new paradigm, every real-world sector will be revolutionized with on-chain proofs to validate your daily activities. For example, gaming can be enhanced with users' real-world data, creating immersive real world experiences like Pokemon Go. Furthermore, DeFi platforms can speculate on real-world data outcomes, ranging from meteorological patterns to vehicular traffic metrics. This integration shatters the confines previously set on developers.
Where We Go From Here
The integration of Optimism into W3bstream is just the beginning. As we continue to bridge the gap between Web3 and the real world, our roadmap involves expanding our partnerships with other major L1 and L2 ecosystems. This ensures that developers, regardless of their preferred blockchain, can tap into the wealth of real-world data w3bstream offers. Optimism is the latest to join the integrated lineup alongside Polygon, Abritrum, Solana, Ethereum, the IoTeX chain, and more.
Furthermore, our research and development team is tirelessly working on refining our tools, ensuring that as the physical world changes, our toolset remains agile and relevant. We're also fostering a community of developers through webinars, workshops, and hackathons to promote the vast potential of DePIN applications.
In the foreseeable future, we envision a world where real-world data drives Web3 innovations, leading to applications that not only disrupt the digital realm but also leave a lasting impact on our everyday lives. With each integration, such as with Optimism, we move one step closer to that vision. We're excited for what's on the horizon, and we're thrilled to have our dedicated community with us every step of the way.
Join us as we continue to redefine the boundaries of what's possible in the Web3 space!
About IoTeX
IoTeX, underpinned by a renowned global team of cryptography and blockchain experts, stands as the foremost infrastructure provider for Decentralized Physical Infrastructure Networks (DePIN). With a unique focus on bridging the Ethereum ecosystem with tangible real-world applications based on the verifiable compute network W3bstream, IoTeX harnesses zero-knowledge proof technology. This positions developers to seamlessly weave Web3 into daily life, catalyzing advancements in connected vehicles, urban mapping, sustainable energy, fitness platforms, environmental data analytics, proof-of-presence utilities, and human authentication.
Website | Twitter | Developer Twitter | Developer Portal | Reddit | Discord | YouTube